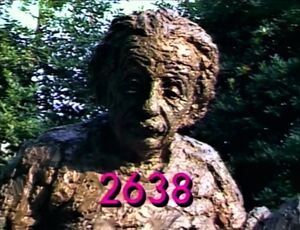 Picture
Segment
Description




SCENE 1
Telly and the Honkers watch as Bob teaches Wolfgang the Seal to play "Frère Jacques" on the horns. Bob must run downtown to get the horns fixed, as well as buy some fish for Wolfgang. He asks Telly to watch him and soon, Wolfgang begins playing Telly's nose as if it's one of the horns.

Cartoon
Two men try to go over a very steep hill.
(First: Episode 1522)

Muppets
Muppet & Kid Moment — Bert and Sherlock Hemlock ask John-John if he wants to count, and John-John enthusiastically rises to the occasion.
(EKA: Episode 1474)

Film
A percussionist on the beach talks about how rhythm is everywhere, such as in breaking waves, walking, and horse galloping.
(First: Episode 0049)

Muppets
"The Rhymies at Sea" - Larry, Mary and Barry sail on a ship, which sinks.
(First: Episode 1149)

Cartoon
W for witch
Artist: Jeff Hale
(First: Episode 1182)

SCENE 2
Wolfgang still wants to practice some more, continuing to tap Telly. Susan and Gina see his plight and accidentally let the word "fish" drop, sending Wolfgang into a fit. Gina takes the fish away, calming him down, but now he keeps tapping his nose. The gaggle of Honkers make for a perfect substitute for his horns.

Cartoon
A bird talks to a girl about what's inside the street. When she questions his credibility, he stammers, "A little worm told me!"
Artist: John Korty
(First: Episode 1918)

Film
Fay Ray listens to classical music on headphones. "Are you listening to me?"
(First: Episode 2614)

Muppets
Bip Bipadotta leads "Scratch My Back" as a song about two monsters named Jack and Jill who swear that they will always be there to scratch each other's backs.
(First: Episode 2191)

Cartoon
The Bellhop is asked to carry a guest's two small (but heavy) bags to Room 14.
(First: Episode 2571)

Film
A male voice instructs three kids in stretching exercises.
(First: Episode 1013)

Cartoon
In the forest, a small tree feels insignificant, until a mother bird gives him a pep talk.
(First: Episode 1872)

SCENE 3
Snuffy and Alice are about to head home, when Snuffy asks Gina a question about the fish she's bringing to Wolfgang. Snuffy tells Alice the importance of asking questions and she proceeding to ask nothing but "Why?"

Cartoon
A man recites a poem about how curious he is.
(EKA: Episode 2401)

Muppets
Bert sings "The Paperclip."
(First: Episode 2578)

Cartoon
P is for Pillow
(First: Episode 0374)

Film
A blind boy narrates his day. He reads braille, adds with an abacus, and plays in the playground with his friends.
(First: Episode 1757)

Cartoon
A mysterious little box on a tightrope entraps a bird, a train, and a cat, which can still be heard. A large frog eats the box, and makes all of the sounds inside..
(First: Episode 1518)

SCENE 4
Wolfgang lays on his side, sadly moaning. Gina and Susan try to get him to eat his fish, but he refuses. Telly recalls what Bob told him earlier: the only time Wolfgang won't want fish is if he's sick. He decides to call Dr. Flippin, the seal doctor.

Cartoon
Building a dog house is easy if you have a ruler.
(First: Episode 0630)

Cast
Charlie Chaplin looks for a way to stay dry in the rain.
(First: Episode 1739)

Cartoon
A boy puts a red and green monster together using a diagram.
(First: Episode 1014)

Song
Joe Raposo sings "Somebody Come and Play."
Snow leopards version
(First: Episode 2519)

Cartoon
A letter "P" sits on an island before a rotating sunset. The ridges of the letter "P" moves along the letter and flash in different colors.
(EKA: Episode 0453)

SCENE 5
Dr. Flippin observes Wolfgang and concludes he's not sick - he's depressed. He becomes happy again when Bob returns with the horns and fish.

Cartoon
Kids count dinosaurs, octopuses, and paper dolls.
(First: Episode 0926)

Muppets
Sesame Street News Flash
Kermit the Frog interviews the Invisible Man, who tap dances for him, and later introduces his family which crowds Kermit. All that is seen of the Invisible Man and his kin are their hats.
(First: Episode 1009)

Cartoon
Bus Stop
(First: Episode 1396)

Film
City alphabet (Joe Raposo instrumental with kid voiceover)
(First: Episode 0132)




SCENE 6
Bob introduces the "Seal Harmonic," who perform "Are You Sleeping, Brother John?." The Honkers play their noses, Bob conducts his kid chorus and Wolfgang plays some horns.

Cartoon
Gloria talks about 'W'
(First: Episode 0806)

Film
A girl narrates a segment about nature through winter and spring.
(First: Episode 1966)

Cartoon
A man tries to push a huge balloon elephant through a narrow doorway, and a girl helps him by deflating it.
(First: Episode 1824)

Celebrity
John Moschitta, Jr. plays Porter Pepper of Peter Piper's "P" Products, which produces products that begin with the letter "P". He mentions that two of his clients were Peter Pan and Pablo Picasso until Peter Piper, the boss, gives him a phone call. Pepper now presents a new problem: Peter Piper's "P" Products has been purchased, and is now Sam Singer's "S" Stuff Store. Pepper, without stalling, summons his staff to stand by, switches his products to stuff, and searches for snacks and saucers.
(First: Episode 2061)

Cartoon
Edgar Turtle plays the banjo as some kids sing the "Bird Song."
(First: Episode 2415)

SCENE 7
Bob, Susan, Gina, and Telly enjoy a fish dinner in the arbor, while Wolfgang enjoys a swim in Bob's bathtub. Snuffy announces the sponsors.
Community content is available under
CC-BY-SA
unless otherwise noted.