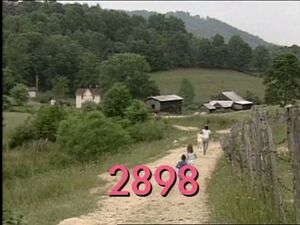 Picture
Segment
Description

SCENE 1
Preston Rabbit brings a present to the Sesame Street Library - an "Illustration Activation Machine," which brings to life images in books. Gina and Elmo put in a copy of "Little Red Riding Hood" and Little Red and the Big Bad Wolf are transported into the library.

Cartoon
Fleas have fun in fur!
Artist: Bruce Cayard
(EKA: Episode 2398)

Cast
Big Bird, Susan and Bob sing "Can Read" while at a newsstand.
(EKA: Episode 2326)

Cartoon
A hand draws a telephone booth.
(First: Episode 0791)

Muppets
Guy Smiley takes his 39-member studio audience to a restaurant, but there is no place for him to sit.

Cartoon
AT words: A fat cat with a hat sat on a mat. A bat scared the fat cat.
(First: Episode 1101)

Film
A Navajo boy who lives in the dessert talks about how his family has to pump water from the ground.

Cartoon
The Ringmaster displays 11 purple pooches.
Artist: Jeff Hale
(First: Episode 1347)

SCENE 2
Little Red and the Big Bad Wolf learn from Gina about their new surroundings. Elmo puts another book into the machine and out pops Mary and her little lamb. Elmo goes to get more books as the Big Bad Wolf chases after Mary's lamb.

Animation
It's a giraffe
Artist: Ishu Patel
(EKA: Episode 2238)

Film
Water, Water Everywhere.
(First: Episode 0135)

Muppets
The Two-Headed Monster finds a TELEPHONE, and reads the word.
(First: Episode 1569)

Cartoon
A tour of a TV studio, with set decoration, camera adjustment, etc., setting up for a taping with an R2-D2-like robot.
Artist: Irra Verbitsky
(EKA: Episode 2410)

Muppets / Celebrity
Linda Ronstadt sings "La Charreada" with Elmo and Parker Monster.
(First: Episode 2540)

Cartoon
Snacks on Parade: Peanut Butter
Artist: Bruce Cayard
(EKA: Episode 1428)

SCENE 3
While Gina explains what's happening to Linda, Elmo puts another book into the machine - The Three Little Pigs. Soon, the Big Bad Wolf is chasing after the lamb and pigs and Preston's not around to put them back in their books. Linda gets an idea to write a book about Preston.

Animation
Draw a circle around the bus. Cross out the telephone.
(EKA: Episode 2208)

Muppets
The Count sings about his first day of school.
(EKA: Episode 1736)

Cartoon
Frances Fairy displays several F words.
(First: Episode 0335)

Muppets
Muppet & Kid Moment — Grover and Erik surprise each other.
(First: Episode 1689)

Film
Anne Meara narrates a silent film of a woman in a burning building, who needs HELP.
(EKA: Episode 0720)




SCENE 4
The gang finishes writing "The Story of Preston Rabbit" and throw it into the machine. Preston appears and when the Wolf gets hungry for rabbit, he runs off to find the crank to turn it off.

Animation
First leaf, last leaf
(EKA: Episode 1033)

Film
Some kids learn how to use Logo, a computer programming language, to draw shapes on computers.
(EKA: Episode 2003)

Cartoon
Gordon voiceover N/n
(EKA: Episode 2283)

Muppets
Ernie & Bert — At the movies, a lady with a tall hat sits in front of Ernie and Bert. She block's Ernie's view, so he asks her if she'd mind taking it off. When she places the hat on the seat next to her, Bert's view is now obstructed.
(First: Episode 0538)

Cartoon
A derby-hatted man identifies animal sounds, ending with a tractor.
(EKA: Episode 1128)




Muppets
NTV host Nora Nicks introduces Nick Normal and the Nickmatics singing "The Letter N."
(EKA: Episode 2176)

Cartoon
A map of Australia morphs into the shape of animals that are found there.
Artist: Fred Garbers

Film
Two apples balance on a block seesaw.
(EKA: Episode 2176)

SCENE 5
The crank is put into the machine and the characters are subtracted as the crank is turned. Preston decides to thank them by getting another present.

Cartoon
Rumba pencils (first, last, Crazy Melvin)
(EKA: Episode 0666)

Muppets
Grover the Salesman: Grover wants to sell Kermit some earmuffs, but Kermit doesn't have ears, so Grover gives Kermit some big human ears.
(EKA: Episode 0800)

Cartoon
"It's A Lovely Eleven Morning"
Artist: Bud Luckey
(EKA: Episode 0514)

Cast
"A word from your local chicken" - A nerdy Gordon interprets a chicken's words.

Song
"Litter Rap"

Cartoon
Cloud blows things FFFFFFFF
(EKA: Episode 1008)

SCENE 6
Preston's gift is two movers (Tyrone and Gus), who are taking the machine away. Tyrone and Gina read the sponsors (the fine print on their delivery form) and the movers end up busting the machine on their way out.
Notes
This episode was taped on October 6, 1989.