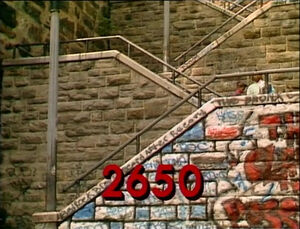 Picture
Segment
Description




SCENE 1
Bob sings "The Opposites Song" to Miles and the kids as they illustrate various opposites.

Cartoon
The Story of Cowboy X, with the voices of Jean Shepherd
(First: Episode 0325)

Muppets
Muppet & Kid Moment — Grover talks to Zelda about "fast" and "slow."
(First: Episode 2611)

Film
Two girls walk on an island together, and a map of the island is shown.

Cartoon
"Dinner for Nine"
Artist: Paul Fierlinger
(First: Episode 1658)

Muppets
Mother Goose tries to write a nursery rhyme for the Old Woman Who Lives in a Shoe, while her many children wreck havoc on her office.
(First: Episode 1328)

Cartoon
In rhyme, a man points out animals who stole and/or ruined his clothing.
(First: Episode 0778)

SCENE 2
Gina and Shelley the Turtle sing about "Fast and Slow." Shelly sings a slow verse, while Gina sings a fast one, then they form a counterpoint duet. The song exhausts Gina, who faints when Shelly proposes they sing it again.

Cartoon
Which footprint doesn't belong?
(First: Episode 0509)

Film
Lemurs rest on tree branches.
Music: Joe Raposo
(First: Episode 0390)

Cartoon
"Bumble Ardy #9" -- Young Bumble Ardy invites nine pigs to his birthday party while his mother, Sweet Adeline, is away.
(First: Episode 0305)

Muppets
Ernie & Bert — Ernie enjoys watching Bert read a book, but Ernie's staring at him is driving Bert bananas.
(First: Episode 1741)

Cartoon
Un pajaro.
(First: Episode 1977)

Insert
Mr. Snuffleupagus is invited to jump on Big Bird's trampoline, and the Count decides to count how many times Snuffy jumps. He counts a total of 19½, with his last jump bouncing him to the top of 123 Sesame Street.
(First: Episode 2148)

Cartoon
Dr. Nancy Einstein shows how the brain works.
Artist: Bruce Cayard
(First: Episode 2607)

Muppets
Kermit the Frog goes to see his doctor, who listens to his heart. Describing what he hears as "groovy", the doctor sings "Heart of a Frog" about different kinds of noises (backed by frog nurses).

Cartoon
A pattern of daisies and tulips - can you tell what comes next?
(First: Episode 2256)

Film
Kids talk about building sand castles and sand structures at the beach.
(First: Episode 1122)

Cartoon
"The Stranger" - a song about a baseball team hesitantly allowing a newcomer to join them, who ends up helping them win the game.
Artist: Michael Sporn
(First: Episode 2108)

SCENE 3
Forgetful Jones and Jason finish their sandwiches. Forgetful collects the wrapping, but can't remember what to do with it afterwards. As he thinks, Jason takes the litter and tosses it into the trashcan nearby. Forgetful finally remembers to throw the things in the can...but now forgets what he was supposed to throw away.

Animation
Counting 1-9 in Spanish
(First: Episode 1594)

Muppets
Grover plays a detective at his office. A frantic city gent (Brian Muehl) rushes over to warn him about something that's bothering him outside, which, unbeknownst to both of them, turns out to be a very strong wind that blows everything away—including Grover's office.
(First: Episode 1650)

Cartoon
The great Alphonso and his trained X's
(First: Episode 0299)

Animation
A snail shell is uncovered in the sand.
(First: Episode 2039)

Cartoon
K - Kangaroo
Artist: Jeff Hale
(First: Episode 1160)

Muppets
Betty Lou learns some Spanish words from her friend Carlos, including "Amigo."
(First: Episode 2042)

Cartoon
Geometry of Circles #1 "Circle with Flower"
(First: Episode 1393)

Muppets / Celebrity
Susan Sarandon learns the Meryl Sheep method of acting: switching emotions while saying the alphabet.
(First: Episode 2567)

Cartoon
The Pink Panther - K For Karate
(First: Episode 0241)

Muppets
Ernie & Bert — Ernie wants to play a game with Bert about heavy and light. Bert surprisingly wants to play. Ernie shows the audience all the light objects including a tissue, cotton candy and a feather. Bert has to bring in all the heavy objects including a barbell, a boulder and the piano.

Cartoon
Jill walks up a hill to pick a daffodil.
Artist: Jim Jinkins
(First: Episode 2538)

Song
"School Song"
(First: Episode 0986)

Cartoon
Sign Man: KISS ME
(First: Episode 1136)




SCENE 4
Telly Monster and the kids put on blindfolds and identify various sounds around them. Oscar pops out to tell them to scram, but finds himself as one of the sounds they're identifying. Gina announces the sponsors.
Community content is available under
CC-BY-SA
unless otherwise noted.