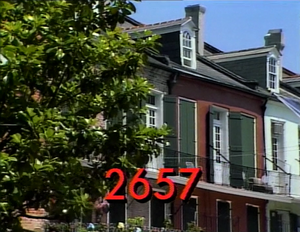 Picture
Segment
Description

SCENE 1
Mike welcomes the viewer as he makes his way toward Hooper's Store, where he's already ordered a sandwich from Gina ahead of time. When he gets to the arbor, he sees that Gina is getting a rollerskating lesson from Big Bird. She rolls around, as Mike begs her to get his sandwich. She ends up spilling it all over him.

Cartoon
The Bellhop must take Mrs. Stein's bags to floor 16.
(First: Episode 2496)

Film
A man takes two kids on a boat ride through the Louisiana bayou.
(First: Episode 2520)

Cartoon
Two kids wonder where some mysterious tracks on the ground come from.
(EKA: Episode 1056)

Muppets
Ernie and Bert sing "But I Like You."
(First: Episode 1952)

Cartoon
W for Wilhelmina
(First: Episode 0512)




SCENE 2
Gina makes Mike another sandwich, which inspires Flo Bear to write a new story; Gina prevents Mike from eating while she reads it. In the story, Gina cleans the counter, when he encounters a prince, who's been cursed into the form of a sandwich. With some help from her Beary Godmother (Flo) and a magic pickle, they restore the prince to his normal (miniature) form and prepare him a tiny sandwich. Back in reality, Mike scarfs down his sandwich, but not before Gina checks for any spells on it.

Cartoon
Big / bigger / biggest (bikes)
(First: Episode 1245)

Muppets
Waiter Grover: Mr. Johnson eats at an airport restaurant and is on his way to South America. When Grover learns about Mr. Johnson's trip, he gives a big lecture on South America, causing Mr. Johnson to miss his flight.
(First: Episode 2616)

Cartoon
"L" for "Large" and "l" for "little"
(First: Episode 1455)

Song
"Cow Dog Song"
(First: Episode 0783)

Insert
The Alphabet Dancers form a letter L.
(First: Episode 0449)

Cartoon
"I Can Remember": A little girl remembers what to buy at the store (A loaf of bread, a container of milk, and a stick of butter) by visualizing her mother giving the instructions.
Artist: Jim Simon
(First: Episode 0408)

SCENE 3
Flo Bear minds the store while Gina and Mike go rollerskating, claiming to have been a waitress prior to being a writer. Susan orders a tuna fish sandwich, inspiring Flo to wrote a poem about it. Susan switches her order to chicken soup, cueing another bout of inspiration from Flo and another poem in lieu of food. Big Bird comes in and orders a poem about birdseed.

Cartoon
A girl builds a sand castle at the beach, but the ocean keeps washing it away, so she builds one away from the waves.
Artist: Fred Garbers
(First: Episode 1452)
Muppets / Celebrity
"Pretty Great Performances" features Placido Flamingo singing "Italian Street Song" with the All-Animal Orchestra, led by conductor Seiji Ozawa
(EKA: Episode 2485)

Film
A trip to the doctor's office.
Music: Joe Raposo
(First: Episode 0471)

Cast
Gordon and the word "wand."
(First: Episode 1491)

Cartoon
A man walks in an IN.
(First: Episode 0511)

SCENE 4
Maria coos over a basic crayon line drawing that Gabi has made. Oscar calls it the grouchiest piece of art he's ever seen, attracting Ms. Turpentine of the Grouchenheim Museum. She offers her several cans of mud and bags of trash for the piece, but Maria refuses to sell it. Ms. Turpentine goes to scout more talent at the day care, while Oscar borrows Gabi's drawing to learn from the master.

Animation
As the seasons change, so do one's outfits. (early computer graphics)
(First: Episode 1898)

Film
How Crayons are Made
Music: "Water Course A" and "Exchange" by Richard Harvey
(First: Episode 1579)

Muppets
Three Anything Muppets (including Farley) wait for a bus at a bus stop. To their surprise, the bus is very small, and two small Muppets get off of it.
(First: Episode 0189)

Cartoon
W for witch
Artist: Jeff Hale
(First: Episode 1182)

Insert
Olivia sings "Birdland" at Birdland.
(First: Episode 2304)
All shots with David in the audience are omitted from the segment in this episode.

Cartoon
What's missing? (cow)
(First: Episode 2028)

SCENE 5
Oscar has made an exact duplicate of Gabi's drawing and Ms. Turpentine inspects it. Despite being identical, Ms. Turpentine rejects Oscar's piece... that is, until he crumples it up. The two begin haggling over how much it's worth.

Song
Joe Raposo sings "What Babies Are Called"
(First: Episode 0116)

Cartoon
A colorful, rhythmic demonstration of the word IN
(First: Episode 0337)

Muppets
Sesame Street News Flash
Kermit interviews Alice, from the Lewis Carroll tales. For this adventure, she eats something that makes her grow.
(First: Episode 1765)

Cartoon
L for locomotive, letter, lamp, light, lion, lettuce, lips
(First: Episode 1716)

SCENE 6
Flo compliments Gabi's art and believes she'll grow up to be a wonderful writer some day. She even interprets her piece as a story (written in "baby language) about Gabeariella and her mother, Maria-Bear, encountering the home of the three Goldilocks. The story ends with Gabeariella announcing the sponsors.
Community content is available under
CC-BY-SA
unless otherwise noted.