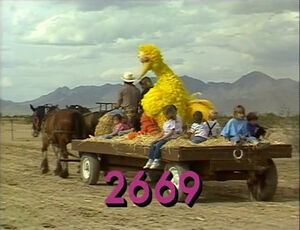 Picture
Segment
Description

SCENE 1
Big Bird feels like something important is happening today, but can't remember what. Sesame Street News cuts in with their special report on Miles' first day of kindergarten, jogging Big Bird's memory.

Cartoon
K is for Karate
(First: Episode 0489)




Muppets
A series of trailers for school-related dramas are shown on WCTW's "School in the Afternoon" block.
(First: Episode 2223)

Cartoon
A needle and spool of thread cooperate to fix the king's torn pants.
Artist: Bruce Cayard
(First: Episode 1485)

Film
A man makes a shadow puppet of a horse.
(First: Episode 0908)

Muppets
Little Chrissy sings "Eight Balls of Fur."

Cartoon
Dr. Annie Eyeball studies wet things which eventually become dry.
Artist: Bruce Cayard
(First: Episode 2613)




SCENE 2
Anchor Buster the Horse throws to Gina, who interviews Gordon and Susan about today's even from their apartment. The parents help Miles get ready for his first day (shown in rapid motion).

Cartoon
Edgar Turtle plays the banjo as some kids sing the "Bird Song."
(First: Episode 2415)

Muppets
Lefty delivers some carrots to his boss, but the boss orders him to get more carrots (in 13 seconds).
(First: Episode 0255)

Film
Kids paint P-word animals on glass. (edited)
(First: Episode 0119)

Muppets
Lefty delivers more carrots to his boss, but the boss orders him to get the most carrots he can find (in 15 seconds).
(First: Episode 0255)

Cartoon
A man recites a poem about how curious he is.
(EKA: Episode 2361)

Muppets
Lefty delivers the rest of the carrots to his boss. The boss reveals that the carrots are for his pet rabbit (a real rabbit), which he shows to Lefty.
(First: Episode 0255)

Film
A girl narrates a segment about nature through winter and spring.
(First: Episode 1966)

Cartoon
8 Bats
Artist: Owe Gustafson
(First: Episode 1552)




SCENE 3
Big Bird joins Gina as she interviews Gordon and Susan as they head to the bus stop. Gordon has taken the day off to accompany Miles in case he gets too nervous. After watching their touching goodbye at the bus, Gina starts weeping with joy.

Film
Close-up shots of a car and a frog are shown side-by-side.
(First: Episode 1530)

Celebrity
John Moschitta, Jr. plays Porter Pepper of Peter Piper's P Products, which produces products that begin with the letter "P". He mentions that two of his clients were Peter Pan and Pablo Picasso until Peter Piper, the boss, gives him a phone call. Pepper now presents a new problem: Peter Piper's "P" Products has been purchased, and is now Sam Singer's "S" Stuff Store. Pepper, without stalling, summons his staff to stand by, switches his products to stuff, and searches for snacks and saucers.
(First: Episode 2061)

Cartoon
I've got some (hair), I've got more, but I've got the most.
(First: Episode 0524)




Muppets
Bruce Stringbean, Clarice and S Street Band perform "Born To Add."
(First: Episode 1375)

Animation
The big green balls and one little orange ball ride over the top of the hills. The little one can't make it over the big hill, but conquers the small hill.
(First: Episode 1896)




SCENE 4
Gina is covering Miles' first day from his kindergarten classroom. Big Bird has tagged along, not wanting to miss any action. He wants to be the reporter now, citing the many Kermit the Frog broadcasts he's seen. Big Bird goes over to Miles, Travis and Caroline to see what they're drawing, then does the same with the other kids. This leads him to an exclusive interview with the teacher, who informs Big Bird of all the activities to come in the school day.

Cartoon
"Candy Man"
Artist: Bud Luckey
(First: Episode 0359)

Muppets
Old West sketches: The town doctor ("Doc") comes to a saloon to meet Mean Manny and his gang, even though Manny is the toughest guy in town and plans to have a "shootin' party." Manny and his posse arrive on time and meet with Doc and his medicine...he gives them all measles shots.
(First: Episode 1166)

Cartoon
A lion named Kent gets a Kick out of being King of the forest.
(First: Episode 0463)

Film
In a village in Africa, people catch fish and celebrate afterwards.

Muppets
Ernie & Bert — Ernie and Bert decide to use both Bert's canvas and Ernie's paints to paint a picture of something. Bert wants to paint a bowl of oatmeal, but Ernie wants to paint a purple monster. Finally, they decide to paint a purple monster eating a bowl of oatmeal.
(First: Episode 1446)

Cartoon
"Alphabet Imagination": A female voice quickly recites the alphabet followed by a male voice narrating each letter in a series of psychedelic vignettes.
(First: Episode 0345)

SCENE 5
Gina and Big Bird report from the bus stop, where Susan waits for Miles and Gordon's return. The bus arrives and Miles tells everyone how much fun he had today. Big Bird is shocked to learn that he'll be going back tomorrow, and then every day for a year until he advances through all other grade levels.

Cartoon
Letters stranded on a desert island spell PLEH, LEPH, and finally HELP.
(First: Episode 1176)

Film
Fay demonstrates addition by placing 4 balls on a table.
Artist: William Wegman
(First: Episode 2612)

Muppets
Muppet & Kid Moment — Erik shows Grover his teeth, and tells him how they are used.
(First: Episode 1639)

Cartoon
A sleepy man counts 8 sheep. (Spanish soundtrack)
(First: Episode 2188)

Song
Joe Raposo sings "Take a Breath." (re-filmed version)
(First: Episode 2518)

Muppets
Two-Headed Monster: HAT
(First: Episode 1349)

Animation
A hand draws a ditch, and some kids try to figure out a way to get across it.
(First: Episode 2094)




SCENE 6
Gina and Buster recap the events of their broadcast today. In the Robinson's apartment, Miles shows off some pictures he's made of today's sponsors.
Community content is available under
CC-BY-SA
unless otherwise noted.