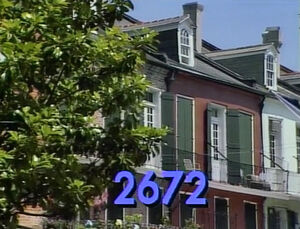 Picture
Segment
Description




SCENE 1
Linda has invited Telly to have lunch outside Hooper's Store. While she gets their food, Barkley tugs the tablecloth off, causing a mess. Telly wonders how he can explain what happened if he can't sign. He does some gestures, indicating what happened. Linda properly reprimands Barkley and Telly thinks he's better at signing than he thought.

Cartoon
Sign Sounds: Hand
(First: Episode 1179)

Muppets
A Honker counts to 3. (only part 1 is shown)
(First: Episode 1458)

Cartoon
A boy builds a house out of blocks, and when the girl builds a Victorian house, the boy calls her a copycat.
(First: Episode 0780)

Song
Bob sings Joe Raposo's "Look a Little Closer." (house)

Animation
Sand C/c
(First: Episode 0625)

Muppets
Ernie & Bert — Bert can't go on a trip with Ernie because his hand has purple paint on it. Ernie puts a mitten on Bert's hand to cover it, but Bert still won't go because he looks silly wearing one mitten. So Ernie completes the outfit with another mitten, a hat, a scarf, and a sled. Ernie then reveals that they are going to the beach.
(First: Episode 0386)

Cartoon
Luis counts three blackbirds, which lay three eggs.
(First: Episode 2194)

Film
Kids play in the snow.
Music: Joe Raposo
(First: Episode 0292)

Muppets
Cookie Monster discovers Cousin Monster doesn't want cookies and would rather eat Ernie's healthy food.
(First: Episode 1240)

Cartoon
Speech Balloon: C for carrot
(First: Episode 0203)

Song
"Me and My Chair"
(First: Episode 1706)

Cartoon
'j' minuscula
(First: Episode 0475)

SCENE 2
Luis plays and sings "Las Chiapanecas" with Snuffy and the kids.

Cartoon
A disobedient jacket illustrating words that begin with the letter J annoys an off-screen narrator, which reveals two kids named Jenny and Jeff inside of it.
(First: Episode 0527)

Muppets
The Two-Headed Monster tries to cure itself of hiccups.
(First: Episode 1318)

Cartoon
A baby bird tries and tries again to fly from its nest.
Artist: Irra Verbitsky
(First: Episode 1510)

Muppets
Guy Smiley sings "I'll Love You in Springtime."
(First: Episode 2088)

Cartoon
A top-hatted man tries to show a girl how many uses a box has, but she prefers kicking it.
(First: Episode 0763)




SCENE 3
Maria tries to understand what Barkley wants, and imagines herself as the only human in a world inhabited by dogs. In her dream, Barkley is seen in everything on TV, and even runs Hooper's Store, which now carries the newspaper "The Daily Woof-Woof." Back in reality, Maria gives Barkley a good scratch, which is what he wanted.

Cartoon
A penguin repeats the rhythms of the sounds it hears, which include a drum, a door knock, a saw and a typewriter.
Artists: The Hubleys
(First: Episode 0239)

Song
"Spanish Foods Song"
(First: Episode 1111)

Cartoon
The Ringmaster presents 3 high-flying felines (cats to us) who fall into a barrel of water.
Artist: Jeff Hale
(First: Episode 1339)

Muppets
Monsterpiece Theater: Grover is sitting on a hill, which moves to the sound of music.
(First: Episode 1814)

Cartoon
A magician writes in his diary about the many mishaps during his performance.
(First: Episode 2053)

Celebrity
Rubén Blades sings "Ayuda" with Piri and the kids, who shout out the title word throughout the song.
(First: Episode 2211)

Cartoon
J - Jam
(First: Episode 0012)

Film
Wendy makes cookies with her grandmother. They later visit Wendy's great-grandmother at the nursing home, and give her some of the cookies.
(First: Episode 2214)

Cartoon
A map of Africa morphs into the shape of animals that are found there.
(First: Episode 2627)

Muppets
Sesame Street News Flash
Instead of a pea, this princess sleeps on things beginning with C.
(First: Episode 2527)

Cartoon
An old man recites a poem about the time he had the flu.
Artist: Bruce Cayard
(First: Episode 1274)




Muppets
Big Bird and Snuffy make up a story about a castle under the sea where a deep-sea diver prince lived.
(First: Episode 1797)

Cartoon
Roxanne and Violet Gorflatch are alike in many ways, but different in others.
(First: Episode 1480)

Film
Gibbons make screeching noises.
(First: Episode 0276)

Cartoon
The alphabet is presented in a chain reaction of events.
(First: Episode 1113)

SCENE 4
Luis plays the "Mexican Hat Dance" as Snuffy and the kids dance. Bob announces the sponsors.