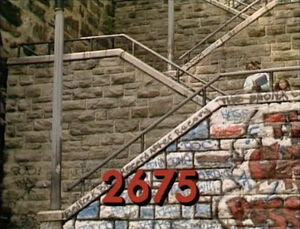 Picture
Segment
Description

SCENE 1
Today for Big Bird and Snuffy's playdate, they're playing restaurant. They sit down and wait for the waiter, until they realize no one is playing the waiter. Big Bird assumes the role and brings Snuffy a bowl of cabbage soup. He finds it hot and tries to cool it down by blowing on it, blowing away the table.

Cartoon
Nancy the nanny goat nibbles her nails and notices noodles.
Artist: Tee Collins
(First: Episode 0240)

Cast
Charlie Chaplin (Maria) falls in love with a painting at the art museum.
(First: Episode 2033)

Cartoon
"Lowercase n"
(First: Episode 0358)

Muppets
The Two-Headed Monster finds a piano and decides to play it. The left half wants to play short notes, while the other half prefers to run his fingers across the keyboard. They decide to cooperate, and both use their notes to play "Chopsticks".
(First: Episode 1366)

Animation
Two small stripes watch as two circles play with each other. The stripes try to bend themselves into circles, but soon find that they can both cooperate to make one big circle.
(First: Episode 0762)




SCENE 2
Big Bird convinces a hesitant Snuffy to join in on another game: The Three Little Pigs. Big Bird has made a cardboard house for himself to be in as a pig. Snuffy plays the wolf, and blows the house down. Big Bird compliments Snuffy on his blowing, adding "There's a game for everybody!"

Cartoon
The Ringmaster has 12 frenzied finches.
(First: Episode 1295)

Muppets
Cookie Monster sings "Healthy Food."
(First: Episode 2404)

Film
Children dance to different rhythms from around the world.
(First: Episode 2499)

Muppets
Ernie & Bert — Against Bert's will, Ernie plays a game in which he says a word which is the opposite of every word Bert emphasizes. When Bert finally agrees to PLAY, Ernie becomes stumped, since he can't figure out of the opposite of the word PLAY.

Cartoon
A mother and child make juice popsicles.
Artist: Cathryn Aison
(First: Episode 1193)




Insert
Placido Flamingo and the kids sing an opera about the Eency Weency Spider (played by Bob). Telly, dressed as a cloud, provides the rain.
(First: Episode 2587)

Cartoon
A supermarket worker stacks 12 cans, which keep collapsing every time someone grabs one.
(First: Episode 0782)

Muppets
Simon Soundman sounds out the word "call", and then demonstrates some calls of his own — including a bird call, cow call, pig call, and telephone call.
(First: Episode 1700)

Film
Two birds
Music: Joe Raposo
(First: Episode 0295)

Cartoon
A schoolyard of gloves invites other gloves to join them.
(First: Episode 1481)

Animation
Teeny Little Super Guy recalls how he learned about the meaning of DANGER.
Artist: Paul Fierlinger
(EKA: Episode 1971)

Insert
Maria sounds out the word "bug" while Oscar heckles. She tells him to quit bugging her.
(First: Episode 1690)

Cartoon
A boy is drawn, but he doesn't have knees at first.
(First: Episode 0954)

Muppets
Sesame Street News Flash: Kermit meets the Seven Dwarves, seemingly from the Snow White story. However, in this version each is named after (and represents) an emotion. (Kermit ad-lib: "Hey Dulcy, we got the wrong dwarves again!") They are named Cheerful, Sad, Lovey, Angry, Proud, Surprised and Fearful.
(EKA: Episode 2415)

Cartoon
"Love" word animation
(First: Episode 0926)

Film
A behind-the-scenes look of Paul Simon recording "Bingo" with his son, and the manufacturing of the record it will be on.
(First: Episode 1133)




SCENE 3
Elmo is excited about his first night sleeping over at Big Bird's nest. Big Bird decides to read "The Three Billy Goats Gruff" to Elmo and Gordon, but he realizes that he left his book at Snuffy's. Wishing they could've heard the story, he subconsiously begins to recite it from memory and Elmo falls fast asleep.

Cartoon
Typewriter: S for Spring
(First: Episode 0792)

Muppets
Muppet & Kid Moment —: Grover and his friend Debo notice the letter "S" sitting on a brick wall. He exclaims that the letter is an old friend, and shouts, "Hey, S, babyyyy!" and slaps it off the wall. He remarks, "I hope he did not take that personally."
(First: Episode 0544)

Film
A bulldozer moves dirt up a construction site.
(First: Episode 0799)

Muppets
How Now Brown and the Moo Wave perform the song "Danger's No Stranger."
(First: Episode 2030)

Cartoon
What's missing? (a guitar)
(First: Episode 1971)




SCENE 4
Elmo compliments Big Bird's storytelling talent (even though he fell asleep). Gordon tucks Elmo in his sleeping bag and reminds him and Big Bird that it's time to really go to sleep. As Elmo nessles in, he's startled to see two moving lumps that appear everytime he's in his sleeping bag. Gordon assures Elmo that he's probably imagining. When Elmo sees the lumps a third time, Gordon unzips the sleeping bag to reveal that the lumps were just Elmo's feet. Snuffy announces the sponsors.
Community content is available under
CC-BY-SA
unless otherwise noted.