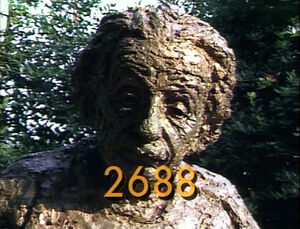 Picture
Segment
Description

SCENE 1
Gina and Mike gush over their newly-earned learner's permits and explain their purpose to Big Bird. He claims to already be an expert driver, referring to his toy car (which he winds up crashing).

Cartoon
Speech Balloon: C for carrot
(First: Episode 0203)

Film
Scenes of flowers set to harmonica music
(First: Episode 2497)




Muppets / Cast
Bob reads "The Turtle Who Wanted to Make Friends" about a turtle who comes to the forest, but is afraid of every potential animal friend he sees.
(First: Episode 1959)

Cartoon
"Wash Your Hands Before You Eat"
Artist: Bruce Cayard
(First: Episode 1523)

Film
The kids form a capital I.
(First: Episode 0462)

Animation
A set of blocks reveal a square, a triangle, and a circle.
(First: Episode 1184)

SCENE 2
Snuffy and Alice join Big Bird for a game. Big Bird initiates a round of follow the leader, but Alice gets in Snuffy's way doing each action instead of following him. They decide to make her the leader instead. She does nothing, at first, but, when Big Bird mentions his toy car, she begins acting like one.

Cartoon
I - ice cream.
(First: Episode 0033)

Muppets
Caribbean Anything Muppets sing about "Caribbean Air."

Cartoon
Kids narrate a countdown of a bowler knocking down five pins.
(First: Episode 2514)

Film
James narrates a film of his life on a pueblo in New Mexico.
(First: Episode 0153)

Cast
Maria as Chaplin tries to throw away a newspaper into a rapidly moving litter can. When she finally does, the exit door also moves and she breaks down the wall.
(First: Episode 0753)

Cartoon
Un pajaro.
(First: Episode 1977)

Celebrity
Patti LaBelle and The Sweeties sing "Take the Hand of Someone You Love."
(First: Episode 2231)

Cartoon
Several circles try to get past a large square.
(First: Episode 1486)

Film
Kids compare animals and human tools and technology.
(First: Episode 0491)

Muppets
Mysterious Theater
Sherlock Hemlock is on the search for Lady Agatha's missing cat, knowing that it is under something that rhymes with "at", while Watson discovers the cat is under a mat, which leads into a big cat-and-dog fight.
(First: Episode 2569)

Cartoon
Fruta Manzana sings about keeping the place clean by throwing away fruit peels and apple cores.
Artist: Irra Verbitsky
(First: Episode 1485)

SCENE 3
Telly frets over how Gina and Mike will learn to drive if they don't own a car; they assure him they can practice in Susan's car. Since there's only one car, they opt to take turns. However, just when Mike begins his turn, Susan's car won't start.

Film
A film of butterflies
Music: Joe Raposo
(First: Episode 0406)

Muppets
Muppet & Kid Moment — Bert and Sherlock Hemlock ask John-John if he wants to count, and John-John enthusiastically rises to the occasion.
(First: Episode 1474)

Animation
Red and yellow dots play "Twinkle Twinkle Little Star."
(First: Episode 1979)

Muppets
Sesame Street News Flash
Old MacDonald opens a health resort for his animals.

Animation
A boy adds his crayons, then uses them to draw a number 5.
(First: Episode 2345)

Film
Trees are very nice places, for animals and for people.
(First: Episode 0455)




SCENE 4
In exchange for learning to drive in the Sloppy Jalopy, Gina and Mike bring Oscar his lunch. However, before he lets them behind the wheel, he goes over some very important things about driving, such as the words "GO," "STOP" and going forwards and backwards. Gina hops in the driver's seat, but the car won't start, forcing Gina and Mike to push it to the local Grouch garage.

Cartoon
I Love You, in American Sign Language
Artist: Steve Finkin
(First: Episode 1170)

Muppets
Harvey Kneeslapper looks inside a paper bag and laughs and asks his next victim, "Wanna see?" The man says yes, so Harvey puts a letter C on him.
(First: Episode 0294)

Cartoon
Snacks on Parade: Peanut Butter
Artist: Bruce Cayard
(First: Episode 1301)

Muppets
The Count sings "The Batty Bat."
(First: Episode 2096)

Cartoon
A horse falls apart into a jigsaw puzzle.
(First: Episode 0784)

Video
Ann Marie DeAngelo and Skeeter Rabbit do their dance routine. The frame freezes whenever the word STOP comes on.
(First: Episode 2600)

Cartoon
A baby bird falls from a tree. A boy puts him back, and in return, the mother bird saves the boy from embarrassment.
(First: Episode 0550)

SCENE 5
Susan has fixed her car and is ready to give the teens a lesson. Telly wants to go with them, but his mommy phones Oscar to send Telly home now. Telly frets now, until Susan points out they can give him a ride back home. Oscar is disgusted by the happy ending and announces today's sponsors.
Notes
The events of this episode were later recalled in Episode 3081.