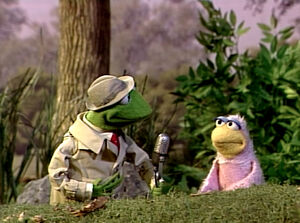 Picture
Segment
Description

SCENE 1
Big Bird witnesses Gina preparing a pizza pie at Hooper's Store, which she reads a book in order to make. When she tosses the dough in the air, she neglects to catch it and it flops over her head.

Film
Pizza is made.
Music: Joe Raposo
(First: Episode 0416)

Cartoon
H for hello (voice of Gary Owens)
(First: Episode 0020)

Song
Joe Raposo sings "I'm an Aardvark."
Re-filmed version
(First: Episode 2520)




Muppets
Prairie Dawn and The Count are contestants on "Squeal of Fortune."
(EKA: Episode 2331)

Cartoon
Which footprint doesn't belong?
(First: Episode 0509)

Film
Footage of a sunflower seed factory, where birdseed bells are manufactured.
(First: Episode 1181)

Muppets
Muppet & Kid Moment — Grover asks Katie to hug him and scratch his tummy.
(First: Episode 1653)

Celebrity
Billy Joel sings the alphabet with Anything Muppets and kids.
(First: Episode 2562)

Cartoon
What Do You Do With a Pet?
(First: Episode 0465)




Muppets
Caveperson Days
Caveperson Bert invents a window so that he and Ernie can see outside without going all the way to the cave's exit.
(First: Episode 2607)

Cartoon
Eight buttons are counted on a monkey's shirt.
Artist: Owe Gustafson
(First: Episode 1452)

Muppets
Three Anything Muppet babies sing "A Baby's Life."
(First: Episode 1423)

Cartoon
A mad scientist puts together a capital H.
(First: Episode 0284)

SCENE 2
At the library, the kids' table is all full, forcing Elmo to sit at a regular table, which he is too small to see over. He asks Bob to stack his books on the chair so he can sit on them, only now he can't read because the books on under him. Linda solves the problem by having Bob sit down and putting Elmo on his lap.

Film
A man bounces a ball up the steps, and then it falls down the steps.
Music: Joe Raposo
(First: Episode 0435)

Muppets
A heartbroken groom sings "Don't Walk."
(First: Episode 2454)

Cartoon
A rolling circle becomes a square, then a triangle, and various other shapes.
(First: Episode 1465)

Muppets
Clementine and Buster get on a train, and try to tell Forgetful Jones that he's supposed to get on the train with them, but Forgetful Jones would much rather remember on his own why he's at the train station. The train leaves just as Forgetful remembers why he's there.
(First: Episode 1654)

Cartoon
A girl inflates a balloon in the shape of an S.
(First: Episode 0414)

Song
Joe Raposo sings "What Do You Do With a Fruit?"
(First: Episode 2050)

SCENE 3
Big Bird makes his way toward the library exit, when a rainstorm begins. He proudly tells Elmo that he won't get wet, as he's brought his umbrella along. He opens it up, but it unable to go through the doors, which Elmo points out will keep him from getting wet as well.

Cartoon
A moving truck takes the number 8.
(First: Episode 1446)

Cast
Luis tosses and turns in bed. Gordon hawks a sure-fire method of getting to sleep - counting. Luis orders Gordon to leave the bedroom in ten seconds, then falls asleep after counting.
(First: Episode 1487)

Film
A boy talks about living in Alaska and about racing sled dogs.
(EKA: Episode 2388)

Muppets
Sesame Street News Flash
Kermit interviews a bird who sings about how her parents still love her even though they don't live together anymore (though it is not directly stated whether her parents are divorced or separated).

Cartoon
Different ways to use a string
Artist: Paul Fierlinger
(First: Episode 0980)

Muppets
Simon Soundman tries to buy a saw at Sam's General Store.
(First: Episode 0409)

Film
A girl puts on her coat all by herself.
Music: Joe Raposo
(First: Episode 0622)

SCENE 4
Snuffy asks Hiroshi to read him "The Little Letter H Book," which goes simply:

"H" is for "horse" / "H" is for "hen"
If you like this book / Then read it again.

Snuffy does like the book and asks to hear it again...and again...

Cartoon
More and more moths appear, and devour a man's clothes.
Artist: Bob Kurtz
(First: Episode 0294)

Muppets
Ernie & Bert — Bert tells Ernie to make a grocery list, but Ernie can't find anything to write with...except for chocolate pudding. (Bert: "He's improving. Last time, he used spaghetti sauce.")
(First: Episode 1967)

Cartoon
A voice asks a face if it's aware of the letter S, and it is revealed that the face belongs to a snake.
Artists: The Hubleys
(First: Episode 0278)

SCENE 5
Hiroshi has read the book several times by now and requests a reprieve. Snuffy agrees and picks out another book, "A Small Story About 's'," which winds up in a similar loop.
Notes
Community content is available under
CC-BY-SA
unless otherwise noted.