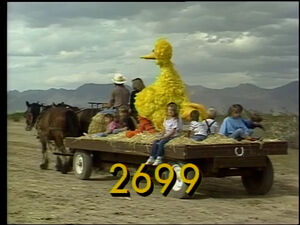 Picture
Segment
Description

SCENE 1
Telly and Elmo pretend to be detectives, though Telly wants to quit, as there aren't any mysteries on Sesame Street to solve. Elmo tries to make mysteries out of some nearby sounds, but Telly is quick to point out the sources. They don't hear anything after that and wonder why...that means a mystery!

Cartoon
V for volcano
(First: Episode 1980)

Insert
Big Bird watches the shape dancers make a rectangle.
(First: Episode 1276)

Film
A man takes two kids on a boat ride through the Louisiana bayou.
(First: Episode 2520)

Cartoon
Geronimo 10-0: The parachute becomes a large mattress.
(First: Episode 2245)

Muppets
Sesame Street News Flash: Young George Washington
(First: Episode 0916)

Cartoon
Pinball Number Count #2
Artist: Jeff Hale
(First: Episode 0987)

SCENE 2
Elmo starts their mystery search in the arbor, though Telly isn't convinced there is a mystery around. Elmo has him run around and look for clues fast and slowly. Telly doesn't understand how this finds a mystery; Elmo responds that it doesn't - it's just fun!

Cartoon
L for Lion (sand)
(First: Episode 2107)

Celebrity
Maria and the kids visit Herbie Hancock's studio, where he demonstrates how to make electronic music.
(EKA: Episode 2037)

Film
Animals fight.
Music: Joe Raposo
(First: Episode 0567)

SCENE 3
At Hooper's Store, Elmo decides to split up to cover more ground. Telly admits to Gina that he doesn't want to play detective anymore, but is unsure about telling Elmo. She convinces him to confess how he feels when Elmo returns. Elmo understands how Telly feels and agrees to play whatever he wants now. Telly doesn't have any ideas and runs off to find one. Elmo wonders what it could be - a mystery at last!

Cartoon
Don't be a Snerd when you sneeze.
Artist: Bruce Cayard
(First: Episode 1487)

Muppets
"Rebel L"
(First: Episode 2217)

Film
Counting eleven eggs and one cookie.
(First: Episode 0002)




Muppets
Spaceship Surprise
The crew lands on the Planet TR, where they are greeted by Trevor Trout.
(First: Episode 2607)

Cartoon
When a bird pops a balloon, the balls represent Sad and Happy.
(First: Episode 2102)

SCENE 4
Telly returns to Hooper's with a board with four quadrants - three have trios of boats and one has a single boat, leading to a round of "One of These Things." Elmo gets the right answer and believes the game was very similar to a mystery. Telly says it was a different kind of mystery - with a song.

Cartoon
Dr. Annie Eyeball looks at air.
Artist: Bruce Cayard
(First: Episode 2592)

Muppets
Muppet & Kid Moment — Grover and Jesse talk about love.
(EKA: Episode 2420)

Animation
Teeny Little Super Guy explains to Eugene why going to school is important.
Artist: Paul Fierlinger
(First: Episode 1966)

Cartoon
Consonant Sound: V, violin
(First: Episode 1157)

Muppets
Betty Lou learns some Spanish words from her friend Carlos, including "Amigo."
(First: Episode 2042)

Cartoon
An aviator and his son cooperate to start their plane.
(First: Episode 1476)

SCENE 5
Since Telly doesn't want to be a detective anymore, Elmo has a new partner - Detective Jonathan. Together, the look at a picture and find the animals embedded into the artwork. Afterwards, Elmo has him find something else - Elmo (for hide and seek).

Cartoon
L for life, love, lizard, leap and lump
Artist: Cliff Roberts
(First: Episode 1833)

Film
Feet wearing all different types of shoes dance.
(First: Episode 2601)

Cartoon
A boy demonstrates why his dog's name is Happy.
(First: Episode 0537)

Muppets
Ernie & Bert — Ernie plays a game with Bert where Ernie plays riffs on his drum set and Bert has to repeat them back. Bert is surprisingly good at the game.
(First: Episode 1809)

Cartoon
A song tells the story of Max, who loves to chop down trees. One tree turns out to be a magic genie, who turns Max into a tree. Max soon grows respect for trees and once returned human, vows to never chop one down again.
(First: Episode 0572)

Film / Cast
Gordon joins a class for some exercises.
(First: Episode 1098)

Cartoon
Two flies land on a man's nose and take a bite.
Artist: Cordell Barker
(First: Episode 2409)

SCENE 6
Gina joins Detectives Elmo and Jonathan as they sit and wait for a very important sound. The sound turns out to be the closing theme, which means they can wave goodbye. Telly announces the sponsors.
Community content is available under
CC-BY-SA
unless otherwise noted.