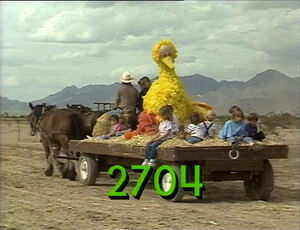 Picture
Segment
Description

SCENE 1
Mr. Handford finds that the Hooper's Store pay phone isn't working and even ate his quarter. Oscar and Grundgetta argue over who gets to use it next, looking forward to being unable to make a call and losing their money. They bristle at the notion that they'd have to take turns, but do so anyway and complain about the phone.

Cartoon
Ivy Austin sings about a rabbit's day of eating grapes and swimming with pals.
(First: Episode 2314)

Film
Fay Ray moves clockwise and ticks, until an alarm sounds.
(First: Episode 2597)

Cartoon
A boy and a dog fight over a letter "I."
(First: Episode 0143)

Muppets
"Cereal Girl"
(First: Episode 2687)

Cartoon
A kid voice-over says, "Ocean," as a fish is seen swimming in the ocean.
(First: Episode 2670)




SCENE 2
Ruby tries making a call, when Mr. Handford points out the "Out of Order" sign he's placed over the phone. He then says someone from the telephone company is coming over soon to repair it. Ruby instead believes that changing the sign to read "This telephone is fixed" would do just the trick. They experiment and find the phone still doesn't work. The repairman (David Rudman) comes in and reads Ruby's sign, then leaves, assuming the problem has been solved.

Cartoon
A painter paints a Number Nine, then hangs it.
(First: Episode 1488)

Film
Kids go roller-skating in a playground as ragtime music plays.
(First: Episode 1234)

Cartoon
Dr. Annie Eyeball studies wet things which eventually become dry.
Artist: Bruce Cayard
(First: Episode 2613)

Muppets
"I'm in Love with U"
(First: Episode 1701)

Cartoon
Something's missing ... is it a frog or a dog?
(First: Episode 2389)




SCENE 3
The telephone company sends over someone else to repair the phone - Count von Count, on his first day of the job (having taken lessons from the Counting Lovers Telephone Repair School). Within moments, he's able to get the phone ringing, only he's rigged it to never stop ringing so he can count all the rings.

Cartoon
A white boy hangs out with his Latino friend.
(First: Episode 1471)

Muppets
Kermit the Frog sings "It's Alive."
(First: Episode 2029)

Film
A man makes a shadow puppet of a rabbit.
(First: Episode 0614)

Cartoon
The Bridgekeeper: Square
(First: Episode 1618)

Muppets
The Two-Headed Monster drives a car, but puts on the seat belt first.
(First: Episode 1966)

Cartoon
Jasper and Julius: Apple
(First: Episode 0485)




Celebrity
Ricky (Billy Crystal) walks through a letter U, which he thinks is UNBELIEVABLE!
(First: Episode 2083)

Animation
"¡Él juega beisbol!"
(First: Episode 2101)

Muppets
Super Grover tries to stop a fight between Sammy and Frankie, who are fighting over an apple.
(First: Episode 0786)

Cartoon
Sign Sounds: WET PAINT
(First: Episode 1136)

Song
"Brothers Song"
(First: Episode 1476)

Cartoon
Don't cross the street alone.
(First: Episode 1942)




SCENE 4
Uncle Wally stops by the Fix-It Shop, where Maria hasn't gotten to his toaster; she's busy working on a busted radio. Uncle Wally claims to have been a radio repairman many moons ago and suggests she give it his patented "Thwack, thwackety, thwack." She taps it in just that way, making it functional again. He also recalls his mother was a fan fixer, perfect for the broken electric fan Maria has to repair. She gives it his mother's "Thumpety thump thump," and the fan falls apart.

Cartoon
Two groups of mountain goats try to pass each other on a mountain road.
(First: Episode 0780)

Muppets
Bob imagines himself in 1789, and meets two of the people in George Washington's neighborhood, the candlemaker and the saddlemaker.
(First: Episode 2294)

Animation
Counting 1-9 in Spanish
(First: Episode 1594)

Film
Kids play in the snow.
Music: Joe Raposo
(First: Episode 0292)

Muppets
An Anything Muppet boy teaches "forward" and "backward" with a group of Muppets who keep running over the boy when his back is turned.
(First: Episode 0069)

Cartoon
One of these things doesn't belong (shoe pairs)
(First: Episode 0490)




SCENE 5
Luis is unable to fully repair the telephone, but has gotten it to stop ringing incessantly. Before he can dig into his hero sandwich, he leaves to answer the phone ringing at the Fix-It Shop. The Amazing Mumford comes in and has a magic book with a trick to fix the phone. He gets his "wires crossed" and instead causes Luis' sandwich to act as a phone. Mr. Handford answers the call from "Mr. Trump" and declines his offer to buy the store. Mumford tries again and gets the actual phone working again, leaving Luis' sandwich as an extra extension (for Mr. Trump to call back on).

Cartoon
Letter I (Beep Beep)
(First: Episode 0427)

Film
A boy talks about feeding sheep in the winter.
Music: Robert Dennis
(First: Episode 0786)
Cartoon
"Signing Alphabet," an animated film by Steve Finkin. Music for voice and electronics by Joan La Barbara.
(First: Episode 1056)

Muppets
Ernie & Bert — Ernie is thirsty, and imagines that he's drinking nice cold water. Irritated, Bert tells him to go get a real glass of water. Ernie does, but then he annoys Bert by saying that now he's hungry.
(First: Episode 0459)

Cartoon
Nine sheep (Maria voice-over added)
Aritst: Owe Gustafson
(First: Episode 1501)

SCENE 6
Luis is shocked that Mumford was able to fix the phone and is even more surprised when his sandwich rings. He answers it and talks with Big Bird about what he's doing. As Mr. Handford deals with another caller, Mumford announces the sponsors.