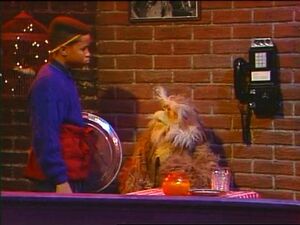 Picture
Segment
Description

SCENE 1
Hoots jams in an empty Birdland, when a young teen enters. He introduces himself as Jelani Jones and is looking for an after school job, pointing out the club's "Help Wanted" sign. Hoots is need of a waiter and isn't sure Jelani, a human, would be capable of working with mostly avian clientele. He gives Jelani a shot anyhow.

Cartoon
The Bellhop is asked to carry a guest's two small (but heavy) bags to Room 14.
(First: Episode 2571)

Muppets
Guy Smiley promotes the use of "Air." He leads his marching band through the walls of a barber shop every time someone there says a word out loud that rhymes with "air."
(First: Episode 2682)

Animation
2 houses plus 3 houses equal 5.
(First: Episode 0283)




Muppets / Celebrity
Bob and Maria take their seats at Grouch Symphony Hall, sitting amongst an audience of grouches. They're there to see Oscar the Grouch who will be sharing the stage with Itzhak Perlman; Maria: "not the Itzhak Perlman?!" They'll be playing Johann Sebastian Blech's "Double Sonata for Violin, Vacuum Cleaner, Policeman's Whistle, Fire Engine Siren, Jackhammer, Automobile Horn, Elephant Jumping into Swimming Pool, and Nose." Maria thinks it's got to be a mistake.

The lights dim and Telly Monster takes the stage to introduce the musicians. Oscar enters in his trash can and Perlman arrives in a dirty tuxedo. As they prepare for the performance, Bob and Maria are astonished by the juxtaposition of a violin being tuned with that of the likes of a vacuum cleaner (and other oddities). Perlman plays several short selections intercut with Oscar's contributions (with help from Penelope inside the can). The piece ends with Perlman loudly blowing his nose into a handkerchief and dead roses thrown on stage from the audience.
(First: Episode 1658)

Film
Alphaquest: W

SCENE 2
The club is now full of customers. Jelani takes a duck's dinner order, constantly having to check in with Hoots to translate the quacks. As he tends to a chicken customer, Hoots starts to see promise in his new hire.

Cartoon
A hand draws a farm backdrop for the animals.
(First: Episode 0925)

Song
Children of all kinds sing "We All Sing with the Same Voice".
(First: Episode 1708)

Cartoon
A football player talks about his favorite sport.
Artist: John and Faith Hubley
(First: Episode 0135)

Muppets
The Count invites the Countess to his castle to watch their favorite show, "twentysomething", where a couple (played by themselves) and Prairie Dawn learn that "twentysomething" is not a number.
(First: Episode 2556)

Cartoon
A beaver does his exercises, while his friends make fun of him. He then uses his strength to save his friends when the dam breaks.
Artist: Irra Verbitsky
(First: Episode 2067)




SCENE 3
Jelani serves a pair of birdseed juices to two different birds. However, both drinks are different sizes, and their respective beaks won't be able to fit in the glass they've been given. Instead of getting them each new glasses, he simply switches their drinks. "What a fast-thinking dude," Hoots notes.

Animation
Number creatures #14

Cast
Linda signs the word snow, and Gordon gets snowed on.

Cartoon
A cat desperately tries to open a can of cat food by himself while his mistress is on the phone.
Artist: Dan Haskett
(First: Episode 2151)

Film
In time-lapse footage, a construction crew builds a house and paints it green, and a family moves into it.
(First: Episode 1171)

Cartoon
B ... US! We're on the bus!
(First: Episode 0785)

Muppets
Four Anything Muppet kids cooperate to grow a flower together. One has a flower seed, one has a flowerpot, one has some dirt, and one has a shovel. The rain and sunshine finish the job.
(First: Episode 0311)

Film
Hippos
Music: Joe Raposo
(First: Episode 0415)

Cartoon
"Do the Continental" - two kids jump into Asia.

SCENE 4
Hoots gets a call from his secondary waiter (covering once Jelani leaves), who has come down with Chirp-itis. He also reports the bird who tends to the club's phone has flown south with no intention of returning. Jelani thinks he can cover their jobs and demonstrates (in fast-motion).

Cartoon
F is for Fly and Frog
(First: Episode 0034)

Cast
Linda signs as Gordon says "Rain" and gets wet.

Song
"School Song"
(First: Episode 0986)

Muppets
Ernie & Bert — Bert complains that he can't sleep, because Ernie left the faucet dripping. Ernie drowns out the sound of the water dripping with louder noises.
(First: Episode 0131)

Cartoon
A hand draws a guitarist serenading a maiden, as well as the background.
(First: Episode 0791)

SCENE 5
The crowd starts chanting for some entertainment, when Hoots informs the crowd that their singer is stuck in a snowstorm over Chicago. Jelani again thinks he can substitute. As Hoots and the house band plays, Jelani sings "Believe in Yourself."

Cartoon
A girl has trouble closing her suitcase after she's packed it, but has help from her four-legged friend.
(First: Episode 1469)

Cast
Linda signs the word "pie," and gets hit with one, to Gordon's surprise.

Film
In a gymnasium, a teacher and some kids play catch with a balloon.
(First: Episode 1088)

Muppets
The Two-Headed Monster looks at different shapes.
(First: Episode 1629)

Cartoon
W is for Worm
(First: Episode 0001)

Song
Luis sings "Three of These Things" with three kids with umbrellas and one unlucky kid without one.
(First: Episode 0449)

Film
Fay demonstrates addition by placing 3 balls on a table.
Artist: William Wegman
(First: Episode 2615)




SCENE 6
Hoots is very impressed with Jelani's work performance tonight. Jelani states there's one thing he can't do - stay (he's got studying to do). When he leaves, Hoots plays the sax and a tired patron announces the sponsors.
Notes
Community content is available under
CC-BY-SA
unless otherwise noted.