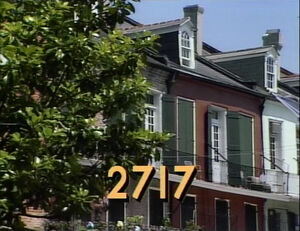 Picture
Segment
Description




SCENE 1
Mr. Handford observes a clothesline running from Hooper's Store to 123 Sesame Street, with a basket and bell attached on the line. This turns out to be the doing of Preston Rabbit, who considers it his latest gift to the good folks of Sesame Street. He explains that this new system will allow Mr. Handford to contact Susan and Gordon without having to leave the store. Mr. Handford points out the store already has a device for that - the telephone. Preston decides to use it to call the guy he bought the rope from.

Film
Two kids help an old Chinese man get his dragon kite in the air.
(First: Episode 0444)

Cartoon
A girl talks about imagination.
(First: Episode 0353)

Muppets
Kermit watches Grover as he touches his nose with his toes five times. Kermit then tries to do the same, but ends up hurting himself.
(First: Episode 1629)

Film
Footage of a coral reef, showcasing the plant life and the fish.
Music: Joe Raposo
(First: Episode 0466)

Cartoon
A mad scientist puts together a capital H.
(First: Episode 0284)

SCENE 2
Preston has a new gift for Mr. Handford set up right outside the door. Preston's gift is a new way of letting Mr. Handford know somebody's at the door - by pulling on a rope, a bunch of cans fall from a box, creating a noise to attract his attention. Mr. Handford already has something filling that function, a doorbell.

Cartoon
An owl flies, carrying a sign that says "PELIGRO."
(First: Episode 0787)

Muppets
"Come Join Us"
(First: Episode 1470)

Film
Kids learn how to use a computer at a public school.
(First: Episode 1853)

Muppets
Ernie helps Cookie Monster in making apple-walnut-raisin cookies, but every time Ernie hands the monster each ingredient, Cookie Monster instantly devours it.
(First: Episode 1287)

Cartoon
Pistons push a capital H through a tunnel, where it breaks and turns into a lowercase h. (with voiceover by Roscoe Orman)
(First: Episode 2217)

SCENE 3
Preston's next gift is one to help combat the sunshine - a helmet with little shade to pull down. Again, Mr. Handford already has something to take care of that - some sunglasses. "You know, Mr. Hanford, you are a very hard person to get a present for," Preston admits, but he's determined to find him the perfect gift.

Cartoon
Un circulo
(First: Episode 1657)

Song
"Me and My Chair"
(First: Episode 1706)

Cartoon
Millie and Molly take a walk, and have different perspectives of their surroundings.
(First: Episode 1309)

Muppets
Muppet & Kid Moment — Cookie Monster has Tara help him explain the word information by giving him cookies to eat.
(First: Episode 2589)

Animation
Two houses plus 2 equals 4.
(First: Episode 0283)

Film
Sesame Street Animal Films: Animals have tails.
(First: Episode 0017)

Muppets
Sesame Street News Flash: Kermit interviews Santa Claus, the Easter Bunny and a witch -- they are all confused about who they are and what holidays they belong in.
(First: Episode 0711)

Cartoon
Gordon's Voiceover 'T/t': Two caterpillars form T and t.
(First: Episode 2223)




SCENE 4
Gordon introduces everyone to percussionist Max Roach, who will "play" Sesame Street by banging everything with his drumsticks, including Oscar's trash can. This makes Oscar angry; not because of Max's noise, but because he's stopped. Max continues to make a beat from Oscar's can and crates.

Cartoon
Five Swans
Artist: Owe Gustafson
(First: Episode 1460)

Muppets
"I'm Between"
(First: Episode 1233)

Animation
A ball looks for its match on a brick wall.
(First: Episode 1470)

Film
Animal camouflage with kid voiceovers.
Music: Joe Raposo
(First: Episode 0366)

Cartoon
H - Horse
(First: Episode 0474)

Muppets
Ernie & Bert — Ernie plays doctor and makes Bert be the patient for his check-up. He checks Bert's heart, mouth and more. At the end, Bert wonders how he is feeling, but Ernie can't tell him that until he's a real doctor, twenty-three years from now. Bert faints after Ernie's answer and Ernie wonders if there's a doctor in the house.
(First: Episode 0937)

Cartoon
A caterpillar dances in ten socks.
(First: Episode 2246)

SCENE 5
Max drums out rhythms as Count von Count counts the different beats.

Cartoon
"Cooperation" - a reggae song about a group of animals who wash a car together.
Artist: Michael Sporn
(First: Episode 2139)

Film
Kids watch as construction workers paint a number 5 on the street using a stencil.
(First: Episode 0497)

Cartoon
Jasper thinks that he has lost his elbow, but Julius shows him his elbow by bending his arm.
Artist: Cliff Roberts
(First: Episode 0410)

Muppets
The American Revolution: The Declaration of Independence
Thomas Jefferson (Don Music) has trouble getting a replacement quill to finish the Declaration when Mr. Grover misinterprets what he needs, bringing a drill, and a chicken named Phil.
(First: Episode 2345)

Cartoon
La letra T es para tigre, tomate, taxi, toro, telefono, televisión, y el terrible tiburon.
(First: Episode 0351)

SCENE 6
Preston has one gift he's sure Mr. Handford can use, especially useful since it's time to say goodbye - a box that can wave. Oscar announces the sponsors.
Community content is available under
CC-BY-SA
unless otherwise noted.