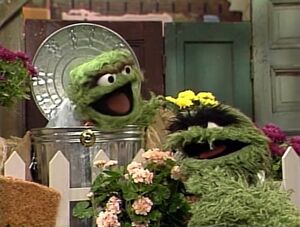 Picture
Segment
Description

SCENE 1
Gordon, Maria, Luis, Bob, Gina, and Big Bird sing "Goodbye Fly."

Cartoon
G for Gorilla (in man suit)
(First: Episode 0085)

Muppets
Gladys the Cow helps Kermit direct the dance scene of his movie. Her task is to count backwards from four and yell "action", but she counts forwards instead. Kermit shows her the right way to count and yells "Action!", which Gladys uses as an excuse to begin her dance scene.
(First: Episode 2298)

Film
At a zoo, monkeys clean each other and run around.
Music: Joe Raposo
(First: Episode 2505)

Muppets
Ernie & Bert — Bert finds it difficult to listen to Pigeons in the News while Ernie and the Sesame Street Citizens' Band are outside practicing. In yet another case of miscommunication between the two, since Bert doesn't like it when they practice outside, Ernie leads the band into the apartment so they can practice inside.
(First: Episode 0982)

Animation
"The King of Eight"
(First: Episode 0225)

Cast
Linda teaches a kid how to sign the word CLOSED. (remake)
(First: Episode 2610)

Song
Luis sings "Follow the Arrows" as a man does so.
(First: Episode 1642)

Muppets
The School Game, hosted by Guy Smiley. Three students have to guess what their teacher does and doesn't do for a living.
(First: Episode 2282)

Animation
Sand G/g
(First: Episode 0643)

Insert
Jump Insert D - Jump Tricks: The Double Dutch Jumpers do various jumprope tricks.
(First: Episode 1415)

Cartoon
A hippo has difficulty getting the succulent fruit down from a tree, and enlists the help of another hippo.
Artist: John Korty
(First: Episode 1899)

Muppets
Grover climbs a tree and finds a bird's nest with some eggs in it. The eggs hatch, and the baby birds think Grover is their mommy. When the real mother bird arrives, she mistakes Grover for one of her babies. She gives them all a flying lesson, but Grover promptly falls to the ground.
(First: Episode 0570)

Cartoon
The Typewriter: "Q", Quiet
Artist: Jeff Hale
(First: Episode 0768)

SCENE 2
Gordon passes by Oscar's trash can, and is confused when he sees it decorated with a fancy picket fence, flowers, and a welcome mat, and hears classical music coming from it. He rings the pleasant-sounding doorbell, and Oscar answers, appearing in a fancy outfit with his fur all combed. Oscar explains that he is preparing for the arrival of his brother Ernest, whom, he assures Gordon, will be disgusted to be treated so nicely by Oscar, since grouches aren't supposed to be nice and neat. (Oscar isn't too happy about his appearance, either.)

Cartoon
A bird displays the front and back of a turtle.
(First: Episode 0789)

Muppets
Muppet & Kid Moment — Herry & John-John observe a letter Q.
(First: Episode 0571)

Film
Kid voiceovers identify a horse's body parts (shown one at a time), then the complete animal.
Music: Joe Raposo
(First: Episode 0428)

Muppets
The Two-Headed Monster reads the word "Pop" and blows up a balloon so they can pop it.
(First: Episode 1569)

Cartoon
A cat catches a TELEPHONE and eats it.
Artists: The Hubleys
(First: Episode 0154)




SCENE 3
Ernest arrives, and is dumbfounded when he sees what Oscar's done to his can. He becomes even more suspicious when Oscar politely invites him into the can, then decides to play along and throw some politeness back in Oscar's direction.

SCENE 3 cont'd
Gordon watches all this happen from a distance, and is amused by what he sees.

Cartoon
Which legs belong on the man?
(First: Episode 1691)

Animation
Teeny Little Super Guy shows his friend Harry the importance of sleep.
(EKA: Episode 2047)

Muppets
Anything Muppets sing "Oh, G" in praise of the letter G.
(First: Episode 1167)

Cartoon
A young man carrying a brown paper bag walks up to the bridgekeeper and asks him if he works there. He orders him to show him whatever circles are in the bag, and to eat them. He is ordered to eat three round foods: a cookie, a pepperoni pizza, and a slice of watermelon. Once he is granted permission to cross the bridge, however, he tells the bridgekeeper that he was merely trying to deliver the latter's groceries.
(First: Episode 1582)




SCENE 4
Oscar gruelingly introduces Ernest to Gordon and Gina, and they join a "One of These Things" game. Nathan points out that the square doesn't belong with the three circles, then both Ernest and Oscar ask Gina to get a fancy dessert from Hooper's which they can share with each other.

Cartoon
Pinball Number Count #8
(First: Episode 0998)

Film
Fay Ray subtracts four balls.
(First: Episode 2586)

Celebrity
Linda Ronstadt sings a special rewritten version of "Y Andalé" with a mariachi band.
(First: Episode 2487)

Cartoon
Dr. Frankenstein makes sure his monster knows about front and back.
(First: Episode 0782)




SCENE 5
Gina has whipped up a mixture of peanut butter, ketchup, pickles, and sauerkraut, which she and Gordon hope will get the grouches to be themselves again (she's noticed they're not happy being nice). She sets it in front of them, and they immediately start fighting over it.

Cartoon
Q for Quarter
Artist: Bud Luckey
(First: Episode 1176)

Film
Animals and children bathe in water.
Music: Joe Raposo
(First: Episode 0615)

Muppets
An octopus sings "Octopus Blues."
(First: Episode 2221)

Cartoon
A hand draws a telephone booth.
(First: Episode 0791)

Muppets
The Rhymies go camping, but a bear disrupts their campsite.
(First: Episode 1389)

Cartoon
What if we celebrate Valentine's Day with chickens instead of hearts?
(First: Episode 0488)

SCENE 6
Ernest and Oscar enjoyed the meal that Gina just gave them, and are happy to be themselves again. They argue over who was the nicer grouch, while Gina announces the sponsors and the credits roll.
Notes
The episode's storyline and sponsors are identical to that of Episode 0954.
Community content is available under
CC-BY-SA
unless otherwise noted.