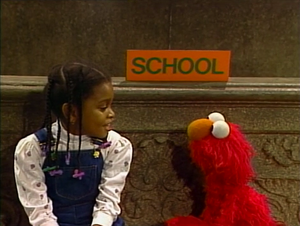 Picture
Segment
Description

SCENE 1
Maria and Luis show the kids a map of Sesame Street. They walk down the block and try to find their location on the map.

Animation
A girl unfolds a map and uses it to describe her trip to Mexico, stopping in Texas along the way.
(First: Episode 2689)

Film
A dolphin walks backwards on the water.
Music: Joe Raposo
(First: Episode 0278)

Cartoon
Rap #6
(First: Episode 2502)

Muppets
Sesame Street News Flash
The Amazing Mumford has a new trick, where he will make Thumbelina big and The Big Bad Wolf small. He makes Thumbelina big, but doesn't make the wolf smaller -- instead, Kermit is the one who shrinks.
(First: Episode 2696)

Cartoon
A pink circle splits into a cat, and a gray circle splits into a mouse.
(First: Episode 0452)

Muppets
"Rebel L"
(First: Episode 2217)

Film
A little girl gets herself a glass of AGUA.
(First: Episode 0929)

Muppets / Celebrity
Glenn Close vents to Oscar the Grouch about her bad luck, which makes her feel much better... but her affection towards Oscar makes him want to blow off steam.

Cartoon
Snacks on Parade: The Raisin
Artist: Bruce Cayard
(First: Episode 1171)

Film
Kids have a lost-dog poster made using an old-style printing press.
(First: Episode 1222)

Muppets
Monsterpiece Theater: "The Postman Always Rings Twice"

Cartoon
A concert pianist shows up in a construction worker's lunchbox, singing the alphabet.
(First: Episode 0449)

Cast
Mike and the kids perform "A Very Simple Dance."

Cartoon
A girl inflates a balloon in the shape of an S.
(First: Episode 0414)

Film
Looking for triangles in the city (Maria voiceover)
(First: Episode 2696)

Cartoon
A magician tries to make six circles disappear.
(First: Episode 0783)




Muppets
Monster on the Spot
Telly Monster reports from an empty first grade classroom, where the students will soon arrive for their first day of school. While he waits, he describes all the things in the room, such as desks and the chalkboard. He's eventually joined by the plumber, who informs him that school starts tomorrow. She keeps his report afloat by telling some bizarre tales from her career.
(First: Episode 1850)

Cartoon
A hand draws a bridge, which a train crosses.
(First: Episode 0793)

SCENE 2
Elmo and Keila pretend that they're in school.

Cartoon
A family of snakes makes shapes, and rolls away.
(First: Episode 1506)

Muppets
Bert says his favorite number is Six.
(First: Episode 1289)

Cartoon
A mysterious little box on a tightrope entraps a bird, a train, and a cat, which can still be heard. A large frog eats the box, and makes all of the sounds inside.
(First: Episode 1518)




Cast
Gordon hosts "The Crossing Zone," in which a boy named Jonathan has to find a way to cross the street. Susan helps him across.

Film
Two apples balance on a block seesaw.
(First: Episode 2176)




Muppets
Snuffy brings his TV over to Big Bird's nest so that he, Big Bird, and some kids can work out along with Jane Snuffleupagus.
(First: Episode 2076)

Cartoon
L for locomotive, letter, lamp, light, lion, lettuce, lips
(First: Episode 1716)

Film
In Alaska, a sculptor makes carvings of cold climate animals.
Music: David Snell
(First: Episode 2365)

Cartoon
A boy demonstrates why his dog's name is Happy.
(First: Episode 0537)

Muppets
"Daddy Helps with the Dishes" - three families sing about how they help each other doing chores, cooking and homework.
(First: Episode 2223)

Film / Muppets
Alphaquest: S
A swimsuit, Grover as a silly surfer, a seagull, the sunset and a submarine.

SCENE 3
Maria and Luis play with the kids as Elmo announces the sponsors.