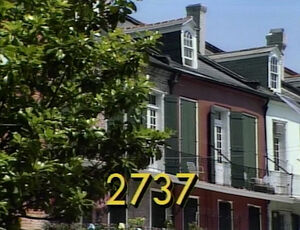 Picture
Segment
Description

SCENE 1
Before Luis takes Gabi over to Lillian's home care, Maria sings "Thinking of You" to her. Maria can't bear to part with Gabi, so she decides to take her instead.

Cartoon
A for apricot, alligator, acrobat, accordion, artist, airplane.
(First: Episode 1586)

Muppets
Grover applies to be a lifeguard, demonstrating to the employer that he has what it takes. He soon learns that there's only one thing he needs: swimming lessons.
(First: Episode 1951)

Film
Ducks swim and fly.
Music: Chopin's Valse Op. 64, no. 2
(First: Episode 2510)

Video
Four children roll on a gym mat while The Count counts them (in voice-over).
(First: Episode 0908)

Cartoon
"Animal Elevator": 10-1 (subtraction)
(First: Episode 2523)

SCENE 2
At home care, Lillian tries to get Irvine to socialize with the other kids, but she refuses. She finally finds a way for Irvine to cooperate by allowing her to knock down the others' block tower so they can make a new one.

Cartoon
A man displays the capital and lowercase A, and explains what an alligator is.
(First: Episode 0006)

Film
A boy visits the hospital to see his mother's new baby.
(First: Episode 1125)




Muppets
Spaceship Surprise
The crew lands on the Planet TR, where they are greeted by Trevor Trout.
(First: Episode 2607)

Cartoon
Workmen construct a D building, filled with everything that begins with D.
(First: Episode 0406)

SCENE 3
Oscar calls Lillian's to check up on Irvine and is appalled to hear she's doing "fine." Oscar sends Telly to Lillian's apartment to get some detailed information on the matter.

Cartoon
"Sing a Song of 14"
(First: Episode 2670)

Muppets
Pageant: Tooth
(First: Episode 1160)

Cartoon
A girl and elephant show heavy and light.
(First: Episode 0785)

Muppets
Clementine plays a game with the viewer to see if they can guess what Forgetful Jones is riding on.
(First: Episode 2218)

Transition
"All right, now that you've eaten everything in sight, would you mind telling me what you plan to have for dessert?"
(First: Episode 0006)

Film
Fay Ray subtracts three balls.
(First: Episode 2608)

SCENE 4
Telly sees what Irvine is up to and dreads having to tell Oscar that his niece is actually cooperating.

Cartoon
Zork lands on the coast of California, where he meets a slick agent.
Artist: ArtistMike
(First: Episode 2687)

Song
"Drink of Water"
(First: Episode 2545)

Cartoon
A schoolyard of gloves invites other gloves to join them.
(First: Episode 1481)

Muppets
The Two-Headed Monster looks at a star and sings "Twinkle, Twinkle, Little Star."

Cartoon
"I Can Remember": A little girl remembers what to buy at the store (A loaf of bread, a container of milk, and a stick of butter) by visualizing her mother giving the instructions.
Artist: Jim Simon
(First: Episode 0408)

SCENE 5
Telly gives Oscar the unfortunate information he collected. Oscar is furious and rushes over to Lillian's to straighten this issue out.

Cartoon
Spike's Scribble Theatre Presents: "Island"
(First: Episode 2673)

Muppets
An Anything Muppet man uses feathers and rocks to teach the difference between heavy and light. During the lecture, Cookie Monster comes along, mistakes the rocks for cookies, and eats them all. The rocks weigh Cookie down, so the monster proceeds to eat the feathers to "balance it out."
(First: Episode 0175)

Cartoon
Two hippie kids wonder how to make their droopy plant grow.
(First: Episode 1484)

Muppets / Celebrity
Tony Danza and Big Bird play tennis without a ball, and count twenty hits, while Kevin Clash announces.
(First: Episode 2170)

Film
Parts of a clown are shown in close-up as kids guess what it is.
Music: Joe Raposo
(First: Episode 0428)

Animation
A chair (voice of Martin P. Robinson) keeps bumping into things, until he finds his glasses. "See ya later!"
(First: Episode 1981)

SCENE 6
Oscar storms into Lillian's place, where she shows him that Irvine is still just as disobedient and Grouchy as ever.

Film
D is a very useful letter -- there are animals, jobs, and hobbies that begin with D.
(First: Episode 0367)

Muppets
Ernie and Bert: "That's What Friends Are For": Ernie sings to Bert about friends being tolerant of each other's differences, while Bert just wants to sleep.
(First: Episode 2073)

Cartoon
An orchestra conductor asks "May I have an A, please?" at which point a giant letter A falls from the sky.
(First: Episode 0770)

Film
Pizza is made.
Music: Joe Raposo
(First: Episode 0416)

Cartoon
The Bellhop is asked to carry a guest's two small (but heavy) bags to Room 14.
(First: Episode 2571)




SCENE 7
Maria and Luis gush over Gabi as she returns from day care. Oscar acts similarly when Bruno brings her over and they start a game of "peek-a-boo." Lillian announces the sponsors.
Community content is available under
CC-BY-SA
unless otherwise noted.