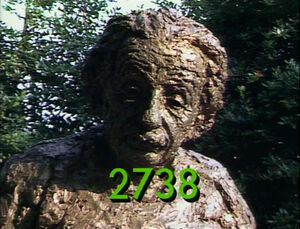 Picture
Segment
Description




SCENE 1
Oscar, Gina and Luis watch as Slimey skydives from a plane above. He has a slightly bumpy landing on the target and finds himself unable to move. Oscar calls for the Worm Ambulance and a pair of paramedics (including Richard Hunt) take Slimey away on a (regular sized) stretcher. Gina follows them to the hospital.

Cartoon
A map of Australia morphs into the shape of animals that are found there.
Artist: Fred Garbers
(First: Episode 2646)

Film
A girl narrates a film of herself taking care of her horse, Strawberry.
(First: Episode 2641)

Muppets
Bip Bippadotta and The Androoze Sisters sing "Everybody's Song."
(First: Episode 2064)

Cartoon
Two caterpillars plus three caterpillars equal five
(First: Episode 2324)

Insert
Big Bird watches the shape dancers make a rectangle.
(First: Episode 1276)

Cartoon
A stubborn hippo sits on a girl's ball, and she tries to figure out how to get it back.
(First: Episode 0765)

Film
A beekeeper extracts honey from honeycomb.
(First: Episode 1117)

Cartoon
"Martian Beauty" has nine hairs, nine bows, nine eyes, nine nostrils, nine arms, and nine toes.
Artist: Bud Luckey
(First: Episode 0316)




SCENE 2
Dr. Mudd (Bob Dishy) examines Slimey's X-rays and concludes that he has sprained his middle. He wraps it with a bandage and recommends Slimey not move for while, and especially refrains from skydiving. Oscar tells Slimey he's "grounded."

Cartoon
Two itchy gorillas agree to scratch each other's backs.
(First: Episode 1456)

Song
Jeff Redd sings "Between."

Muppets
Grover goes to the doctor for a check-up, and describes to the viewer what the doctor is doing. Grover gets scared when it's time for a booster shot, but is so scared that he doesn't notice when he gets it.
(First: Episode 1968)

Cartoon
Letter B/b (bouncing circles)
(First: Episode 2222)

Song
"Playground Map Song"
(First: Episode 2680)

Muppets
Two Anything Muppets (Frank Oz and Jerry Nelson) use a tape measure to figure out how far apart they are from each other. It turns out that thirty-seven feet separate them.
(First: Episode 0905)

Cartoon
A disobedient jacket illustrating words that begin with the letter J annoys an off-screen narrator, which reveals two kids named Jenny and Jeff inside of it.
(First: Episode 0527)




SCENE 3
Luis and the kids sit out on the stoop and discuss going to the doctor. When the gang returns from the hospital, Luis learns what happened and asks if there's anything he can do. Oscar has something in mind - getting lost!

Cartoon
J - Jam
(First: Episode 0012)

Celebrity
Paul Simon and Ladysmith Black Mambazo sing the African Alphabet Song.
(First: Episode 2431)

Cartoon
A peasant tries to woo a pretty girl by reciting the famous "Roses are Red" poem. The lines are fed to him by a poet behind a bush, whom she eventually runs off with.
Artist: Irra Verbitsky
(First: Episode 2058)

Film
Kids paint pictures of things that start with B. (edited)
Producer: Ken Snyder Enterprises
(First: Episode 0008)

Cartoon
Es un perro
(First: Episode 1969)

Muppets
Kermit the Frog goes to see his doctor, who listens to his heart. Describing what he hears as "groovy", the doctor sings "Heart of a Frog" about different kinds of noises (backed by frog nurses).
(First: Episode 2650)

Cartoon
A snake displays shapes, which are identified in Spanish.
(First: Episode 1584)




SCENE 4
Slimey's worm friend Michelle spends some time with him as he recovers. He asks Oscar to play a game with them. Oscar checks if the coast is clear and sings "Three of These Things" using their games and some sandwiches. Gina happens to see this and gives Oscar a pinch on the cheek.

Cartoon
9 Ants
Owe Gustafson
(First: Episode 1485)

Film
Two kids watch as a veterinarian fixes a baby robin's wing, then lets it go.
Music: Joe Raposo
(First: Episode 2292)

Cartoon
Rap #9
(First: Episode 2509)

Muppets / Cast
Bob reads "The King Who Wasted Paper."

Film
Colored sand forms the letter B and a boat.
(First: Episode 2374)

Song
"Cooperation" - Kids cooperate to move a wooden structure.
(First: Episode 0933)

Cartoon
A St. Bernard helps Zork down a snowy hill, later finding out that Zork wanted to go skiing.
Artist: ArtistMike




SCENE 5
Oscar puts up a worm-sized "Do Not Disturb" sign by Slimey so nobody bothers him. Telly wants to see how Slimey is recuperating, but is unable to read the sign because of its size. Oscar produces a larger one that's much easier to see, but Telly still can't read it - he doesn't know how.

Song
Bob sings Joe Raposo's "Look a Little Closer." (house)
(First: Episode 2672)

Muppets
Two-Headed Monster: One head wants to play the trumpet, but the other head wants to sleep.
(First: Episode 1390)

Cartoon
The moon listens to everyone say "Good night" in different languages.
(First: Episode 2243)

SCENE 6
Telly struggles to read what Oscar's sign says ("DO NOT DISTURB").




SCENE 6 cont'd
Luis and Gina come by Oscar's trash can, where Slimey is feeling better now. Telly rushes in, finally able to read the sign, just as Oscar takes it down; since Slimey's better, there's no need for it. Oscar puts it up again anyway, since he doesn't want to be disturbed...only Telly doesn't know what "disturb" means. When the grown-ups explain, he excitedly starts knocking on the can to tell Oscar he knows now. Big Bird announces the sponsors.
Notes