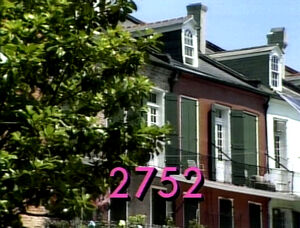 Picture
Segment
Description




SCENE 1
Elmo joins Gordon in his kitchen, trying to guess what Gordon will be preparing. He observes the egg beater, chocolate chips and baking flour (which he puts most of his face into). He guesses Gordon will be making chocolate chip cookies and learns he can even help. Elmo thanks Gordon with a floury kiss.

Cartoon
A man jumps up onto an UP.
(First: Episode 0546)

Song
Gina and Maria sing The Word is "No."
(First: Episode 2548)

Animation
"¡Él juega beisbol!"
(First: Episode 2101)

Film
A girl narrates a segment about nature through Winter and Spring.
(First: Episode 1966)

Cartoon
The Bellhop must take 10 terriers for a walk.
(First: Episode 2507)




SCENE 2
Elmo observes the newly-baked cookies and explains Gordon has stepped out to get some ice cream to eat along with them. Elmo claims to love ice cream, so much so, he wishes he could eat it all day. He imagines doing so, but all four imaginary Elmos become sick to their stomachs by dinner. Back in reality, Elmo's vision has made him just as nauseous, and he declines some ice cream when Gordon returns.

Cartoon
An orange ball tries to pet a green ball, which growls, scaring him away.
(First: Episode 2118)

Muppets
Instead of cookies, Cookie Monster recites a poem about galoshes -- or at least he tries.
(First: Episode 1626)

Film
Michael introduces his friend to the Afro-Brazilian martial art Capoeira.

Cartoon
A girl talks about preparing to play with her new sled.
Artist: Jim Simon
(First: Episode 0413)

Muppets
Western: A cowboy comes to see Adam T. Glaser, who is such a jack-of-all-trades that he forgets what a dentist does.
(First: Episode 0408)

Animation
It's a snail!
Artist: Ishu Patel
(First: Episode 1711)

Muppets / Celebrity
Tracey Ullman and some kids play a Simon-style game with Mr. Honker, a Dinger, and a duck.
(First: Episode 2584)

Cartoon
The Typewriter: D - Daisy
(First: Episode 0766)

Muppets
Sesame Street Game Show: Where Do I Belong?
Guy Smiley hosts a show which helps its contestants figure out where they belong.
(First: Episode 2318)

Cartoon
Jazz #10
(First: Episode 0193)

Muppets
Ernie & Bert — Bert tells Ernie to make a grocery list, but Ernie can't find anything to write with...except for chocolate pudding. (Bert: "He's improving. Last time he used spaghetti sauce.")
(First: Episode 1967)

Song
Sesame Street Creature Feature: The Marmoset.
(First: Episode 2487)

Cartoon
In rhyme, a man points out animals who stole and/or ruined his clothing.
(First: Episode 0778)




SCENE 3
Snuffy shows Big Bird and Luis the magic gear that his grandmother used to own. They convince him to try a trick from the magic book, which will summon a "surprise rabbit." Snuffy waves his wand over the hat and recites the magic words ("A-la boiled cabbage sandwiches"!). Luis disappears in a puff of smoke, but emerges from the hat, dressed as a rabbit (that's the surprise!).

Cartoon
"Daddy Dear"
(First: Episode 0367)

Film
A dirty car gets cleaned at the car wash.
(First: Episode 1114)

Animation
A set of blocks reveal a square, a triangle, and a circle.
(First: Episode 1184)

Cast
Linda teaches a boy how to say "STREET" in sign language.
(First: Episode 2644)

Cartoon
Shorty reaches a water fountain with a stool.
(First: Episode 0954)

Song
Joe Raposo sings "Trying and Trying Again."
(First: Episode 0631)

Cartoon
A girl tries to describe what kind of sandwich she wants, but her dad keeps misunderstanding her.
Artist: Cathryn Aison
(First: Episode 1715)




SCENE 4
Gordon laughs at Luis' situation, as Luis is bound by the magic and is unable to get out. Gordon uses this as a perfect opportunity to explain in and out. Right now, Luis is in the hat, but as Snuffy tries the trick again, Luis is taken out of the hat...and Gordon takes his place.

Cartoon
A lizard sings about how she likes to be "Above it All", as well as below.
Artist: Sally Cruikshank
(First: Episode 2559)

Muppets
Muppet & Kid Moment — Erik shows Grover his teeth, and tells him how they are used.
(First: Episode 1639)

Animation
Stop-motion: what goes in the hot dog bun?
(First: Episode 1494)

Cartoon
Are you the monster that ate the television?
(First: Episode 1970)

Film
Hands build things out of triangles and squares while off-screen voices try to figure out what the constructions will be. (re-recorded music)
(First: Episode 0004)

Insert
Scanimate Films #10
(First: Episode 0134)




SCENE 5
Telly tells Luis he has a problem - it's almost time to say goodbye, but he needs to show first and last before that happens and he has no ideas on how. Big Bird and the Birdketeers start to pass by with their "Goodbye Parade," which Luis points out can be useful. Telly notes that Big Bird is first in the parade and little Brittany is last. Telly is relieved, while Big Bird announces the sponsors.
Community content is available under
CC-BY-SA
unless otherwise noted.