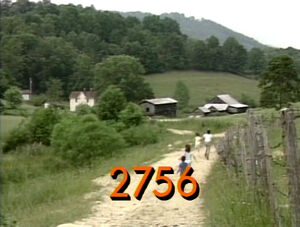 Picture
Segment
Description

SCENE 1
Gordon misses his bus to Madison Square Garden to see the New York Knicks game. Just after, Oscar and Grundgetta pull up in the Sloppy Jalopy, also heading to the game (so they can watch the Knicks lose) and ask for directions. Oscar refuses to give Gordon a ride, as that would be cooperating, but eventually relents. Gordon tells them which way to go and Oscar immediately goes the opposite direction (as Grouches always go the wrong way).

Cartoon
Jerry Nelson sings and counts thirteen turkeys.
(First: Episode 2711)

Film
Kids narrate a film of how a river is formed.
(First: Episode 2710)

Muppets / Celebrity
Big Bird introduces Yo-Yo Ma, who plays cello with two Honkers and a Dinger.
(First: Episode 2220)

Animation
Match the word HOT.
(First: Episode 2055)

Muppets
Kermit says his "ABC's of the Swamp."
(First: Episode 1960)

Animation
Sand T/t
(First: Episode 0636)

SCENE 2
The Sloppy Jalopy returns to Sesame Street, where Gordon shows the Grouches his map of the Sesame Street area. It shows the different streets that they could take to MSG. Grundgetta wants to take Elm Street (it's under construction), but Oscar wants to stay along Sesame Street (for more traffic). They then realize that all the roads reach the same destination, so they opt for the Pothole Parkway - the longest road of all.

Cartoon
A satellite view of the earth is shown on television, while a group of geese decide to fly south.
Artist: Paul Fierlinger
(First: Episode 2710)

Film
Ernie & Bert — Ernie plays a game of tag with Bert, who is reading his book.
(First: Episode 1026)

Cartoon
Ants carry a huge letter 'Q' uphill.
(First: Episode 0787)

Animation
Teeny Little Super Guy notices his friend Alice wanting to join a baseball game. He gives her the idea to go over there and ask them if she can play.
Artist: Paul Fierlinger
(First: Episode 1900)

Muppets
Bip Bipadotta leads "Scratch My Back" as a song about two monsters named Jack and Jill who swear that they will always be there to scratch each other's backs.
(First: Episode 2191)

Cartoon
T for typewriter and toe
Artist: John Korty
(First: Episode 0506)

SCENE 3
The gang makes their way down Pothole Parkway, when they come to a stop at the Grouch Drive-In, which happens to be on their Grouch map. Gordon tries to hail a taxi instead, as the drive-in feature begins...

Cartoon
A pig sings "There Are Chickens in the Trees" until a rooster tells him that chickens don't live in trees.
Artist: Jeff Hale
(First: Episode 1394)

SCENE 3 cont'd
After the short, Grundgetta and Oscar argue over how Grouchy they thought it was. Gordon wants to keep going, but Oscar says they can't leave - there's another movie about to start (it's a double feature). Gordon tries hailing another taxi and the next feature plays...

Animation
A voiceover counts forty dots, each one rising on a musical scale as their colors shift from red to orange.
(First: Episode 2406)

Muppets
Grover compares himself and the viewer, noting how much they are alike (except for the viewer's lack of blue fur).
(First: Episode 1804)

Song
"Spanish Foods Song"
(First: Episode 1111)

Cartoon
Something's missing ... is it a frog or a dog?
(First: Episode 2389)

SCENE 4
The trip continues, when the gang hits a Grouch Toll Booth. The Grouch Toll Booth Attendant tells them they can't advance without paying the toll: three candy wrappers. They search all around the car and find enough to go through, but discover the road ahead is closed (to put in more potholes). They have to turn around, but must pay another toll to get out.

Cartoon
T for top
Artist: Cliff Roberts
(First: Episode 0298)

Muppets
"Readers of the Open Range"
(First: Episode 2141)

Animation
It's a crocodile
Artist: Ishu Patel
(First: Episode 1663)

Film
"Visiting Iesha": Olivia sleeps over at Iesha's house, and spend the morning together. Olivia is white and Iesha and her family is black. Next time, Iesha wants to visit Olivia's family.

Cartoon
Q/q (balloons)
(First: Episode 2241)

Cast
Linda teaches a boy how to sign the word WALK.
(First: Episode 2572)

Muppets
The Oinker Sisters sing "A New Way to Walk." ("MacTV" intro cut)
(First: Episode 2268)

Cartoon
Number creatures #13
(First: Episode 2691)

Muppets
The Two-Headed Monster looks at itself in mirrors, and the right half notices that both of them are the same; they have the same nose, mouth, and hands. The other half points out that they're different: their horns point different ways, their hair is different, and their laughter is different.
(First: Episode 1769)

Cartoon
Counting eight figures
(First: Episode 2253)

SCENE 5
The Sloppy Jalopy gets stuck in some mud, as they've just hit the intersection of Pothole Parkway and Stuck in the Mud Street. Gordon decides to turn on the radio to listen to the game, but since Oscar's radio is busted, the signal fades in and out. Grundgetta points out when Gordon becomes happy and sad.

Cartoon
A girl puts imaginary things in a jar, which makes her laugh.
Artist: Bruce Cayard
(First: Episode 1304)

Muppets
Ernie & Bert — Bert and Ernie go fishing. Ernie catches fish by yelling "Heeeeere fishy, fishy, fishy!", and they come flying into the boat. Bert tries it, but only catches a shark.
(First: Episode 1641)

Animation
"¡Él juega fútbol!"
(First: Episode 2104)

Muppets
Muppet & Kid Moment — Grover and Erik play a rhyming game.
(First: Episode 1754)

Film
How Crayons are Made
Music: "Water Course A" and "Exchange" by Richard Harvey
(First: Episode 1579)




SCENE 6
The Sloppy Jalopy now won't even start and the basketball game is long over by now. Just then, Marv Albert appears with his car on his way from announcing the game and asks if they need a lift. Gordon goes home with Marv, who recounts the game to him. Oscar and Grundgetta stay behind to enjoy the broken car, as the toll booth attendant announces the sponsors.