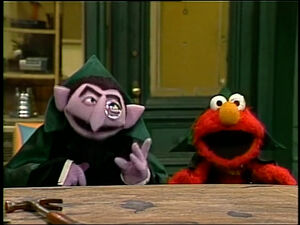 Picture
Segment
Description




SCENE 1
Gordon exits 123 Sesame Street to find a beat-up phone booth, complete with Ernestine the Telephone Operator. She explains Oscar has set up the system and to talk to him, one must pay her a quarter and she'll phone him. Gordon calls Oscar, who tells him the system is to make sure people won't bother him and hangs up. Not only does Gordon lose his quarter, but Ernestine goes on her break.

Cartoon
HEN / PEN / TEN / MEN
Music: Joe Raposo
(First: Episode 1881)

Film
A boy who lives in the Congo (in Africa) narrates a film of the kinds of games he and his friends play.
(First: Episode 2668)

Cartoon
O for orange
Artist: Bruce Cayard
(First: Episode 0673)

Muppets
Bip Bippadotta and The Androoze Sisters sing "Everybody's Song."
(First: Episode 2064)

Cartoon
Three mayonnaise jars follow three different paths after they leave the factory.
Artist: ArtistMike

SCENE 2
Ernestine demonstrates to Alice how to use the telephone using Snuffy's giant phone.

Song
David sings "I'm Pretty" over a film of fish and other sea creatures.
Re-filmed version
(First: Episode 2490)

Cartoon
Which legs belong on the man?
(First: Episode 1691)

Muppets
Little Jerry and the Monotones sing "Telephone Rock."
(First: Episode 0733)

Cartoon
A mother bird brings her babies a huge number 12.
(First: Episode 0493)

SCENE 3
Oscar feels a little lonely; his phone system's worked too well. He asks Ernestine to scram for fun, but she quits instead. When trying to get Gordon to call becomes too complicated, he abandons the system all together.

Cartoon
Jasper thinks that he has lost his elbow, but Julius shows him his elbow by bending his arm.
Artist: Cliff Roberts
(First: Episode 0410)

Film
Alphaquest: H
Heading over the hills in a helicopter to a hippo's house.
(First: Episode 2741)

Muppets
Elmo enjoys being Super Grover's friend and thinks they're the same. Grover tries to prove they're different.
(First: Episode 2343)

Cartoon
The Ringmaster displays 12 fluttering finches.
(First: Episode 1295)

SCENE 4
After imitating Super Grover, Elmo now pretends to be The Count (complete with cape, monocle and sash). Luis and the real Count von Count count the ways the two are similar and different. Elmo goes off to find someone to be the same as.

Cartoon
Consonant Sound Limerick: H - Horse
Artist: Jeff Hale
(First: Episode 1167)

Film
Children dance to different rhythms from around the world.
(First: Episode 2499)

Cartoon
An O rolls over and over a horse. The horse eats the O.
(First: Episode 0173)




Muppets / Cast
Ernie & Bert — Ernie and Bert go see a silent movie, "The Picnic" (starring Maria as Chaplin and Linda as the girl).
(First: Episode 2071)

Cartoon
A man (voice of Richard Hunt) answers the TELEPHONE and gives it to the plant.
(EKA: Episode 1828)

SCENE 5
Elmo now pretends to be the Amazing Mumford, who claims there's more to being the same than just wearing the same outfit. Mumford attempts to demonstrate by magically making Elmo's costume disappear...but only makes his clothes disappear. Elmo offers his smaller outfit to Mumford, who leaves embarrassed.

Cartoon
Sign Man: One Way
(First: Episode 1125)

Film
A film insert about washing elephants at the Bronx Zoo. The song "Splish Splash" is used in part of the segment.
(First: Episode 1934)

Muppets
Sesame Street News Flash: Kermit is interviewing Cinderella and Prince Charming, who are dancing at the ball. After Cinderella leaves, she leaves one glass slipper behind. The prince wants to find Cinderella...so he can have the other glass slipper.
(First: Episode 0516)

Cartoon
Two boys peek into a fire house, and write HAT, HOSE, and HOOK on the window using their breath. Two dogs come by and wonder what a HAT HOSE HOOK is, but their question is answered when the fire truck leaves the station.
Artist: Paul Fierlinger
(First: Episode 1204)

SCENE 6
Elmo now tries to be the same as Herry Monster, but can't lift a brick pile the same way (or even at all). Elmo realizes there's no one like himself. Luis is happy to hear that, but Elmo knew it all along; he was only playing a game. He starts playing a new game - riding Luis like a horse.

Cartoon
A man teaches his dog Rover how to read the word SIT.
(First: Episode 0304)

Film
A man takes two kids on a boat ride through the Louisiana bayou.
(First: Episode 2520)

Cartoon
A girl draws in her entire body.
Artist: Bruce Cayard
(First: Episode 1008)

Muppets
Cookie Monster introduces the word "AMOR".
(First: Episode 0601)

Cartoon
A song about a rolling O
Animation by John and Faith Hubley
(First: Episode 0011)

SCENE 7
Elmo's piggyback has finished and he hopes one day, he can be a little like Luis when he's older. Elmo then announces the sponsors.
Community content is available under
CC-BY-SA
unless otherwise noted.