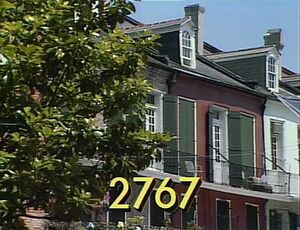 Picture
Segment
Description




SCENE 1
Telly Monster hosts an edition of "The Wide World of Sesame Street" from inside Linda's apartment to watch her and Barkley. Her alarm clock rings, but she is unable to hear it. Fortunately, Barkley can and wakes her up himself. Linda goes to make breakfast, while Barkley pounces on Telly, who throws the program to a break.

Cartoon
Gerald is repeatedly kept awake by his dog Sparky, who does a dance and poses as an alligator through his shadow whenever his parents close his door.
(First: Episode 1519)

Muppets
Ernie sings "D-U-C-K-I-E."
(First: Episode 1957)

Cartoon
A guru counts to twenty.
Producer: Ken Snyder; Music: Billy Taylor
(First: Episode 0276)

Muppets
Captain Elmo Cousteau searches for the treasure of the missing soap, with the help of a policeman fishy.
(First: Episode 2637)

Cartoon
Jill walks up a hill to pick a daffodil.
Artist: Jim Jinkins
(First: Episode 2538)

Animation
Teeny Little Super Guy recalls how he learned about the meaning of DANGER.
Artist: Paul Fierlinger
(First: Episode 1971)

Cartoon
The story of sheep, or where wool comes from.
Artist: Bruce Cayard
(First: Episode 1524)

SCENE 2
"The Wide World of Sesame Street" continues as Telly waits out in the yard (sitting on the fence) for Linda to do her daily exercises. She and Barkley return from a run, then she does some stretching and jumping jacks. Barkley starts jumping onto the fence, causing Telly to fall off.

Animation
A girl unfolds a map and uses it to describe her trip to Mexico, stopping in Texas along the way.
(First: Episode 2689)

Muppets
Polly Darton sings "Wavin' Goodbye to You with My Heart."
(First: Episode 1475)

Film
Alone Song
(First: Episode 0921)
Cartoon
Small letter b (ball/bat)
(First: Episode 1131)

Film
As a boy plays with a tugboat in the bathtub, we watch footage of a real tugboat.
(First: Episode 0801)

Cartoon
Henson: Eleven Cheer
(First: Episode 0273)

Muppets
Grover the lumberjack thinks he is the first to arrive for supper, but he gets trampled by a gang of French-Canadian lumberjacks who get to the food table before he has a chance to get his snow boots off. By the time he finally gets them off, a grizzly bear grabs the last plate of food.
(First: Episode 1343)

Cartoon
"L Look Around Song"
Artist: Bruce Cayard
(First: Episode 1483)

SCENE 3
"The Wide World of Sesame Street" resumes, where Telly hides under a bag of hot dog buns on Willy's hot dog cart. He observes Linda buying a hot dog, then going on the stoop to eat it. Barkley looks at it longingly, so she breaks off a piece of the wiener and gives it to him. This winds up happening again and again until all she has left is an empty bun. Barkley trots over to the stand and brings back a whole string of wieners, with an angry Willy following. Linda bashfully gives him some money and the two enjoy their lunch. Telly tries to throw to a break, when Willy catches him hiding in his stand and accuses him of stealing as well.

Cartoon
Listening to sounds can tell you about danger.
(First: Episode 1741)

Muppets
The Rhymies go camping, but a bear disrupts their campsite.
(First: Episode 1389)

Film
Children of all kinds sing "We All Sing with the Same Voice."
(First: Episode 1708)

Cartoon
L for Lion (poem)
Artist: Jeff Hale
(First: Episode 1149)

Animation
A dune buggy is assembled.
(First: Episode 0506)

Cartoon
B is for bubbles, bubbles and more bubbles. And Bosco, who is taking a bath.
(First: Episode 0355)

Muppets
Bert sings "Doin' the Pigeon".
(First: Episode 0536)

Cartoon
"It's a Lovely Eleven Morning"
Artist: Bud Luckey
(First: Episode 0362)

SCENE 4
In the next part of "The Wide World of Sesame Street," Telly hides out inside the Fix-It Shop, where Linda and Barkley are outside. Linda has Barkley stay with Maria while she does some shopping. Maria, knowing Barkley well enough, doesn't think he will stay, but is surprised when he doesn't run off once her back is turned. The phone starts ringing inside and Maria is unable to get in; Barkley's blocking the doorway! Linda returns and orders him to move and carry her bag home. Maria finally gets inside, but the phone has already hung up. She notices Telly was in there the entire time and asks why he didn't do anything about it.

Cartoon
What Do You Do With a Pet?
(First: Episode 0465)

Muppets
Baby Rocky performs "Cry" from his crib.
(First: Episode 1107)

Film
To a jazz rhythm soundtrack, the camera zooms in on flowers growing on a tree.
(First: Episode 0156)

Muppets
Muppet & Kid Moment — Grover talks to Chelsea about what their eyes, ears, nose, and mouth can do. Chelsea mentions that they both have them and also have hands, feet, bellies, necks, arms, backs, and shoulders. Grover replies they have a cornucopia of parts, which means they have a lot of good stuff.
(First: Episode 2389)

Cartoon
A little girl sings "There Is Only One Me."
(First: Episode 1942)

Song
"Come into the Garden"
(First: Episode 1357)

Cartoon
L for Laugh
Artists: Vincent Cafarelli & Candy Kugel

SCENE 5
Telly concludes his broadcast of "The Wide World of Sesame Street" by reviewing what they've learned about Linda and Barkley today - they live, play, share and work together, so they also love each other. As Linda and Barkley sleep, Telly announces the sponsors.
Community content is available under
CC-BY-SA
unless otherwise noted.