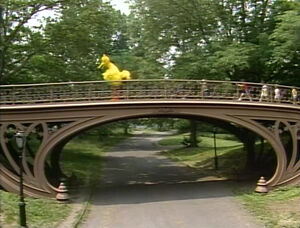 Picture
Segment
Description

SCENE 1
Snuffy has an idea of how he and Alice can cooperate. He instructs her to say "Good" when he nudges her with his snuffle. After practicing, he does it for real. Alice says, "Good," and Snuffy continues, "-morning and welcome to Sesame Street!"

Cartoon
A boy learns to play his violin by practicing.
(EKA: Episode 1736)




Muppets
Sesame Street Movie Classics presents: "High 12"
In a parody of High Noon, Clementine doesn't want Forgetful Jones to meet Sinister Sam, the meanest man in the west, at the traintracks at noon, especially since it's their wedding day. But both Forgetful Jones and Buster (in song, referencing "Do Not Forsake Me" from High Noon) convince her that "a man's got to do what a man's got to do". Sinister Sam shows up and, in a threatening manner, informs Forgetful Jones that he's got something to say to him ... "I think it was mighty nice of you to remember to meet my train!" They all hit the saloon for lemonade, leaving Clementine dejected.
(First: Episode 2614)

Animation
It's a giraffe
Artist: Ishu Patel
(EKA: Episode 2018)

SCENE 2
Oscar is annoyed that Bob and Linda are teaching the kids signs right by his trash can, especially positive ones. The kids how to sign happy and sad and they all decide to trick Oscar into thinking they're arguing in sign language. Oscar is now intrigued, but then everyone goes to Hooper's Store for a snack. Disgruntled, Oscar has an argument with himself instead.

Cartoon
"Signing Alphabet," an animated film by Steve Finkin. Music for voice and electronics by Joan La Barbara.
(EKA: Episode 1056)

Song
"Frog Kick"
(EKA: Episode 2303)

Cartoon
A mad scientist teaches his monster how to say the words "Fred," "foot", and "Friday."
(First: Episode 1162)

SCENE 3
Big Bird, armed with his best red crayon and paper, is ready to draw, only he can't think of anything. He spots Bob nearby studying a map and asks him about it. He becomes inspired to make his own map of Sesame Street.

SCENE 3 cont'd
Big Bird starts off his map by first placing his nest on it. Then, instead of counting miles like Bob's map, he counts the steps it takes to get from his nest to Hooper's, then the Fix-It Shop and everywhere in between. He shows Bob his newly-finished map - a mess of wild lines and numbers. He realizes there's one place he's forgotten - Snuffy's cave.

Cartoon
"Ladybugs' Picnic"
(First: Episode 0416)

Film
Animal camouflage (kid VO's)
Music: Joe Raposo
(First: Episode 0366)

Cartoon
F - Face
Artist: Jeff Hale
(First: Episode 1200)

Muppets
Ernie & Bert — Ernie gets Bert to participate in a rhyming game, but Ernie ends the game just as Bert is starting to enjoy it.
(First: Episode 0798)

Cartoon
Billy Jo Jive and Smart Susie Sunset search for Aunt Nellie's dog, Meatbone, not knowing that the sneaky dog has been following them the whole time.
(First: Episode 1296)




SCENE 4
Bob sees Big Bird stretching for his big trek to Snuffy's cave; he's even prepared a knapsack and trail mix. He starts counting his steps as he walks down the block. He is then seen on the real streets of New York City as he walks to Central Park, counting his steps and attracting the attention of children all over.

SCENE 4 cont'd
Big Bird finally reaches the Snuffleupagus residence, having counted 2,000 steps. Snuffy happens to be home and wants to join Big Bird in his cartography quest. They head back toward Sesame Street, with Snufy trailing slightly behind Big BIrd.

SCENE 4 cont'd
The two finally get back to Sesame Street. Big Bird has counted 2,000 steps once more, while Snuffy has counted 5,000. They argue over who's right and Bob points out that they both take different size steps, thus causing the difference. Big Bird doesn't know what number to put on his map, so Bob suggests both - in Big Bird steps and in Snuffleupagus steps. Big Bird then makes Bob walk to Snuffy's cave and count his steps so he can measure the distance in people steps.

Cartoon
Panels flip to reveal different ways things WALK.
(EKA: Episode 0820)

Film
Human and animal babies learn to walk.
(EKA: Episode 2124)

Cartoon
A family of snakes makes shapes, and rolls away.
(First: Episode 1506)

Muppets
In the woods, a nature-loving baritone (Jim Henson) sings "Ah, For the Joys of the Countryside" about how much he loves the country, without noticing that his surroundings are being converted into a city.
(EKA: Episode 1056)

Cartoon
A girl and elephant show heavy and light.
(First: Episode 0785)

SCENE 5
Big Bird and Snuffy have pasted his map to the doors of his nest and call out everyone (Maria, Linda and the kids) to see it. Maria asks about the extended section, a long roll of paper stretching from the map stretching all the way past 123 Sesame Street. Big Bird explains that it's "the greater Sesame Street part" and describes the trail from his nest to Snuffy's cave.

SCENE 5 cont'd
A very winded Bob finally returns from his trek and reports it takes 6,000 people steps to get to Snuffy's place. Big Bird offers to make copies for anyone, at ten cents apiece, but only one kid speaks up for one. Big Bird realizes they never measured the distance to Snuffy's in kid steps!

Cartoon
Z for zigzag, zero, zoo, and zebra
(EKA: Episode 2317)




Muppets
The Oinker Sisters sing "A New Way to Walk."
(EKA: Episode 2303)

Cartoon
"We Are Kids From Far and Wide": Sierra Leone

Film
A look at how families do chores both on a farm and in the city.
(First: Episode 2226)

Cartoon
A man pulls a rabbit out of his hat, but the rabbit turns out to be a cow. "Surprise!"
Artist: John Schnall

SCENE 6
Big Bird, Snuffy and the kids plan a trip to Snuffy's cave in order to get a "kid step" measurement for their map. They need a grown-ups help to cross the streets ("We can't always depend on the kindness of strangers," says Big Bird) and Linda volunteers. They start their journey as the sponsors are announced.