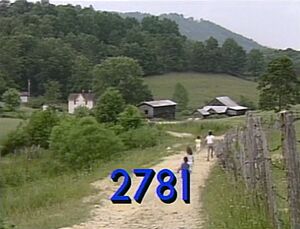 Picture
Segment
Description

SCENE 1
Telly bangs on Oscar's trash can to let him know that he will be away visiting his cousin for one whole day. He fears that Oscar will miss him, so he has prepared all kinds of love messages to him - who could not be more disgusted.

SCENE 1
cont'd
Once Telly leaves, Oscar gets a singing telegram delivered.

Cartoon
A song about a rolling O
Artists: The Hubleys
(First: Episode 0011)

Muppets
Muppet & Kid Moment — Grover and Karlena talk about the word "love" on a sign.
(First: Episode 2392)

Song
Joe Raposo sings "Weaver Bird."
(First: Episode 0372)

Cartoon
A man walks in an IN.
(First: Episode 0511)

Muppets
Kermit describes the times it is appropriate to use the in and out doors. To his dismay, a group of monsters keeps going out the in door.
(First: Episode 2220)

Cartoon
Gloria Globe appears sick and ailing, because of pollution and damage to the planet. Only by taking better care of the Earth can Gloria become well again.

Film
Pizza is made.
Music: Joe Raposo
(First: Episode 0416)




SCENE 2
For the second love message, Snuffy and Slimey dress up like Telly and visit Oscar, who insists that he is not sad, and does not miss Telly.

SCENE 2
cont'd
Just then, the real Telly comes back to report that his mom's car has broken down, and he won't be able to visit his cousin today. He tells Oscar to pretend he isn't here as the rest of Telly's surprises are delivered to him - including the Sub-Human Cannonball.

Cartoon
A top-hatted man tries to show a girl how many uses a box has, but she prefers kicking it.
(First: Episode 0763)

Film
Cat block structure.
(EKA: Episode 2341)

Muppets
"African Alphabet Song"
(First: Episode 2360)

Cartoon
Find the camouflaged parrot.
Voice: Paul Dooley
(First: Episode 0516)

Film
Letter O hoist
Music: Joe Raposo
(First: Episode 0338)

Muppets
"Would You Like to Buy an O?"
(First: Episode 0364)

Film
Two kids visit the police department and watch a policeman prepare some horses for a parade happening in New York City. The kids even get to ride the horses and watch the parade.
(First: Episode 1243)




SCENE 3
Yet another one of Telly's surprises happens: a police officer comes by to help Oscar by letting him know that Telly loves him. The officer gives a spiel about a policeman's duty to help those in need, and presents a photo of Telly (the "missing person").

Film
Alphaquest: H
Heading over the hills in a helicopter to a hippo's house.
(First: Episode 2741)

Cartoon
"Sing a Song of Fourteen"
(First: Episode 2670)

Film
Kids climb in and out of a tire.
Music: Joe Raposo
(First: Episode 0450)




SCENE 4
Oscar doesn't like pretending that Telly's away, so instead he pretends that Telly has come home. But first Telly has to pretend to get ready to go home, by packing his pretend suitcase, getting into the pretend car, and going on the long pretend drive. Just then, a barbershop quartet (Bob, Susan, Luis, and Gina) show up to sing "He's almost home, so don't miss him anymore!"

Cartoon
O for orange
Artist: Bruce Cayard
(First: Episode 0673)

Muppets
Ernie & Bert — Bert is preparing to give his nephew Brad a bath, but Ernie chastises him for not providing any bath toys. He brings so many toys that Bert feels there is no longer room for Brad. So as not to waste the water, Ernie hops into the tub.
(First: Episode 1134)

Cartoon
The Bellhop is asked to carry a guest's two small (but heavy) bags to room 14.
(First: Episode 2571)

Film
Milk! (From Farm To Market To Home)
(First: Episode 0795)

Cartoon
H is for horseshoe.
(First: Episode 0020)

Muppets
Elmo writes his own song and sings it for Big Bird and Snuffy, who then wish that they had their own songs. Elmo lets them insert their own names into the lyrics, resulting in "Big Bird's Song" and "Snuffy's Song."
(First: Episode 2710)

Animation
Number creatures #14
(First: Episode 2712)

Muppets / Celebrity
Cab Calloway and the Count sing "I Want to Count."
(First: Episode 1545)

Cartoon
An alien comes across a pair of tree trunks; one with multi-colored leaves, the other without. He finds and grows leaves to mount on the other tree, then strings a hammock between the two.
(First: Episode 1451)

Film
Operation Playground: A group of students at P.S. 87 come up with ideas for a new playground, and raise money for the effort. Together with their parents and other people from the neighborhood, they build the playground.
(First: Episode 2360)

Muppets
The Two-Headed Monster shares a pair of headphones.
(First: Episode 1628)

Animation
Un rectangulo
(EKA: Episode 1931)

Muppets
At night, Ernie sings "I Don't Want to Live on the Moon."
(First: Episode 1910)

Cartoon
The moon listens to everyone say "Good night" in different languages.
(EKA: Episode 2243)




SCENE 5
Telly has finally returned from his pretend trip, to give Oscar a big hug and kiss. Gina announces the sponsors.
Community content is available under
CC-BY-SA
unless otherwise noted.