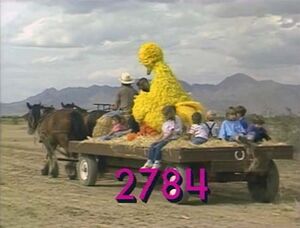 Picture
Segment
Description




SCENE 1
Big Bird welcomes the viewer to the Snufflepuppet show that Mr. Snuffleupagus is putting on. His snufflepuppet, Gus (not seen yet), presents things beginning with G, ending with himself waving goodbye. Big Bird tells us to expect some improvements soon ...

Cartoon
A goose and gander visit the land of the G's.
Artist: Jeff Hale
(First: Episode 1141)

Film
Looking for triangles in the city (Maria voiceover)
(First: Episode 2696)

Muppets
"The Sneeze Song," with Kathleen the Cow with a Pig, a Sheep, and Fred the Wonder Horse.

Cartoon
A poem about changing seasons.
(First: Episode 0276)

Muppets
Muppet & Kid Moment — Cookie Monster and Zelda have a discussion about cookies.
(First: Episode 2601)

Cartoon
A mouse demonstrates between by squeezing between two elephants.
(First: Episode 2750)

SCENE 2
Big Bird welcomes us back to the Snufflepuppet show, where Bob is about to conduct his band while Gus sings The Alphabet Song. However, Gus tells Bob that he wants to conduct while Bob sings it. Bob can hardly believe he's taking orders from a puppet, but he decides to play along with it. He gives Gus the baton, but they realize that Gus can't hold it.

Film
Alphaquest: P
A pack of painted purple penguins practicing a pop song in a pine tree park, and a pink pig with a parachute.
(First: Episode 2711)

Muppets
As ominous music plays, the Count walks around his castle, checks out the mirror (he has no reflection), and greets his bats. The mailman (Jim Henson) arrives, with a bunch of letters for Count. The mailman wonders why there are so many letters. The Count says that he wrote them all himself, so he could count them... and then he does.
(First: Episode 0420)

Song
A girl invites the listener to "Swing Up High."
Music: Joe Raposo
(First: Episode 0408)

Cartoon
The Bellhop has to make 12 wake-up calls.
(First: Episode 2529)

SCENE 3
Gus, with the baton tied to his hands, conducts Bob's band (first slow, then fast) as Bob sings the alphabet song. Thus ends the Snufflepuppet show.

Cartoon
An ostrich is born on a football field, and learns that he can't fly. He saves the game by scoring the winning touchdown.
(First: Episode 1870)

Muppets
Ernie & Bert — Ernie has Bert play a "Follow the Arrows" game, which leads him to the main camera, looking at the TV viewer.
(First: Episode 1697)

Song
Luis sings "Follow the Arrows" as a man does so.
(First: Episode 1642)

Cartoon
A heart that says "I love you" is drawn.
(First: Episode 1971)




Muppets
Bruce Stringbean, Clarice, and S Street Band perform "Born To Add".
(First: Episode 1375)

Film
A girl draws a picture of her friend Amelia.

SCENE 4
In the environmentally conscious portion of the program, Oscar the Grouch is about to make a new sign that says SCRAM, when Telly Monster shows up and points out that he left his record player on, so he turns it off. Telly compliments him for not wasting electricity, and then points out that he can make a new sign by writing on the back of the old sign, which saves cardboard (and trees). Oscar hears the water dripping, and knows exactly what Telly's going to say, so he beats him to it, and then tells Telly to stop wasting his time and go away.

Cartoon
"Water Conservation": Frank the fish calls Carl and tells him not to leave the water running while brushing his teeth, otherwise the lake will be dry.
Artist: Peter Chung
(First: Episode 2689)

Film
Cheri goes fishing with her abuelo. On the way they visit friends of her abuelo and play dominoes, then for a cup of cuban coffee and mango juice. Cheri catches her first fish at the pier.

Animation
G/g musical notes (Gordon voiceover)
(First: Episode 2233)

Muppets
Waiter Grover prepares a table for a family who's celebrating their grandmother's birthday, but Grover doesn't know her name, so when each family member refers to her as a different relative each time, Grover thinks there's more than one party going on, so he ends up bringing out six cakes.
(First: Episode 1958)

Cartoon
Story of Twelvia
Artist: Irra Verbitsky
(First: Episode 1676)

Cast
Hoots shows Gordon and some kids the art of "Talkin' Scat".
(EKA: Episode 2454)

Animation
P for Pyramid
(First: Episode 2061)

Muppets
Sesame Street News Flash: Kermit goes to Peter Piper's Pickled Peppers Patch to interview Peter Piper, but he only gets to meet other members of his family, whose names all begin with a common letter. At the end, Peter Piper's cousin states that Peter Piper is in Portland pressing pants.
(First: Episode 1342)

Cartoon
A mother bird brings her babies a huge number 12.
(First: Episode 0493)

SCENE 5
Telly has been blindfolded, and tries to name the sounds he hears without seeing them. He is able to identify a truck, someone rollerskating, and someone dribbling a basketball. However, he can't figure out what Susan is doing, which is sweeping. She lets Big Bird borrow her broom and continue sweeping while Telly tries to guess. He knows it's a brush of some kind ...

Song
Joe Raposo sings "Take a Breath".
(First: Episode 2518)
Re-filmed version

Muppets
Ernie sings "Imagine That" about things that he sometimes imagines to be: first a knight in shining armor who battles a dragon, then a sailor, and finally, himself.
(First: Episode 2142)

Cartoon
A derby-hatted man identifies animal sounds, ending with a tractor.
(First: Episode 0839)




SCENE 6
Telly finally guesses the sound of the broom sweeping. When Big Bird gives the broom back to Susan, she is shocked to see how worn out it is from all that sweeping Big Bird did. Bob announces the sponsors.
Community content is available under
CC-BY-SA
unless otherwise noted.