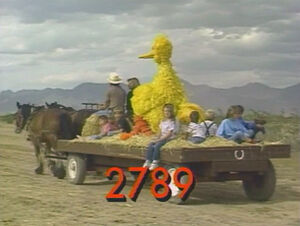 Picture
Segment
Description




SCENE 1
Big Bird hears saxophone music coming from the garage (Hiroshi's studio). He assumes it's Hiroshi playing the sax, but it's actually Hoots. Hiroshi is working on a painting of the music Hoots is playing, "the blues," using different shades of blue. He explains that it's not as easy as it looks, and sings, "What Color Blue Are the Blues?"

Film
Letter O hoist
Music: Joe Raposo
(First: Episode 0338)

Cartoon
Olga y la letra O
(First: Episode 0364)

Muppets
Ernie, Bert, Cookie Monster, Prairie Dawn, and Herry Monster sing "I Think That It Is Wonderful".
(First: Episode 2492)

Cartoon
zip, zoom, zoom, zig, zag, zany, zoo.
(First: Episode 0359)

Muppets / Celebrity
Tracey Ullman and some kids play a Simon-style game with Mr. Honker, a Dinger, and a duck.
(First: Episode 2584)

Animation
Finding shapes in colored pixel-blocks
(First: Episode 1455)

Muppets
Count von Count sings "Lambaba" as he counts sheep and other animals that pop into the room.

Song
Joe Raposo sings "Everybody Eats."
(First: Episode 0407)

Muppets
Sesame Street News Flash
Kermit stands by a grandfather clock waiting for a mouse to run up it, acting out "Hickory Dickory Dock". Gladys the Cow and a duck show up instead. Finally, a horse comes in and explains that the mouse can't make it. The horse runs through the clock, breaking it.
(First: Episode 0710)

Cartoon
A ball goes up and down a musical staircase.
(First: Episode 2151)




SCENE 2
Hiroshi insists that Oscar the Grouch move around wildly and complain while he paints. Finally, he's done with the painting, which is a painting of Oscar's grouchiness. Oscar likes it so much, Hiroshi decides to give it to him.

SCENE 2
cont'd
Oscar secretly informs Hiroshi of some of his own paintings, and tells him to wait as he digs them up.

Cartoon
Jazz #8
(First: Episode 0016)
Film
Footage of a Chinese noodle factory.
(First: Episode 0984)

Muppets
Muppet & Kid Moment — Grover and John-John count to 20.
(First: Episode 0476)

Cartoon
Photographer tries to look for some animals quietly, but they all end up secretly following him.
(First: Episode 0799)

Muppets / Cast
Bob sings "The People in Your Neighborhood" with a dentist and a bus driver. (remake)
(First: Episode 2146)

Cartoon
Baby climbs up the stairs all by himself.
(First: Episode 1717)

SCENE 3
Oscar displays his unseen artwork to Hiroshi, starting with "Moaning Lisa."

SCENE 3
cont'd
His other paintings are "Venus on a Clam" ...

SCENE 3
cont'd
... and "Crumpled Soup Can."




SCENE 3
cont'd
What does Hiroshi think of Oscar's paintings? He loves them! But Oscar doesn't take kindly to Hiroshi's compliments about his rotten grouchy art. Hiroshi remarks, "Some artists are so touchy."

Song
Gina and Maria sing "The Word is "No"."
(First: Episode 2548)

Film
Kids narrate a film of how a river is formed.
(First: Episode 2710)

Muppets
Ernie & Bert — Ernie reads a story for Bert that he's written on his typewriter. It turns out to be a dramatic reading of the alphabet.
(First: Episode 1112)

Cartoon
Gloria Globe pulls a tiger out of her hat, which belongs in India.

Muppets
"Fat Cat"
(First: Episode 0536)

Cartoon
Z for Zebu
Artist: Bud Luckey
(First: Episode 1185)

Film
Two Navajo children visit their grandparents who live on a ranch.
(First: Episode 2665)

Cast
Pairs of best friends, including Big Bird and Mr. Snuffleupagus, Uncle Wally and Mrs. Trump, and Susan and Gordon, sing "My Best Friend."
(First: Episode 2474)

Film
Looking for circles in the city (Maria voice-over)
(First: Episode 2711)

Muppets
Grover is the newest employee of a fast food franchise which serves such delicacies as O'Fish, O'Salad, O'Rye Bread, and O'Milk. However, this is a different kind of "fast food" restaurant: the food zips by the customer on trays across the counter, and falls to the floor if it's not caught in time. Mr. Johnson is not ready for this, so he asks if there's any "slow food." There is, but it's served by a turtle who takes longer than Mr. Johnson wants to wait.
(First: Episode 2582)

Film
Counting 20 boxes
Music: Joe Raposo
(First: Episode 0510)

Animation
Red and yellow dots play "Twinkle Twinkle Little Star."
(First: Episode 1979)

Film
Fay demonstrates addition by placing 3 balls on a table.
(First: Episode 2615)

Muppets
Phil Harmonic hosts another evening at the Nestropolitan Opera, featuring a performance by Placido Flamingo, "The Dentist of Seville."

Cartoon
The Bellhop has to bring 8 steamer trunks down 8 flights of stairs.
(First: Episode 2511)




SCENE 4
Oscar shows Hiroshi one more painting: "Whistler's Grouch Mother." Hiroshi loves this one too, so Oscar swears to give up painting. Hoots announces the sponsors, and plays the saxophone over the closing music.
Community content is available under
CC-BY-SA
unless otherwise noted.