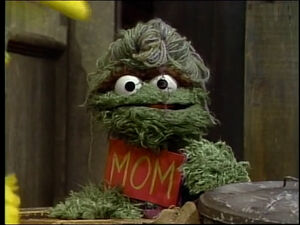 Picture
Segment
Description

SCENE 1
Gordon and Linda are out on the courtyard stretching, until they see Bruno the Trashman stretching too. Oscar the Grouch explains to them that Bruno's stretching because Oscar's mom is visiting. When Bruno starts to run, it messes up Oscar's trashcan.

Cartoon
V for volcano
(First: Episode 1980)

Muppets
"Let's All Exercise"
(First: Episode 1961)




Film
Future careers: footage of a kid acting out a certain job, followed by an adult doing "the real thing." Includes a girl singing the "Sesame Street Theme" and another watching a sketch with Cookie Monster and Kermit the Frog.
(First: Episode 0796)

Muppets
After fighting with each other, the Two-Headed Monster reads the word "Love" and forgets their feud.
(First: Episode 1282)

Film
Fay Ray subtracts four balls.
(First: Episode 2586)

Muppets
Bip Bipadotta sings "Opposite Stuff."
(First: Episode 2425)

Cartoon
S is for subway, sailboat, sled, scooter, skates, skis, and stop.
Artists: The Hubleys
(First: Episode 0279)




SCENE 2
Gordon waits with Oscar to meet his mother. Oscar tries to get him to scram, but Gordon really wants to meet his mom. Just then, she arrives from the "grouch express". Gordon introduces himself to her and she starts to blame her son for moving into a nice and clean neighborhood.

Cartoon
The Ringmaster introduces seven swimming seals.
Artist: Jeff Hale
(First: Episode 1312)

Muppets
Super Grover: "Dial S for SuperGrover" - A little girl had plans to play with a friend, Bobby, but she has too much homework and has to cancel. Super Grover arrives to help her figure out how to tell him, but while Super Grover is busy coming up with ridiculous ploys, the girl decides to just telephone him.
(First: Episode 2745)

Cast / Celebrity
Wanda the Word Fairy introduces the viewer to her parents.
(First: Episode 2678)

Cartoon
V for violin
(First: Episode 2386)

Film
"Visiting Iesha": Olivia sleeps over at Iesha's house, and spend the morning together. Olivia is white and Iesha and her family is black. Next time, Iesha wants to visit Olivia's family.
(First: Episode 2756)




SCENE 3
Oscar's mom is still upset over what she's witnessed during her visit. Oscar tries to cheer her up, as he witnesses Big Bird approaching and hides under his can (knowing that BB would do something nice to her). Big Bird notices his mom and mistakes her for her son. Big Bird thought it was another one of Oscar's tricks until he finally realized that that's really his mother. Big Bird leaves for a minute and comes back with a MOM sign and sticks it on her so people don't mistake her for her son.

Cartoon
How they say "good night" in Haiti and in India.
(First: Episode 1824)
Muppets
Ernie doesn't want to play with Bert, who sings "I Wish I Had a Friend to Play With Me".
(First: Episode 1819)

Film
In Alaska, a sculptor makes carvings of cold climate animals.
Music: David Snell
(First: Episode 2365)

Cartoon
Seven Starfish
Artist: Owe Gustafson
(First: Episode 1473)

Muppets / Celebrity
The Count teams up with Kid 'n Play for a rap song about how they argued whether they should rap or count.

Animation
"¡Él juega beisbol!"
(First: Episode 2101)

SCENE 4
Oscar holds a grouchketeer meeting in honor for his mother. Just then, Gordon and Linda arrive. Linda wants to meet Oscar's mom, and Oscar tires to get them to get lost. Linda shows the get lost sign to her and she enjoys it. The grouchketeers do the sign along with the sign language for mom.

Film
Shots of the Louisiana bayou are shown, as harmonica music is played.
(First: Episode 2507)

Muppets
Sesame Street News Flash: Kermit the Frog asks Elmo about his ideas for games.
(First: Episode 2185)

Cartoon
"Seven Sweet Sopranos" on a shaky piano
Artist: Paul Fierlinger
(First: Episode 1656)

Song
"All By Myself"
(First: Episode 2044)

Animation
Three stripes form a jazz trio.
(EKA: Episode 2410)




SCENE 5
Oscar's mom complains about the quiet in the neighborhood. Oscar brings out the grouchketeer band, members of the grouchketeers banging on old, beat-up toys. Oscar tries to pull a trick on his mom saying that the loudness makes him so sleepy, only to backfire. Oscar gets back at his mother by having the grouchketeers pretend to fall asleep.

Song
Olivia sings "The Riddle."
(First: Episode 1721)

Muppets
Muppet & Kid Moment — Herry and John-John demonstrate loud and soft.
(First: Episode 0432)

Cartoon
Six snakes spent Saturday on the sand.
(First: Episode 1669)

Cast
Carnival barker Mike runs a ball-throwing booth. Maria s decide to try winning a prize by knocking down all the bottles. She tries twice, and knocks some of them down, then she lets Travis try his luck. He not only knocks all the bottles down, but the stand as well! For a prize, he wants the ball, which he obtains by way of reverse footage.
(First: Episode 2727)

Song
"Mom and Me"
(First: Episode 2462)

SCENE 6
Oscar offers to take his mom back to the station in his sloppy jalopy. The car doesn't start, so she pushes the car while Gordon announces the sponsors.
Notes
Community content is available under
CC-BY-SA
unless otherwise noted.