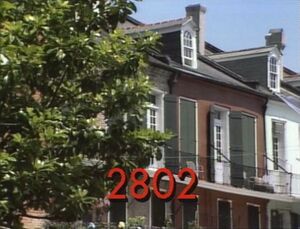 Picture
Segment
Description

SCENE 1
Gina introduces the Two-Headed Monster to Sheryl, a young girl who uses a wheelchair. Sheryl is unable to reach the pay phones, so they all cooperate to help her make a call.

Cartoon
A lizard sings about how she likes to be "Above it All," as well as below.
Artist: Sally Cruikshank
(First: Episode 2559)

Film
A dolphin walks backwards on the water.
Music: Joe Raposo
(First: Episode 0278)

Animation
Four genies carry the number 4 into a castle.
Artist: Ishu Patel
(First: Episode 2244)

Muppets / Celebrity
Tim Robbins and Elmo talk about surprise.
(First: Episode 2766)

Cartoon
A man pulls a rabbit out of his hat, but the rabbit turns out to be a cow. "Surprise!"
Artist: John Schnall
(First: Episode 2770)

Muppets
Phil Harmonic hosts another evening at the Nestropolitan Opera, featuring a performance by Placido Flamingo, "The Telephone of Brazil," to the tune of "Funiculì, Funiculà."
(EKA: Episode 2457)

Cartoon
A man tries to carve a sculpture of George Washington, but the material cracks, forcing him to change it several times. He ends up using the remaining parts to make a paperweight for his plans.
(First: Episode 2768)

SCENE 2
Big Bird confesses to Maria that he wants Sheryl to join their jump rope game, but doesn't think she can actually play (she can't jump in her wheelchair). Sheryl is delighted to be invited and offers to twirl the rope.

Animation
Scribbles move around a black screen, until they see a STOP sign.
(First: Episode 1634)

Muppets
Cookie Monster stars in "The Ballad of Casey McPhee."
(First: Episode 0516)

Cartoon
A voice asks a face if it's aware of the letter S, and it is revealed that the face belongs to a snake.
Artists: The Hubleys
(First: Episode 0278)

Film
Kids draw a map of their neighborhood, and then learn how maps are really made.
(First: Episode 2760)

Cartoon
A postal worker tells the viewer what the post office is good for.
Artist: Cliff Roberts
(First: Episode 0783)

Muppets
Waiter Grover: Hamburger - Mr. Johnson wants a hamburger. The restaurant offers two sizes: the big hamburgers and the small hamburgers. When the small hamburgers are too small, he orders a big one, but because there have been some problems with the big hamburger, Grover tries to convince him to order several small ones.
(First: Episode 0705)

Cartoon
What Do You Do With a Pet?
(First: Episode 0465)

Film
Fay Ray subtracts one ball.
(First: Episode 2634)

SCENE 3
Oscar presents a Grouch singer from the Caribbean swamps - Harry Bellagrouchy, who sings the "Can Banging Calypso."

Animation
Isadora's sneakers describe all the fun they've had this past year, as the seasons change.
(First: Episode 2758)

Animation
A rock does somersaults for its peers, but gets little applause.
(First: Episode 2021)

Cartoon
Hortense counts four ants.
Artist: Michael Sporn
(First: Episode 2501)

Muppets
Sesame Street News Flash: Kermit the Frog reports on the story of Jack and Jill. Jack needs someone to go up the hill with him. First he chooses Mervin, then Francine and Gladys the Cow. Finally Jack chooses Jill, who refuses go up the hill with him again, so he asks Kermit to fill in.
(First: Episode 1071)

Cartoon
S for sing
(First: Episode 0824)

Muppets
Guy Smiley promotes the use of "Air." He leads his marching band through the walls of a barbershop every time the barber says a word out loud that rhymes with "air" to a hard-of-hearing customer.
(First: Episode 2682)

Cartoon
W for Wash
(First: Episode 0485)

SCENE 4
The Count and some kids count a young girl's 40 hair braids.

Cartoon
"Young MacDonald Went to Town"
(First: Episode 0787)

Animation
The word ICE is formed with ice cubes, which melt.
(First: Episode 1177)

Cartoon
W for witch
Artist: Jeff Hale
(First: Episode 1182)

Muppets
"It's Zydeco"
(First: Episode 2666)

Cartoon
Christopher Clumsy demonstrates the things feet can do.
Artist: Cliff Roberts
(First: Episode 0455)

Muppets
Muppet & Kid Moment — Grover and Jesse talk about love.
(EKA: Episode 2420)

Cartoon
"Love" word animation
(First: Episode 0926)




SCENE 5
Biff and Sully see Sheryl trying to get into the Fix-It Shop, but can't because her wheelchair can't get over the step. Biff tries to carry her and her chair in, while Sully builds a ramp instead.

Film
Alphaquest: W
(First: Episode 2712)

Cartoon
Slot-machine legs: Cowboy & horse
(First: Episode 1702)

Muppets
"Street Garden Cooperation"
(First: Episode 1956)

Cartoon
Madrigal Alphabet
Artist: Jeff Hale
(First: Episode 0615)




SCENE 6
The Two-Headed Monster argues over who will carry their groceries home. Each half can't single-handedly support the heavy bag, nor when they cooperate. Sheryl offers to sit the groceries on her lap as she wheels her way to their place. Biff announces the sponsors.
Community content is available under
CC-BY-SA
unless otherwise noted.