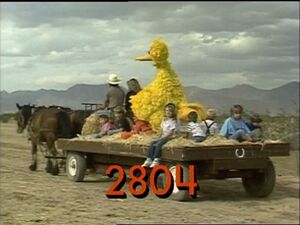 Picture
Segment
Description

SCENE 1
Uncle Wally comes across Telly, who's practicing standing still for all the situations that require it (taking photos, combing his fur, etc.). Wally claims he used to be a maverick at standing still in his youth and shows off some still poses. Telly and he practice some more.

Video
Ann Marie DeAngelo and Skeeter Rabbit do their dance routine. The frame freezes whenever the word STOP comes on.
(First: Episode 2600)

Cartoon
A cat follows its ears to a squeaking noise, which he thinks is coming from mice, but it's coming from swings.
Artist: Irra Verbitsky
(First: Episode 1518)

Muppets
Kermit the Frog reports on a musical tribute to the "Oogle Family" as performed by Cookie Monster and Old McDougal.
(First: Episode 1822)

Cartoon
B for boot
(First: Episode 1967)

SCENE 2
Elmo finds Telly standing still, but he would rather hop up and down. The two decide to take turns hopping and standing still.

Song
"Brothers Song"
(First: Episode 1476)

Cartoon
The Ringmaster charms two snakes with his saxophone.
Artist: Jeff Hale
(First: Episode 1287)

Muppets
Clementine hears water running, which reminds Forgetful Jones that he was about to do something. Using the clues at hand (a bar of soap, a backbrush, and a towel), Forgetful remembers that it's bath time. Buster's bath, that is...
(First: Episode 1666)

Animation
A scoop of ice cream makes its way to the top of a cone.
(First: Episode 0505)

Song
"B is for Bubble."
(First: Episode 0008)

Cartoon
Letter B/b (bouncing circles)
(First: Episode 2222)

SCENE 3
Oscar challenges Telly's assertion that he's the best at standing still. Oscar claims his can of Peanut Butter and Clam Sauce is better at remaining still. Telly points out that the can isn't alive, but decides to compete against it anyway. The can soon begins to move and Telly runs off, feeling victorious. Oscar lifts the can and finds Slimey was underneath.

Song
Joe Raposo sings "Peanut Butter." (re-filmed version)
(First: Episode 1966)

Muppets
Waiter Grover: Mr. Johnson orders soup and a sandwich, and says that he wants the sandwich before the soup. When Grover comes with the sandwich, Mr. Johnson has changed his mind and wants the soup first. When Grover comes with the soup, Mr. Johnson has decided that he wants the sandwich first. Grover ends up giving Mr. Johnson both the soup and sandwich, so he can decide what to eat first. Mr. Johnson tells Grover that he has decided to get a cup of coffee, then the soup and the sandwich.
(First: Episode 1330)

Cartoon
Dot Bridge #1: Dots appear uniformly
(First: Episode 0001)

Song
Jeff Redd sings "Between."
(First: Episode 2738)

Animation
¿Que es esto? (una vaca)
(First: Episode 1978)

Muppets
Lefty's boss makes sure Lefty knows the alphabet.
(First: Episode 0236)

Cartoon
A conductor conducts a choir to hum his music ("My Music").
Artist: Paul Fierlinger
(First: Episode 1207)

SCENE 4
Snuffy comes over to Big Bird's nest to play and finds Big Bird is napping. He listens as Big Bird talks in his sleep about the happy dream he's having. He eventually falls asleep himself, just as Big Bird wakes up. He listens as Snuffy talks in his sleep, having the same dream apparently.

Cartoon
A girl puts imaginary things in a jar, which makes her laugh.
Artist: Bruce Cayard
(First: Episode 1304)

Song
Jerry Nelson sings "Don't Waste Water."

Cartoon
M for Moon
Artist: Jeff Hale
(First: Episode 1163)




Muppets
While Ernie is away visiting the Count, Bert has the place all to himself, or so he thinks! A group of sheep burst into the room and proceed to sing him a song ("Bert's Blanket") about how his blanket was made (with a flashback scene where Ernie is portrayed as a farmer). He then corrects them on the actual production phase.
(First: Episode 2391)

Cartoon
The Great Inventor Series: Science Salutes the Men and Women Who Have Changed the Way We Live. Cartoon about the days when people tried drinking ice cream soda before straws were invented. Awful messes were made getting more of the refreshment on their clothes than in their bellies. Until one day an ice cream parlor janitor noticed that when people brought their leashed pet anteaters in to enjoy an ice cream soda, the floor was always sucked completely clean. Realizing that nature had solved the problem, the janitor invented artificial anteater noses that strapped on over people's mouths... which eventually evolved into the modern straw.
Artist: Bruce Cayard
(First: Episode 2595)

Song
"Litter Rap"
(First: Episode 2646)

SCENE 5
Elmo, in helmet and goggles, zooms over to Oscar's can. He's pretending he's in a car race and wants Oscar to start it off. Because of Elmo's loud "engine," Oscar is forced to write a sign reading "GO" in order for him to start racing. He's glad once Elmo is gone, only Elmo zooms right back; he's competing in the "Oscar 500," meaning he zooms past Oscar's can 500 times.

Animation
A dune buggy is assembled.
(First: Episode 0506)

Cast
Linda signs the word "pie," and gets hit with one, to Gordon's surprise.
(First: Episode 2712)

Muppets
The Martians examine a grandfather clock.
(First: Episode 0407)

Film
Alphaquest: B
(First: Episode 2706)

Muppets / Celebrity
Prairie Dawn and Tyne Daly sing about "Same and Different".
(First: Episode 2769)

Cartoon
The Bellhop is told that there are two kids, Betty and Bobby Blobby, who are lost in the lobby, and he must help them find their parents.
(First: Episode 2503)




SCENE 6
Uncle Wally gives Telly a count of 20 to stay standing still and then will reward him with a medal. While he counts, Oscar discovers Slimey crawling all over Telly. He now is unable to stand still to receive his medal because Slimey's tickling him. Oscar announces the sponsors.
Notes
The plot for this episode was later adapted for Episode 3736.
Scene 2 would later be used as a stand-alone Muppet segment on several international co-productions, including Sesamstrasse.
Community content is available under
CC-BY-SA
unless otherwise noted.