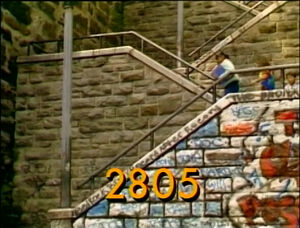 Picture
Segment
Description

SCENE 1
Big Bird, Telly, a green monster named Anna and the kids point out to Lillian that they're all different colors. She points out everyone on Sesame Street is a variety of colors and sings about how they all make a "Fabulous Rainbow." The group becomes inspired and decides to draw a rainbow with all of their friends.

Cartoon
Leanna Williams tells a story of how she traveled to Hawaii and bought a Hawaiian shirt.
Artist: ArtistMike
(First: Episode 2745)

Film
Shopping for soup ingredients.
(First: Episode 0515)

Muppets
Ernie & Bert — Ernie enjoys watching Bert read a book, but Ernie's staring at him is driving Bert bananas.
(First: Episode 1741)

Cartoon
"Magic Pig"
Artist: Vince Collins
(First: Episode 0772)

SCENE 2
Big Bird, Telly, and Kaitlin prepare to make their drawing, but they only have a single, yellow crayon to use. They decide to go out on the street and compile a list of everyone and what color they are, as they can then get the appropriate crayons.

SCENE 2 cont'd
First, they inspect the colors of Maria, Luis, and Gabriella.




SCENE 2 cont'd
Next, they spot a whole group of people playing cards (Gordon, Susan, Bob, Miles, Uncle Wally, and Mr. Macintosh). Also present are Elmo and Wolfgang the Seal. They also notate the colors of a nearby Honker family.




SCENE 2 cont'd
They finally spot Linda with Barkley, but Telly and Big Bird can't agree whether the dog is "white with orange spots" or "orange with white spots." Mike helps settle the argument (simply saying he's "orange and white"), but they then argue again over what precise skin color Mike is.

Song
Bob sings Joe Raposo's "Look a Little Closer." (dog)
(First: Episode 2677)
Muppets
Muppet & Kid Moment — Grover and John-John count a penny.
(First: Episode 0438)

Cartoon
A man connects the dots to form a house to escape from the rain.
Artist: Bill Davis
(First: Episode 2218)

Muppets
Sesame Street News Flash
Old MacDonald says a spaceship has landed on his farm. A dog emerges with a frisbee in its mouth, and MacDonald mistakes the frisbee for the spaceship. But before long, a real spaceship lands on the farm, and out of it come the Martians. The scene ends in chaos.
(First: Episode 2021)

Film
Alone Song
(First: Episode 0921)

Muppets
Two-Headed Monster tries on shoes.
(First: Episode 2142)

Animation
Sand P/p
(First: Episode 0634)




SCENE 3
Big Bird and Telly argue now over whether Oscar is light green or dark green. Oscar refuses to come out of his can so they can settle the dispute. He winds up messing with them by only putting out his hand (a glove on a stick), then his nose (actually Fluffy's trunk), and finally a mop with Groucho glasses as his face. The gang pretends to leave and notates Oscar's color when he emerges. As they run off, he's quick to correct that he's not "dirty green," but "slime green."

Cartoon
Pinball Number Count #9
Animation by Jeff Hale
(First: Episode 1032)

Muppets
Muppet & Kid Moment — Chip and Dip hold a sign with the word "CAT" written on it and ask Danny if he knows what it says. When they learn that he can't read the sign, they give him clues.

Film
A girl narrates a segment about nature through winter and spring.
(First: Episode 1966)

Cartoon
The letter X
(First: Episode 0482)

SCENE 4
The youngsters bring their list to Mr. Handford, who tells them that there's no more crayons in stock at the moment. He tells them they can find any crayons they need from a store downtown, Crayon City.




SCENE 4 cont'd
At Crayon City, counterwoman Sid (Victoria Jackson) scans their list and finds they're all in stock. Their sale is 22 crayons for $1 and their list is one crayon short. Big Bird realizes they've left one person out - Snuffy! He happens to be a frequent customer, so Sid knows what color he is right away (Snuffleupagus Sepia) and finds the giant crayon to match.

Film
How Crayons are Made
Music: "Water Course A" and "Exchange" by Richard Harvey
(First: Episode 1579)

Cartoon
The big green balls and one little orange ball ride over the top of the hills. The little one can't make it over the big hill, but conquers the small hill.
(First: Episode 1896)

Film
Anne Meara narrates a silent film of a woman in a burning building, who needs HELP.
(First: Episode 0506)

Muppets
Cookie Monster appears as a guest on Murphy Brownbag's "Lunch Talk" and shares his tips of a healthy, monster meal.
(First: Episode 2714)

Cartoon
P for Pack
(First: Episode 0504)
Film
Flamingos walk around to classical music.
(First: Episode 2498)

Cartoon
We Are Kids from Far and Wide: Rice harvesting in Sierra Leone
(First: Episode 2774)

SCENE 5
Everybody poses as Big Bird and friends draw their picture. They turn their easel around and show off their picture - everyone on Sesame Street assembled in a rainbow, with Oscar and his can at the rainbow's end. Everyone sings a reprise of "Fabulous Rainbow," then heads to Hooper's for some lunch (where Mike orders 20 hamburgers for himself).

Cartoon
Luis (in voice-over) counts racehorses numbered 9 to 1 as they cross the finish line.
(First: Episode 2110)

Animation
A white shell is uncovered in the sand.
(First: Episode 2061)




Muppets
Guy Smiley hosts "The Eating Game", in which plates get to meet foods and take them to dinner. The contestant foods are a fish, an ear of corn, and a glass of milk.
(First: Episode 2329)

Cartoon
The Story of Cowboy X, with the voices of Jean Shepherd
(First: Episode 0325)

SCENE 6
Big Bird and Snuffy use the Snuffleupagus-sized crayon to make a drawing of today's sponsors.
Community content is available under
CC-BY-SA
unless otherwise noted.