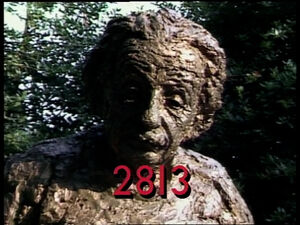 Picture
Segment
Description




SCENE 1
Early in the morning, Gina returns to Hooper's Store with some fish. She speaks to the viewer quietly, as to not wake up her neighbors, but also to keep Wolfgang the Seal from hearing about them and allowing his barking to wake everyone up. She makes it inside, but Wolfgang appears when she says "fish." He barks loudly, waking everyone around up. She tells him he can't have any fish, so he leaves, but she has a feeling he'll be back...

Song
David sings "I'm Pretty" over a film of fish and other sea creatures.
Re-filmed version
(First: Episode 2490)

Animation
Where do the a's fit?
(First: Episode 1586)

Muppets
Mysterious Theater: Dial M for Mother
Sherlock Hemlock tries to figure out what he needs to call his mother before Big Ben strikes midnight...as he stands next to a London telephone booth. The message he has is to wish her a happy birthday.
(First: Episode 2727)

Cartoon
"Seven Sweet Sopranos" on a shaky piano
Artist: Paul Fierlinger
(First: Episode 1656)

SCENE 2
Gina prepares the fish as today's lunch special, saving one in particular for Luis. Wolfgang wheels his horns over to the store and starts playing "Frere Jacques." Gina notes that Uncle Wally always rewards Wolfgang's playing with a fish and allows him to have one. He then starts playing "Feelings" and Gina, feeling guilty, gives him another fish. When Luis enters, he sees Wolfgang playing and rewards him with the last fish, only to realize he's given up his lunch.

Cartoon
"Five Baby Oysters"
(First: Episode 2257)

Film
In an Alaskan village, a doctor makes a regular visit to a clinic.
(First: Episode 2390)

Cartoon
A man chases a runaway "no".
(First: Episode 0794)

Muppets
Bip Bippadotta and The Androoze Sisters sing "Everybody's Song."
(First: Episode 2064)

Cartoon
Dinah from South Carolina exchanges letters with her friend Ling Lu in China.
Artist: ArtistMike
(First: Episode 2727)

Insert
Big Bird and Snuffy sing a guessing game song about each other.

Animation
Two balls follow an arrow down a hole.
(First: Episode 2035)

Film
Sounds Around the House v1: a dripping water faucet, a man playing the violin, a woman vacuuming, a teenager listening to pop music, and a passing elevated train.
(First: Episode 1706)

Muppets
"We Got a Brand New Baby"
(First: Episode 2061)

Animation
D / d (drums and drumsticks)
(First: Episode 2188)

Celebrity
Billy Joel sings the alphabet with Anything Muppets and kids.
(First: Episode 2562)
Cartoon
Pinball Number Count #7
Artist: Jeff Hale
(First: Episode 0989)

Film
Looking for shapes in a metal junkyard (Maria voiceover)
(First: Episode 2702)

Muppets
Cookie Monster sings "Me Gotta Be Blue."
(First: Episode 1828)

Animation
Sand A/a
(First: Episode 0628)

Film
A boy who lives in Arizona narrates a film of himself and his family, who travel through a canyon with their sheep to stay at their summer house.
(First: Episode 2678)

Cartoon
Two kids argue over a cat and a dog, who chase each other around the fence.
(First: Episode 1210)

SCENE 3
Big Bird, Elmo and the kids don D-shirts, declaring today to be "D Day." They all start to duck, which ends up attracting a real duck.

Cartoon
Don't cross the street alone.
(First: Episode 1942)

Muppets
Pageant: The Four Seasons
(First: Episode 1165)

Cartoon
A dog tries desperately to meow, but can only bark.
(First: Episode 0829)

Film
Megan goes to the doctor and gets a cast on her arm so it can heal.
(First: Episode 1205)

Muppets
Kermit sings "I Love My Elbows."
(First: Episode 2582)

Cartoon
Seven piglets
Artist: Owe Gustafson
(First: Episode 1546)

SCENE 4
Snuffy and Barkley join the celebration, as everyone pretends to be another D word - dog.

Cartoon
Edgar Turtle sings "Hey Diddle Diddle."
Artist: Jeff Hale
(First: Episode 2404)

Muppets
Professor Grover, in graduation cap, takes a bath and talks to the viewers about baths. He mentions everything except the water, when his Mommy comes in and turns on the water.
(First: Episode 1992)

Film
Fireworks Alphabet
(First: Episode 1104)

Cast
Maria as Chaplin tries to throw away a newspaper into a rapidly moving litter can. When she finally does, the exit door also moves and she breaks down the wall.
(First: Episode 0753)

Cartoon
An ape takes a bite out of a yellow A.

SCENE 5
Gina gets three more fish and accidentally utters it aloud, attracting Wolfgang back to the store. "Why even try?" she asks before proceeding to feed Wolfgang.
Notes
Community content is available under
CC-BY-SA
unless otherwise noted.