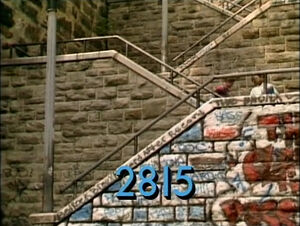 Picture
Segment
Description

SCENE 1
Luis heads off from Maria and Gabi and promises to bring back a surprise. As the two practice saying the alphabet, they run into a scraggily, ornery rabbit, who tells them that the next letter is D. "Look, Gaby! A cute little bunny rabbit," says Maria. The bunny is quick to correct her - his name is Benny Rabbit. He's on his way downtown to a carrot sale, but Maria encourages him to stay and practice the alphabet, since kids love rabbits and his presence will help Gabi learn better. He declines, but returns a moment later and recites the alphabet for her. Caught up in the moment, he does it once more while hopping. He almost goes for a third round, but Maria thinks that's been enough. Benny leaves to get downtown. He pops back in once more to correct Maria when she says she "likes meeting new bunnies."

Cartoon
"Lowercase n"
(First: Episode 0358)




Muppets
On Vacation with Guy Smiley
Guy Smiley and his tour guide have difficulty taking pictures of animals in the jungle because of Guy's uncontrollably loud voice. A tiger recognizes him, and offers to take a picture of him and some other animals. "Say TREES!"
(First: Episode 1949)

Cartoon
Dr. Annie Eyeball studies wet things which eventually become dry.
Artist: Bruce Cayard
(First: Episode 2613)




Film
A girl goes to school somewhere in Africa. We see the girl getting ready to go to school, as she washes herself and brushes her teeth, puts on her clothes, brushes her hair, and takes her lunch, all with some help from her mother. We see her walking past her neighbors and watching her classmates play outside as she arrives at school. The bell rings and the girl enters the school, where the teacher is passing out chalk to her students. We see the teacher teaching the students the English words: "a boy", "a girl", "a man", "a woman", which she has written on the board, along with a drawing for each word. The students repeat the words, then write them down on their individual chalkboards as we hear the girl remark, "We are learning to read and write." The students then jump up and down, as the teacher looks on, smiling. Next, we see the students jumping outside excitedly, now that school has finished.
(First: Episode 2658)

Cartoon
A painter paints a Number Nine, then hangs it.
(First: Episode 1488)




Muppets
Snuffy shows Big Bird the cloud costume he's going to wear in his Snufflegarten class' upcoming pageant about the sky, and even sings the song that accompanies it, while Big Bird imagines him as a cloud.
(First: Episode 2082)

Cartoon
A boy chases a butterfly, and watches the clouds form into different objects.
Artist: Irra Verbitsky
(First: Episode 1736)

Film
Two boys walk though a city neighborhood to some funky break dancing music.
(First: Episode 2679)

Muppets
Ernie & Bert — Bert finds it difficult to listen to Pigeons in the News while Ernie and the Sesame Street Citizens' Band are outside practicing. In yet another case of miscommunication between the two, since Bert doesn't like it when they practice outside, Ernie leads the band into the apartment so they can practice inside.
(First: Episode 0982)

Cartoon
Picnic with P foods (carried away by ants)
Artist: Cliff Roberts
(First: Episode 0764)




Insert
Big Bird brings on Hoots the Owl and his Birdland Band with a story about leaves, with the kids as the leaves. The last words in the song are, "Here comes the news!"
(First: Episode 2491)

Muppets
Sesame Street News Flash: Kermit is interviewing Cinderella and Prince Charming, who are dancing at the ball. After Cinderella leaves, she leaves one glass slipper behind. The prince wants to find Cinderella...so he can have the other glass slipper.
(First: Episode 0516)

Song
Joe Raposo asks the musical question, "Which Comes First, the Chicken or the Egg?"
(First: Episode 0276)

Cartoon
A tiny ant pushes the huge N into its place in the alphabet.
(First: Episode 0780)

Film
In time-lapse footage, a construction crew builds a house and paints it green, and a family moves into it.
(First: Episode 1171)

Cartoon
An apple, an orange, and a pear learn they can cooperate by rocking and rolling.
(First: Episode 0555)

Muppets
Forgetful Jones needs something to ride around the ranch. Clementine gives him clues: it has four legs, has a bushy tail, eats hay, and neighs. It's his horse Buster, who arrives with the jeep.
(First: Episode 2081)

Cartoon
Colonel Travel takes a balloon trip around the country of Canada.
(First: Episode 2771)

SCENE 2
To pass the time, Maria suggests she and Gabi discuss front and back. Benny returns, having missed the carrot sale, and plans to go back downtown ("I like it downtown!"). Maria asks him to stay, but he declines, only to return once again. He shows Gabi his front and back and gets very into the demonstration.

Cartoon
A bird displays the front and back of a turtle.
(First: Episode 0789)

Song
"At School," with animation bookended by live-action footage.
(First: Episode 2782)

Cartoon
Millie and Molly take a walk, and have different perspectives of their surroundings.
(First: Episode 1309)

Muppets
Grover and Mr. Johnson: Grover the messenger goes to Mr. Johnson's home to deliver some singing telegrams. After reading a series of wrong telegrams, he reads another one that actually is for Mr. Johnson, and an important one at that, but Grover does not remember who it is from.
(First: Episode 1828)

Cartoon
Pat the Pilot skywrites a letter P with her plane.
Artist: John Korty
(First: Episode 0478)

Film
Fay Ray dresses up as different animals. ("It's Kermit the Dog!")
(First: Episode 2639)

Muppets
"Six Kids Subtraction"
(First: Episode 2670)

Cartoon
Nine sheep (Maria voice-over added)
Aritst: Owe Gustafson
(First: Episode 1501)

Film
Kids play in the snow.
Music: Joe Raposo
(First: Episode 0292)

SCENE 3
Benny is still showing off his front and back until Maria stops him. He's ready to go back downtown, when Luis returns with a covered up cage. Maria introduces the two and Luis reveals his surprise - a pet bunny rabbit! Benny acknowledges that everyone wants a cute, cuddly rabbit like that and hops off, saddened. Maria follows him, while Luis plans a pen for the bunny at the Fix-It Shop.

Cartoon
A man explains to a girl what a surprise is.
Artist: Bruce Cayard
(First: Episode 1358)

Muppets
The Two-Headed Monster sounds out "feet," and then the camera pans back to reveal a pair of live feet on some grass.
(First: Episode 1289)

Cartoon
What if we celebrate Valentine's Day with chickens instead of hearts?
(First: Episode 0488)




SCENE 4
Maria invites Benny to join the family for dinner. He asks why him, especially since they have a cuter bunny to spend time with. Maria points out that the other rabbit can't say the alphabet or show front and back, so Benny is very special. He accepts and has a little connection with Luis over people getting their names wrong. He continues to vent as the sponsors are announced, the credits roll, and Luis tries to bring him back home.
Community content is available under
CC-BY-SA
unless otherwise noted.