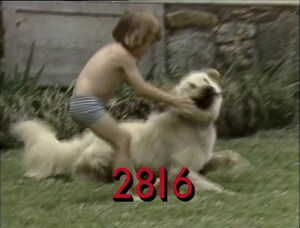 Picture
Segment
Description

COLD OPEN
Telly follows an ant through the city, as instructed by Count von Count, who is busy counting something else and wants to find an anthill (to count all the ants).

SCENE 1
As the Count counts jump rope jumps in the arbor, Telly follows the ant to the Fix-It Shop, where Luis is fixing Susan's broken vase (holding the glued handle in place). Telly watches as the ant climbs all over Luis' body. Luis points to it on the edge of the table, accidentally removing the vase handle in the process.

Song
"Body Dance" (MC Lyte)

Film
Colored sand forms the letter B and a boat.
(EKA: Episode 2474)

Muppets
Sesame Street News Flash
The Big Bad Wolf opens a school for huffing and puffing.
(First: Episode 2578)

Cartoon
The wind blows one hat after another off a pig's head, onto the heads of birds. "The wind is very, very strong."
(First: Episode 2378)

SCENE 2
The Count continues counting jumps, while Telly follows the ant back to the Fix-It Shop. On the bench is a chair, some paint and a "WET PAINT" sign. Telly worries that the ant will crawl onto the wet chair and get stuck, until Maria points out that she has yet to start painting it. Telly reacts: "You mean you put a wet paint sign here and there's no wet paint?! Maria! That's a terrible thing to do to a person following an ant!"

Muppets
How Now Brown and the Moo Wave performs "Wet Paint."
(First: Episode 2033)

Animation
Five turtles walk across the land.

Muppets
A baby Honker hatches from an egg and learns to honk like all the Honkers.
(First: Episode 1616)

Cartoon
L - shooting stars
(EKA: Episode 2237)

Muppets
"Rebel L"
(First: Episode 2217)

Cartoon
Young Chris Columbus explores the world of ants - and they, in turn, explore his house.
Artist: ArtistMike

SCENE 3
Gordon, dressed for a game of tennis, waits outside 123 Sesame Street, very annoyed. Telly passes by and tells Gordon about all the places he's followed the ant, then begs the bug to just lead him home.

SCENE 3 cont'd
Sherlock Hemlock and Watson appear on the scene and try to deduce why Gordon is so grumpy. Sherlock concludes that Gordon is waiting for a friend for a game of tennis and they are late. He knows this not only from the clues, but also because he had just encountered his friend moments ago, who relays the message that they were going to meet at his place instead. Sherlock and Watson then start following Telly.

Cartoon
Jim Thurman sings "Calcutta Joe."
Animation by Buzzco Associates, Inc.
(First: Episode 2492)

Muppets
Old West: Five good men are needed to form a posse and catch Bad Bart, the meanest man in the West. The sheriff counts five men in the saloon, and tries to organize them. But it turns out that there are only four good men -- one of them is Bad Bart!
(First: Episode 0554)

Cartoon
Five butterflies
Artist: Owe Gustafson
(First: Episode 1471)

Muppets / Celebrity
Celia Cruz tells Big Bird about a hummingbird, and sings "Zunzun."
(First: Episode 2298)

Film
Animals fight.
Music: Joe Raposo
(First: Episode 0567)

Animation
Draw a line from the dog to the bowl and underline the hen.
(EKA: Episode 2178)




SCENE 4
Herry Monster plays a round of "Three of These Things" with Alice and the kids, using some blocks and a ball. Once the ball is eliminated, Herry uses it for a game of catch. Telly panics, as the ant was on the ball.

Song
"Hot in the City"
(First: Episode 2751)

Cartoon
L for Laugh
Artists: Vincent Cafarelli & Candy Kugel
(First: Episode 2767)

Muppets
In the park, Bert overhears the sound of a tuba - his favorite instrument. It's actually Simon Soundman, who's "just practicing." Bert begs Simon to teach him how to make that sound by himself, but Bert ends up attracting Gladys the Cow, who thinks she heard the romantic call of a bull.
(First: Episode 2386)

Cartoon
Various alien creatures perform in an otherwordly music performance conducted by a trumpet-nosed creature.
(First: Episode 1181)

SCENE 5
The Count has counted 468 jumps as the kids take another rest period. Telly chases after Alice, who still has the ball (and the ant).

Song
"Five Onstage Dancers"
(First: Episode 0539)




Muppets
Camp Wannagohoma: Grover tries to teach his campers (including Roosevelt Franklin) about what an island is, but he gets his vocabulary mixed up. He also fails to notice when the campers board the motorboat for lunch, leaving him stranded.
(First: Episode 2656)

Song
A girl invites the listener to "Swing Up High."
(First: Episode 0408)

Cartoon
A cat desperately tries to open a can of cat food by himself while his mistress is on the phone.
Artist: Dan Haskett
(First: Episode 2151)

SCENE 6
A few moments into the cartoon, Telly yells, "Stop!" and the cartoon halts. Telly appears in the frame to clarify that he was calling for Alice to stop, not the cartoon. Alice runs past him and the chase (and cartoon) resumes.

Film
"I Can Do It By Myself"
(First: Episode 1727)

Muppets
Muppet & Kid Moment — Ernie, Bert, and Shola illustrate "between".
(First: Episode 0542)

Animation
A hand draws a ditch, and some kids try to figure out a way to get across it.
(First: Episode 2094)




SCENE 7
Gordon returns from his tennis game to find Telly up a tree, which is where the ant has now lead him. Gordon points out that Telly didn't have to climb it as well; he could've waited for the ant to come down. Telly slaps his forehead and falls from the tree, landing on Gordon).

Cartoon
B for banana and ballerina
(First: Episode 2515)

Muppets
Little Jerry and the Monotones perform "Mad."
(First: Episode 0240)

Animation
El numero cinco (Luis VO)
(First: Episode 2115)

SCENE 8
The Count probes Telly for the whereabouts of the anthill, when Telly sadly admits he lost trace of the ant; it went in a hole in a ground where he couldn't follow. The Count tells him that was the anthill and Telly takes him to it, where the Count starts counting all the ants. Gordon announces the sponsors.
Community content is available under
CC-BY-SA
unless otherwise noted.