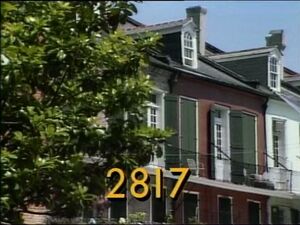 Picture
Segment
Description

SCENE 1
Susan tells the viewer that today, everyone will be discussing times when they felt sad. Prairie Dawn is the first to go, describing the day she got sick on the premiere of her new pageant, "The Life of a Potato."

SCENE 1
cont'd
A flashback shows Susan tending to a bed-ridden Prairie. The experience allowed her to write what she considers her best pageant ever, "The Nose and the Cold," and sings a sample of it.

Cartoon
Two kids find different uses for a cooking pot.
(First: Episode 0795)

Song
"There's a Lot of Different Ways to Get to School" (sung by Jerry Nelson)
(First: Episode 2751)




Muppets
Game Show: Happiness Begins at 40
Guy Smiley gets the Sad Family out of their rut by having them count to 40.
(First: Episode 2467)

Cartoon
A snake has a knot in his middle, and he can't find his end. The detective helps the snake find his end ... playing drums in a band.
(First: Episode 2600)

Muppets
Kermit sings "Caribbean Amphibian."
(First: Episode 2205)

Cartoon
Gordon voiceover N/n
(First: Episode 2283)

SCENE 2
Luis now introduces Telly with his sad story.

SCENE 2
cont'd
Telly recalls when they played baseball in the yard and Telly missed a catch in his direction, causing his team to lose.

SCENE 2
cont'd
In the present, the kids invite Telly to join their game, making him very happy.

Cartoon
A boy counts down to 0 as he eats his soup.
(First: Episode 2283)

Song
"Rollin' on the River"
(First: Episode 2783)

Muppets
Ernie & Bert — It's cold outside, so Bert tries to ask Ernie to play a game with him. Ernie keeps bringing winter equipment into the room, thinking Bert wants to play outside. It turns out he just wants to play a game of checkers.
(First: Episode 1617)

Cartoon
A fan reveals the letter C.
(First: Episode 2746)

Song
Sesame Street Creature Feature: The Marmoset.
(First: Episode 2487)

Cartoon
Willie Wimple: Land Pollution
(First: Episode 0516)

SCENE 3
Oscar now recalls a time when even he felt sad.




SCENE 3
cont'd
On a rainy day, he takes his favorite toy, Rubber Yucchy, with him as he runs some errands. Afterwards, he realizes the toy has fallen out of the hole in his slicker pocket. He retraces his steps, but to no avail. He returns to his can, sobbing, where Telly returns the toy, having found it on the ground by the trash can.

SCENE 3
cont'd
Back in the present, Luis observes that grouches get sad too.

Animation
Draw a circle around the bus. Cross out the telephone.
(First: Episode 2093)

Cast
Big Bird, Susan and Bob sing "Can Read" while at a newsstand.
(First: Episode 2268)

Cartoon
A salesman offers a passerby the letter N for next to nothing.
Artist: Cliff Roberts
(First: Episode 1804)

Film
College students volunteer at the San Francisco Children's Zoo, which has such animals as ferrets, opossums, and chinchillas.
Music: Joe Raposo
(First: Episode 2227)

Muppets
Little Chrissy and the Alphabeats sing "Cluck Around the Clock."

Cartoon
A family of snakes makes shapes, and rolls away.
(First: Episode 1506)

Film
Pizza is made.
Music: Joe Raposo
(First: Episode 0416)




Insert
Mr. Snuffleupagus tells Alice about the time when he learned that the Snuffle-fairy wasn't real. In a flashback, he shows Oscar a picture of her in a book, and he tells him the truth, which Maria confirms. However, they can still imagine that she exists.
(First: Episode 2596)

Cartoon
A boy sits in a forest and plays the flute along with the birds' songs, but becomes sad when woodsmen demolish the forest. He plants more trees for the birds to live in.
Artist: Richard Condie
(EKA: Episode 2045)

Muppets
Ernie is in a counting mood, and decides to count all of the cookies in a box of them. Cookie Monster overhears this and asks if he can have all of the cookies after they are counted, and Ernie agrees. But after opening the box, Ernie finds that there are 0 cookies in it. Ernie has another box, but it also has 0 in it. Ernie then remembers that he put all of the cookies into a cookie jar, and starts to count, but Cookie Monster impatiently eats all of the cookies before Ernie can finish counting.
(First: Episode 2586)

Cartoon
C for Cat
Artist: Bud Luckey
(First: Episode 1141)

Song
"Frog Kick"
(EKA: Episode 2155)

Cartoon
A lost man in the desert asks a stranger for directions to the city. He builds a pretend city out of sand to show what it looks like. As it turns out, the stranger is an alien.
(First: Episode 0763)

Cast
Gina plays and sings "Follow the Leader" with the kids.
(First: Episode 2604)

Cartoon
A penguin repeats the rhythms of the sounds it hears, which include a drum, a door knock, a saw and a typewriter.
Artists: The Hubleys
(First: Episode 0239)

Song
Joe Raposo sings "What Babies Are Called"
(First: Episode 0116)

Cartoon
Dr. Annie Eyeball looks at air.
Artist: Bruce Cayard
(First: Episode 2592)

Muppets
Ernie sings "Imagine That" about things that he sometimes imagines to be: first a knight in shining armor who battles a dragon, then a sailor, and finally, himself.
(First: Episode 2142)

Cartoon
A cowboy adds two different herds of cows.
(First: Episode 2255)

Muppets
Monsterpiece Theater: "The Old Man and the C"
Grover is playing an old man in a rowboat, which is on a giant letter C.
(First: Episode 2710)
Cartoon
C is for Candle (the candle blows back)
(First: Episode 0703)

SCENE 4
Everyone celebrates their now happy endings to their sad stories - Telly helped win the game, Oscar plays with his Rubber Yucchy and Prairie feels happy that she got to do her new pageant. Big Bird announces the sponsors.