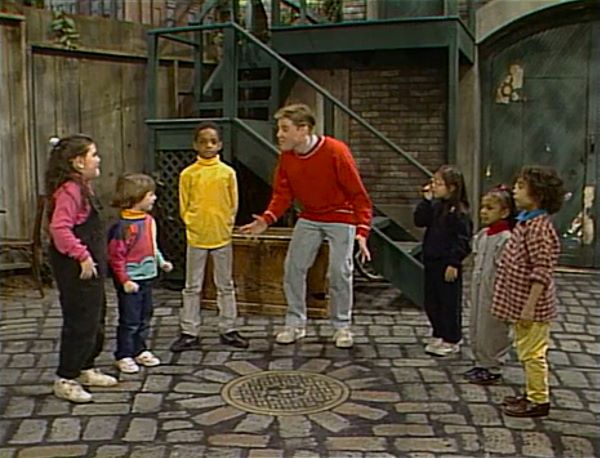 Picture
Segment
Description

SCENE 1
Elmo tells the viewer that because he's so small, he can identify everyone by their knees, including Alex, Big Bird and Linda.

Song
"Elbows and Knees"
(First: Episode 2641)

Cartoon
What if we celebrate Valentine's Day with chickens instead of hearts?
(First: Episode 0488)

Muppets
Ernie sings about "The Insects in Your Neighborhood."
(First: Episode 1887)

Animation
Henson Films: Number Twelve Rocks
(First: Episode 0195)

Muppets
Super Grover tries to stop a fight between Sammy and Frankie, who are fighting over an apple.
(First: Episode 0682)

Film
Looking for rectangles in the city (Maria voice-over)
(First: Episode 2714)

SCENE 2
A uniformed man knocks on Oscar's trash can and declares himself as the "Telephone Man." Oscar asserts that his phone isn't broken, nor does he need to be sold a new one. The man replies that he's merely there to help Oscar learn the world "telephone."

Cartoon
A girl sings about the things she can draw, paint, and sculpt.
(First: Episode 1987)




Insert
Wanda the Word Fairy demonstrates the word TELEPHONE, but is unable to remove the word from the telephone booths.
(First: Episode 2655)

Cartoon
Blue and pink characters fight for a spot on the subway, until Pink spots an open seat.
(First: Episode 1580)

Muppets
"African Alphabet Song"
(First: Episode 2360)

Cartoon
Y for yawn
(First: Episode 0301)

SCENE 3
The man returns to Oscar's can, now branded as the Milk Man. Once again, he's not there to peddle the product, but present the sight word MILK.

Film
Kids go roller-skating in a playground as ragtime music plays.
(First: Episode 1234)

Cartoon
Letter B/b (bouncing circles)
(EKA: Episode 2222)

Muppets
At the beach, the Twiddlebugs notice that only Thomas has a beach umbrella, which they decide to share. They soon notice that they have no idea where the ocean is.
(First: Episode 2641)

Cartoon
"The Story of Princess Twelvia".
Artist: Irra Verbitsky
(First: Episode 1676)

Song
"Pig's Love Song" (live-action version)
(First: Episode 0572)




Cast
Gordon hosts "The Crossing Zone," in which a boy named Jonathan has to find a way to cross the street. Susan helps him across.
(First: Episode 2729)

Cartoon
E for Elephant & Elk, the nominees for best E animal.
(First: Episode 0486)

SCENE 4
The man returns to continue his schtick, only now as the Banana Man. Oscar sees how appropriate his name is now; the man's driving him bananas!

Film
Cheri goes fishing with her abuelo.
(First: Episode 2784)

Cartoon
Y for Yak
Artist: Jeff Hale
(First: Episode 1184)

Muppets
Cookie Monster sings "If Moon Was Cookie."
(First: Episode 1789)

Animation
We Are Kids From Far and Wide: India
(First: Episode 2758)

Film
Kids narrate a film of how a river is formed.
(First: Episode 2710)

Cast
Mike and the kids perform "A Very Simple Dance."
(First: Episode 2729)

Cartoon
A girl uses her imagination while sitting on a sofa.
(First: Episode 0765)

Muppets
Caveman Days: Taking the kid to school
Ernie (the father) and Bert (the kid) go over the procedure of crossing the street.
(First: Episode 1950)

Cartoon
"Ladybugs' Picnic"
(First: Episode 0416)

Film
Two girls walk on an island together, and a map of the island is shown.
(First: Episode 2650)

SCENE 5
At the library, a girl named Marie needs someone to read to her. Buster the Horse is also in need of help; he can't turn pages well with hooves. Linda suggests they cooperate: Marie will turn the pages and Buster will read.

Cartoon
A caveman finds a rock on the ground, and visualizes the invention of the wheel and the car, ultimately deciding to toss the rock away: "Who needs it?"
(First: Episode 0558)

Muppets
Old West: Sinister Sam announces that someone has bought the last box of crayons, and he wants to know why. It turns out that he just wants a crayon so he can learn how to write the letter Y.
(First: Episode 1288)

Film / Animation
Oranges are peeled and sliced in stop-motion, and some kids eat them.
(First: Episode 1802)

SCENE 6
A small crowd has gathered around Buster and Marie as they read. Linda and Lisa announce the sponsors.
Community content is available under
CC-BY-SA
unless otherwise noted.