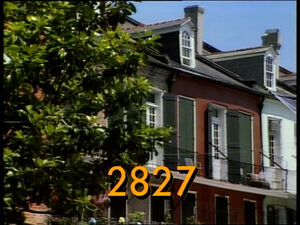 Picture
Segment
Description

Cast
Lillian sings a "Simple Clapping Song" with some kids.

Cartoon
An elephant, a zebra, a hedgehog, an ostrich, a frog and a ladybug create a rhythm with their footsteps.
Artist: Karen Aqua
(First: Episode 2794)

Muppets
Ernie wakes up and tells Bert it's time to get up, but notices that Bert isn't in his bed. He slowly ponders what happened to his best friend, coming to the conclusion that maybe some Martians took him away in their spaceship. As it turns out, Bert just got up early to fix some oatmeal. Ernie is relieved... until a real spaceship lands and the Martians enter the room.
(First: Episode 1208)

Song
Joe Raposo sings "Somebody Come and Play."
Snow leopards version
(First: Episode 2519)

Cartoon
S for sing
(First: Episode 0824)

Muppets
Waiter Grover: Mr. Johnson eats at an airport restaurant and is on his way to South America. When Grover learns about Mr. Johnson's trip, he gives a big lecture on South America, causing Mr. Johnson to miss his flight.
(First: Episode 2616)

Animation
Abstract count to 19

Insert
Mr. Snuffleupagus is invited to jump on Big Bird's trampoline, and the Count decides to count how many times Snuffy jumps. He counts a total of 19½, with his last jump bouncing him to the top of 123 Sesame Street.
(First: Episode 2148)

Cartoon
It's a squirrel
Artist: Ishu Patel
(First: Episode 1736)

Song
"Take Care of That Smile"
(First: Episode 2745)

Cartoon
W - wallpaper
(First: Episode 0291)

Muppets
Forgetful Jones forgets what he has to do at night. Clementine tells him it involves using a toothbrush, and he remembers that he and Buster the Horse have to brush each other's teeth.
Remade version
(First: Episode 2068)

Cartoon
Rap #19
(First: Episode 2560)

Muppets / Celebrity
Glenn Close vents to Oscar the Grouch about her bad luck, which makes her feel much better... but her affection towards Oscar makes him want to blow off steam.
(First: Episode 2729)

Cartoon
Words that rhyme with BALL (voices of Bob Arbogast and Daws Butler)
(First: Episode 0773)

Muppets
Kermit the Frog sings "Do-Op Hop".
(First: Episode 2071)

Film
A boy who lives in the Congo (in Africa) narrates a film of the kinds of games he and his friends play.
(First: Episode 2668)

Cartoon
W for Wash
(First: Episode 0485)

Muppets
Cookie Monster goes to the bakery for a special birthday cookie. The baker lists all the ingredients of the cookie, as Cookie visualizes it. The visualized image looks so delicious that he eats it.
(First: Episode 0283)

Film
EXIT
(First: Episode 0935)

Insert
Elmo explores Sesame Street, and observes Susan as she grades test papers.
(First: Episode 2285)

Cartoon
Zork lands on the coast of California, where he meets a slick agent.
Artist: ArtistMike
(First: Episode 2687)

Muppets
"The Ballad of Slippery Slim"

Cartoon
A voice asks a face if it's aware of the letter S, and it is revealed that the face belongs to a snake.
Artists: The Hubleys
(First: Episode 0278)

Film
Michael introduces his friend to the Afro-Brazilian martial art Capoeira.
(First: Episode 2752)

Cartoon
Sign Sounds: KISS ME
(First: Episode 1136)

Muppets / Cast
"Brush Boogie"

Cartoon
Ralph asks Marvin what would happen if he didn't have a mouth, a nose and ears.
(First: Episode 0468)

Film / Muppets
Alphaquest: S
A swimsuit, Grover as a silly surfer, a seagull, the sunset and a submarine.
(First: Episode 2729)

Muppets
Ernie talks about the differences between himself and his cousin, Ernestine. He can't find anything that they have in common -- until he hears Ernestine laugh.
(First: Episode 2053)

Film
A man carves a wooden horse.
Music: Joe Raposo
(First: Episode 2209)

Cartoon
They'd play with me if I had...
(First: Episode 0815)




SCENE 1
Snuffy wants to recycle his soda can, but points out to Bob that the Hooper's Store bins don't have enough room. Although the bin has plenty of room, it's too small to accommodate the Snuffleupagus-sized can. They resolve to put all the other cans into Snuffy's giant one.

Cartoon
Gloria Globe appears sick and ailing, because of pollution and damage to the planet. Only by taking better care of the Earth can Gloria become well again.
(First: Episode 2781)

Film
A beekeeper extracts honey from honeycomb.
(First: Episode 1117)

Muppets
"The Opposite Song"
(First: Episode 1111)

Cartoon
A mother and child make juice popsicles.
Artist: Cathryn Aison
(First: Episode 1193)

Muppets
The Two-Headed Monster reads the sign atop a miniature school building, and observes a small group of children that run out of it. Once they've left, the monster picks up the now empty building, and declares, "School's out!"
(First: Episode 1907)

Cartoon
A party is full of "Nineteen" of things.

Film
Photographic collage demonstration of ALL, MOST, SOME and NONE of an apple.
(First: Episode 0979)

SCENE 2
Gabi and the kids do some recycling of their own as the sponsors are announced.
Community content is available under
CC-BY-SA
unless otherwise noted.