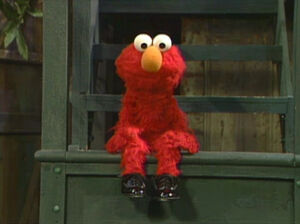 Picture
Segment
Description




SCENE 1
Elmo greets the viewer as he waits for Savion's dance class to begin. He's full prepared, when Savion and Jelani happen by. They have to go to school, so the lesson won't be until later. In the meantime, Elmo decides to think about the letter Z and repeats "z-zip."

Cartoon
zip, zoom, zoom, zig, zag, zany, zoo.
(First: Episode 0359)

SCENE 1 cont'd
Elmo now thinks about "zigzag."

Muppets
"Zig Zag Dance"
(First: Episode 1567)

SCENE 1 cont'd
Elmo now thinks the letter Z, out in the cosmos...

Cartoon
Z In Space
(First: Episode 0509)

Song
Joe Raposo sings "Little Things".
re-filmed version
(First: Episode 2485)

Muppets
Ernie & Bert — It's a sunny day at the beach, and Bert remembered to bring everything. Ernie, however, only brought an umbrella in case it rains... which it does.
(First: Episode 0284)

Cartoon
Nine Striped Cats (Maria voice-over added)
Artist: Owe Gustafson
(First: Episode 1564)

Celebrity
Big Bird attempts to dance ballet with Raven-Symoné. When that doesn't work, she puts on some dance music.
(First: Episode 2780)

Cartoon
The Great Inventors Series: John Montague, Earl of Sandwich, invents a new type of food that can be eaten while playing cards.
Artist: Bruce Cayard
(First: Episode 2574)

Film
Animal camouflage (kid VO's)
Music: Joe Raposo
(First: Episode 0366)

Muppets
Kermit and some Anything Muppets sing "I Wonder 'Bout the World Above."
(First: Episode 2679)

Cartoon
R for Rhinoceros
(First: Episode 2518)

SCENE 2
Luis comes across Uncle Wally hosting Wolfgang the Seal's clapping class. Luis joins Gina and the kids as they repeat the various claps Wolfgang makes. They all then participate in Wolfgang's barking class.

Cartoon
Rap #9
(First: Episode 2509)

Muppets
Monsterpiece Theater: "The Postman Always Rings Twice"
(First: Episode 2729)

Animation
"¡Él juega beisbol!"
(First: Episode 2101)

Film
A percussionist on the beach talks about how rhythm is everywhere, such as in breaking waves, walking and horse galloping.
(First: Episode 0049)




SCENE 3
Tap class still hasn't begun, so Elmo imagines himself as the world's greatest tap dancer as he sings "Happy Tappin' with Elmo." Back in reality, everyone is gathered for class, though Elmo still considers himself a great dancer. He falls down trying to prove it and admits some lessons won't hurt.

Cartoon
What if a frog and a fly switched bodies? What do you think would happen?
Artist: Cliff Roberts
(First: Episode 0406)

Muppets
The Martians: Book
(First: Episode 2731)

Animation
A rock does somersaults for its peers, but gets little applause.
(First: Episode 2021)

Muppets
Muppet & Kid Moment — Ernie, Bert and Shola count fingers.
(First: Episode 0464)

Cartoon
A hand draws a guitarist serenading a maiden, as well as the background.
(First: Episode 0791)

SCENE 4
Gina, Luis, Jelani, Elmo and Mr. Snuffleupagus practice the steps Savion teaches them, but Snuffy has a harder time than everyone else. Since he has four feet instead of two, Savion suggests he try the steps using only his back feet. Snuffy is able to mimic the steps and feels very proud to be tap dancing.

Cartoon
A juggling bear helps a little girl learn to juggle.
(First: Episode 1834)

Muppets
Bip Bipadotta leads "Scratch My Back" as a song about two monsters named Jack and Jill who swear that they will always be there to scratch each other's backs.
(First: Episode 2191)

Cartoon
Different uses of a triangle (Spanish version)
(EKA: Episode 1753)

Film
A girl goes to the shoemaker and watches him as he repairs her shoes.
(First: Episode 0987)

Cast
Carnival barker Mike runs a ball-throwing booth. Maria and Travis decide to try winning a prize by knocking down all the bottles. She tries twice, and knocks some of them down, then she lets Travis try his luck. He not only knocks all the bottles down, but the stand as well! For a prize, he wants the ball, which he obtains by way of reverse footage.
(First: Episode 2727)

Cartoon
The weary traveler asks the wise man to demonstrate none, some, most and all with a basket of oranges.
(First: Episode 0976)

SCENE 5
Mr. Snuffleupagus feels sad that his back half is better at tap-dancing than his front. In song, Savion shows him that his front half can rap while his back half taps.

Cartoon
The front and back of a costumed horse follow an ice cream truck.
(First: Episode 0782)

Muppets
Super Grover: A boy is confused -- his mother told him to take a bus home, but he doesn't know where to find the bus. Super Grover arrives, and they soon discover a sign that says "Bus Stop". The boy believes they found the answer, but Super Grover insists that his mother told him to take a bus home, not a sign.
(First: Episode 0708)

Cartoon
Are you the monster that ate the television?
(First: Episode 1970)

Film
A boy narrates a film about how cheese is made.
(First: Episode 1124)

SCENE 6
Savion and Dayle practice some tap moves as the sponsors are announced.
Notes
Community content is available under
CC-BY-SA
unless otherwise noted.