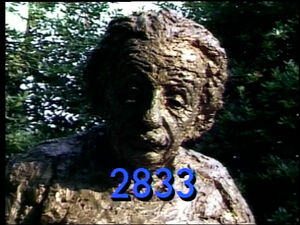 Picture
Segment
Description




SCENE 1
Big Bird greets everyone on Sesame Street, and then sings "Good Morning, Mr. Sun."

Cartoon
How Andy Fritz Ate the Sun.
Artist: ArtistMike
(First: Episode 2730)

Film
Ostriches walk and run. (piano music)
(First: Episode 0339)

Celebrity
Patti LaBelle sings "Oh, How I Miss My X."
(First: Episode 2168)

Cartoon
The letter X appears on-screen.
(First: Episode 2779)

Film
Kids take swimming lessons in a pool.
(First: Episode 1232)

SCENE 2
Telly and the kids are going to have a picnic in the park and show Gordon all they have to bring - a bullhorn (in case they need to stop some charging bulls), a rubber chicken (in case they find some rubber eggs) and a paper bag. Gordon assumes the bag is for some other unfounded catastrophe, but Telly states it's simply to hold their lunches.

Cartoon
"Ladybugs' Picnic"
(First: Episode 0416)




Muppets
Sesame Street Movie Classics presents: "High 12"
In a parody of High Noon, Clementine doesn't want Forgetful Jones to meet Sinister Sam, the meanest man in the west, at the traintracks at noon, especially since it's their wedding day. But both Forgetful Jones and Buster (in song, referencing "Do Not Forsake Me" from High Noon) convince her that "a man's got to do what a man's got to do". Sinister Sam shows up and, in a threatening manner, informs Forgetful Jones that he's got something to say to him ... "I think it was mighty nice of you to remember to meet my train!" They all hit the saloon for lemonade, leaving Clementine dejected.
(First: Episode 2614)

Song
Joe Raposo sings "Everybody Sleeps."
(First: Episode 0406)
Edit: the shot of a man nodding off and falling out of a chair is replaced with a shot of astronauts on a space shuttle; the audio is also patched up in that area.

Cartoon
A man (voice of Richard Hunt) answers the TELEPHONE and gives it to the plant.
(First: Episode 1828)

SCENE 3
Big Bird prepares to talk about emotions, with Mr. Handford's help, but Mr. Handford is involved in listening to the baseball game on his walkman. Big Bird instead points out Mr. Handford's emotions as the game progresses.

Muppets
Little Jerry and the Monotones sing about being "Sad."
(First: Episode 0584)

Cartoon
A little man misplaces his J under his hat.
(First: Episode 0231)

Film
Building a log cabin
(First: Episode 0602)

Animation
"We Are Kids From Far and Wide": Jittar, who lives in Thailand, describes the holiday of Songkran.
(First: Episode 2765)




SCENE 4
Mike comes across Big Bird and the kids, pretending their bananas are telephones and trumpets. They invite Mike to participate and he eats his banana, imagining it was a hot dog.

Cartoon
The Bellhop has to make 12 wake-up calls.
(First: Episode 2529)

Muppets
Kermit sings "On My Pond."
(First: Episode 2328)

Cartoon
The Typewriter gets a check-up with help from an x-ray.
(First: Episode 0787)

Muppets
Grover the lumberjack thinks he is the first to arrive for supper, but he gets trampled by a gang of French-Canadian lumberjacks who get to the food table before he has a chance to get his snow boots off. By the time he finally gets them off, a grizzly bear grabs the last plate of food.
(First: Episode 1343)

Cartoon
Rumba pencils (first, last, Crazy Melvin)
(First: Episode 0638)

Animation
Kids talk about families, often mentioning having rhinoceroses as pets.
(First: Episode 2759)




Muppets / Cast
Gina reads "Little Miss Muffet and the Spider: The Continuing Story." The story starts like Miss Muffet's normal rhyme, but now the spider follows her everywhere she goes, and everywhere, she runs off afraid. Gina, also part of the story, advises her to become friends with the spider instead.

Cartoon
Animated quilt patterns.
(First: Episode 1470)

Muppets
"City-Country Song"
(First: Episode 0681)

Cartoon
A man talks about going to the city, without noticing he's walking right through it.
(First: Episode 0770)

Song
"All By Myself"
(First: Episode 2044)

Cartoon
Brand X
(First: Episode 0299)




Insert
Bob is about to throw out a broom handle, when Oscar claims it and uses it as a part of his junk band, who sing their newest song ("Oscar's Junk Band").
(First: Episode 2731)

Cartoon
Willie Wimple went a-boatin' and polluted the river.
Artist: Abe Levitow
(First: Episode 0561)

Film
Kids draw a map of their neighborhood, and then learn how maps are really made.
(First: Episode 2760)

Muppets
Two-Headed Monster: HAT
(First: Episode 1349)

Animation
Planet J/j

SCENE 5
Mike and Barkley play double-dutch with the kids as Snuffy announces the sponsors.