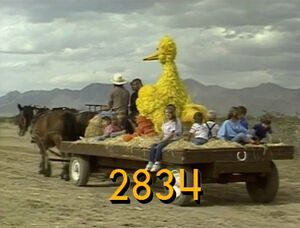 Picture
Segment
Description

SCENE 1
Before Birdland opens, Hoots the Owl explains that tonight is "Open Stage Night," where anyone can get their chance to perform on the Birdland stage. A man named Forest Wimbeldon (Branford Marsalis) enters looking for Hoots, wishing to play jazz tonight. Hoots sees how un-jazzy his saxophone playing is by having Forest "bounce back" the rhythms he plays; while Hoots' licks have flair, Forest's music is more simple and lacks emotion. The two start practicing jazz together.

Cartoon
"Jazz #4"
(First: Episode 0006)




Film
Lamont, who lives in the city, visits his friend Adrian, who lives in the country. Together they ride bikes, swim, and have dinner with Adrian's family.
(First: Episode 2800)

Cartoon
A toothbrush talks to a mouth about what could happen if not taken care of.
(First: Episode 1476)

Muppets
An Anything Muppet family sings "Let's Go Driving".
(First: Episode 2095)

Cartoon
E for elephant, eat, eagle, everybody, empty, and egg.
Voice: Casey Kasem
(First: Episode 0002)




SCENE 2
While Hoots rehearses with the band (the Owl Stars), Forest shows off the riff he's been practicing. Hoots explains that he should learn how to "speak" jazz as well, explaining how different phrases can mean other things. Forest becomes confused, taking terms like "you dig," "jam," and "straight up" too literally. Hoots explains why not everybody he calls "cat" is a cat (unless they're a member of the band), and has Forest practice with the band.

Cartoon
A map of India morphs into the shape of animals that are found there.
(First: Episode 2668)

Video
Ann Marie DeAngelo and Skeeter Rabbit do their dance routine. The frame freezes whenever the word STOP comes on.
(First: Episode 2600)

Cartoon
Sign language: Day, morning, noon, night
(First: Episode 1173)

Muppets
A shark sings about his "Perfectly Pearl-White Teeth."
(First: Episode 1446)

Cartoon
I-Ink (angry bird)
(First: Episode 0462)

Film
How paper is recycled
(First: Episode 2710)

Cartoon
What Do You Do With a Pet?
(First: Episode 0465)

SCENE 3
Forest meets Jelani, who's sweeping up the club. Jelani recommends that Forest should put more emotion into his music, and demonstrates how he physically shows his happy, sad, and angry feelings. Forest is able to relate, and successfully translates the emotions into his saxophone. He thanks Jelani with some "sweeping up Birdland music."

Cartoon
A janitor sweeps up his own footprints the wrong way, then the right way. Just then, a giant centipede leaves tracks all over the floor.
Music: Joe Raposo
(First: Episode 0247)




Muppets
While Ernie is away visiting the Count, Bert has the place all to himself, or so he thinks! A group of sheep burst into the room and proceed to sing him a song ("Bert's Blanket") about how his blanket was made (with a flashback scene where Ernie is portrayed as a farmer). He then corrects them on the actual production phase.
(First: Episode 2391)

Film
An I-beam is molded at a steel factory as heavy industrial-type music underscores the action. The segment ends on a video freeze of the finished beam, which is shaped like the letter "I."
(First: Episode 1077)

Cartoon
Shooting stars form the letter I/i.
(First: Episode 2218)

Muppets
Muppet & Kid Moment — Grover and Zelda look above and below.
(First: Episode 2615)

Animation
Four butterflies fly across a film of a waterfall.

SCENE 4
"Open Stage Night" is finally open at Birdland. For the first act, Lillian sings "Transylvania 1-2-3-4-5" with The Count and his All-Bat Band.

Cartoon
Ten little Greeblies (bug-like creatures) keep getting separated from their group, teaching a lesson in counting backward.
(First: Episode 0006)

Film
Five girls play a clapping game.
(First: Episode 2763)

Muppets
Forgetful Jones invites a cowpoke to lunch, not realizing it's his own reflection in the mirror.
(First: Episode 2798)

Animation
Cecille sings "I Want to Be Me."
(First: Episode 2791)

Cast
Big Bird watches the shape dancers make a square.
(First: Episode 1276)

Cartoon
Pinball Number Count #4
(First: Episode 0984)

SCENE 5
Hoots introduces Forest, and the two perform "Listen and Bounce it Back."

Cartoon
Lillian is proud because she climbed a mountain all by herself.
Artist: Craig Bartlett
(First: Episode 2749)

Muppets
Sesame Street News Flash: Kermit meets the Seven Dwarves, seemingly from the Snow White story. However, in this version each is named after (and represents) an emotion. (Kermit ad-lib: "Hey Dulcy, we got the wrong dwarves again!") They are named Cheerful, Sad, Lovey, Angry, Proud, Surprised and Fearful.
(First: Episode 2415)

Animation
E / e (elephant / jazzy trumpet)
(First: Episode 2222)




Film
Wanda the Word Fairy drives to a market to demonstrate the words of foods, attracting the suspicious gaze of the grocer in the process.
(First: Episode 2652)

Cartoon
Willie Wimple: Land Pollution (litter).
(First: Episode 0527)

Film
Fay Ray subtracts three balls.
(First: Episode 2608)

Animation
It's a giraffe
Artist: Ishu Patel
(First: Episode 1752)

SCENE 6
Jelani announces the sponsors as Hoots, Forest and the band play the closing theme.
Notes