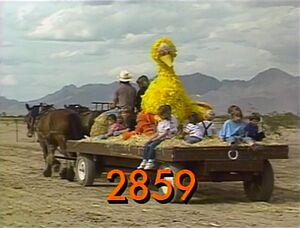 Picture
Segment
Description

Muppets
Count von Count sings "Lambaba" as he counts sheep and other animals that pop into the room.
(First: Episode 2789)

Film
Fay Ray listens to classical music on headphones. "Are you listening to me?"
(First: Episode 2614)

Cartoon
All the instruments in Sousaville love Mr. Tuba's music, but when he plays with them, he doesn't play the same music they're playing.
Artist: ArtistMike
(First: Episode 2829)

SCENE 1
Savion plays a rhyming game with the viewer while tap-dancing.




Muppets
Spaceship Surprise
The crew lands on the Planet SH, where they are greeted by Sheriff Shrimp, and meet a shouting shovel and shopping sheep.
(First: Episode 2468)

Cartoon
A mother and child make juice popsicles.
Artist: Cathryn Aison
(First: Episode 1193)

SCENE 2
Big Bird reads a poem for Gina, Snuffy, Savion and the kids and they must guess who the subject is. He's cute, small and furry - it's Radar!

Cartoon
A yak discusses the letter "Y" on a stage, and is insulted when it is called a "Yakkity-yakkity-yak".
(First: Episode 0301)

Muppets
Here is Your Life: Guy Smiley salutes the life of a house, 2102 Shady Lane, with visits from Frank Lloyd Left the architect, Mr. Bricklayer and Ms. Carpenter who built the house, Tommy and Sally Wilson, children of the family that once lived in the house, and even 2104 Shady Lane, the house that used to be located next door to 2102 Shady Lane, before it was replaced with a highway.
(First: Episode 2225)

Cartoon
V for volcano
(First: Episode 1980)




Insert
Bob introduces the "Seal Harmonic," who perform "Are You Sleeping, Brother John?." The Honkers play their noses, Bob conducts his kid chorus and Wolfgang the Seal plays some horns.
(First: Episode 2638)

Cartoon
Two men go birdwatching, while one of them tries to alert the other about the closed bridge.
(First: Episode 1972)

Muppets
Professor Grover teaches his students what "school" is, but he instead gets the lesson.
(First: Episode 1969)

Cartoon
The Villain in the Panama Hat (V)
(First: Episode 0507)

SCENE 3
Elmo wants to spend the day playing with Radar. Big Bird isn't sure, but grants Elmo permission, as long as he plans ahead. Elmo gets Radar his lunch, storybook, clothes and umbrella.

Cartoon
The life of a Yellow Yahoo
(First: Episode 0043)

Film
A child in a classroom draws a picture of her dog Puck, and goes over the care required to keep a pet. A Bert and Baby Fozzie plush can be seen in the little girl's bedroom.
(First: Episode 2853)

Cartoon
The Bellhop is told that somebody at table 18 has a phone call, and after he struggles to get to the table, he is told to take a message.
(First: Episode 2549)

SCENE 4
Elmo is about to leave with Radar, but Big Bird says goodbye to him in several different ways.

Cartoon
A spoof of Alice Cooper's "Eighteen" - the number of sandwiches the singer has to choose from.
Artist: Merrill Aldighieri

Muppets
Director Kermit is making a western film with Forgetful Jones as the star. Forgetful Jones is supposed to enter through the saloon doors and shout, "Everybody, freeze!" Of course, he forgets this, and instead enters under, around, and over the door. He gets the line right for the first three takes, but when he finally goes through the door: "Everybody ... frolic!"
(First: Episode 1922)

Animation
We Are Kids From Far and Wide: India
(First: Episode 2758)

Film
Looking for rectangles in the city (Maria voice-over)
(First: Episode 2714)

SCENE 5
Big Bird misses Radar, so Snuffy suggests he call Elmo so the two can speak. Big Bird goes to use the phone at Hooper's Store.

Cartoon
I Love You, in American Sign Language
Artist: Steve Finkin
(First: Episode 1170)

Film
Pizza is made.
Music: Joe Raposo
(First: Episode 0416)

Muppets
Shelley the Turtle sings "I Get There" on his way to a picnic.
(First: Episode 2314)

Cartoon
Y for yawn
(First: Episode 0301)




SCENE 6
Elmo returns and has written a special poem that explains to Big Bird the special place he's put Radar. It turns out to be inside his nest.

Animation
Planet Y/y

Muppets / Celebrity
Kadeem Hardison says the alphabet with Natasha.
(First: Episode 2787)

Muppets
Grover, on a surfboard, demonstrates near and far.

Film
At a zoo, monkeys clean each other and run around.
Music: Joe Raposo
(First: Episode 2505)

Animation
Abstract #18

SCENE 7
To thank Big Bird, Elmo now lets him play with his doll - Baby David. Elmo says goodbye to him in various different ways, while Gina announces the sponsors.