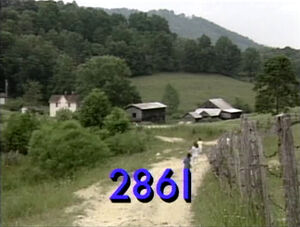 Picture
Segment
Description

COLD OPEN
Gordon announces today, Jelani will teach him how to skateboard. Big Bird skates by, yelling "TOOTHPASTE! TOOTHPASTE!" with a sign bearing the word. Why? "You'll see," he tells Gordon.

SCENE 1
Big Bird explains why he's saying "TOOTHPASTE!": today's letter is F, and kids use toothpaste to brush their teeth, some baby teeth fall out and the tooth fairy (an F-word) collects them

Cartoon
Frances Fairy displays several F words.
(First: Episode 0335)

Song
Joe Raposo sings "Doggy Paddle."
(First: Episode 1967)

Animation
It's a monkey
Artist: Ishu Patel
(First: Episode 1767)

Muppets
Cookie Monster and The Beetles sing "Hey Food."
(First: Episode 1815)

SCENE 2
Big Bird skates by Gordon and Jelani, since the previous segment was about food. And what do you do after you eat? You brush your teeth with..."TOOTHPASTE! TOOTHPASTE!"

Song
"Take Care of That Smile"
(First: Episode 2745)

Cartoon
The Bellhop must take 10 terriers for a walk.
(First: Episode 2507)




Film
A boy narrates a film of what happens when it changes from fall to winter.
(First: Episode 2459)

Muppets
Phil Harmonic hosts another evening at the Nestropolitan Opera, featuring a performance by Placido Flamingo, "The Telephone of Brazil," to the tune of "Funiculì, Funiculà."
(First: Episode 2457)

Film
Empty / full playground (time-lapse)
(First: Episode 0415)

Muppets
Kermit says his "ABC's of the Swamp."
(First: Episode 1960)

Animation
Planet Q / q
(First: Episode 2838)

Muppets
The Singing Dentists sing "Say Toothpaste, Somebody!"
(First: Episode 2705)

SCENE 3
Gordon and Jelani sing the previous song to themselves. Big Bird skates by, without his sign and not yelling. They think this is the perfect time for him to yell it, but Big Bird's loaned his sign to the Birdketeers, who march by with it.

Cartoon
The Ringmaster treats us to the balancing feats of ten brown bears.
Artist: Jeff Hale
(First: Episode 1336)

Cast
Maria as Chaplin falls in love with a painting (Linda) at the art museum.
(First: Episode 2033)

Animation
Luxo Sr. examines a box. Luxo Jr. pops out of the box, demonstrating "surprise."
(First: Episode 2851)

Film
A blind class goes on a field trip to the park, using their other senses to experience their surroundings. The teacher sings "If You're Happy and You Know It."
(First: Episode 2566)

Cartoon
Q/q (balloons)
(First: Episode 2241)

Cast
Luis sings "Baa Baa Bamba".
(First: Episode 2360)

Cartoon
F for fire, fountain, face, farmer, etc.
(First: Episode 1614)

Film
A zydeco band plays "Bayou Pon Pon" while people dance and the townspeople of New Orleans wave at the camera.
(First: Episode 2502)

Cartoon
A lizard, a girl and a dog dance.
Artist: Karen Aqua
(First: Episode 2795)

Cartoon
Teeny Little Super Guy
RW wants a pet spoon, so TLSG teaches him the importance of being responsible with a pet.
Artist: Paul Fierlinger
(First: Episode 1986)

Muppets
Muppet & Kid Moment — Herry & John-John observe a letter Q.
(First: Episode 0571)

Animation
Floral patterns are formed to Eastern European music.
(First: Episode 1808)

Film
Fay Ray subtracts one ball.
(First: Episode 2634)

Cast
Gina plays and sings "Follow the Leader" with the kids.
(First: Episode 2604)

Cartoon
Ralph asks Marvin what would happen if he didn't have a mouth, a nose and ears.
(First: Episode 0468)

Film
A boy talks about living in Alaska and about racing sled dogs.
(First: Episode 2388)

Cartoon
Edgar Turtle sings "Hey Diddle Diddle."
Artist: Jeff Hale
(First: Episode 2404)

Celebrity
Whoopi Goldberg introduces the sound "WH" and then yells, "Whoopi!"

Cartoon
Jim Thurman sings "Calcutta Joe."
Animation by Buzzco Associates, Inc.
(First: Episode 2492)

Muppets
Monsterpiece Theater: "The Monsters of Venice"
(First: Episode 2836)

Film
Island (in sped-up film, kids travel to an island)
(First: Episode 2700)

Cartoon
F stands for flower, forest, fox, frog and fantastic.
(First: Episode 1102)

SCENE 4
Gordon helps Jelani with his schoolwork, when an announcer (Joey Mazzarino) declares it's "Poetry Time on Sesame Street." He recites a poem about a girl named Ruth, who chased words. The last thing she chases is a big yellow bird with the word "TOOTHPASTE!" The announcer then recites the sponsors.