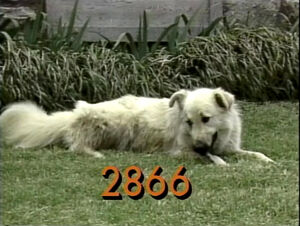 Picture
Segment
Description




SCENE 1
Telly shows Uncle Wally his clown costume and claims he'll be a clown one day, only he can't do anything funny. Uncle Wally recalls his time as a young adult working at the circus (feeding the seals) and teaches Telly what he learned from watching the clowns. He pretends to have a dog on a leash that pulls him around. Telly practices this routine, then must chase his imaginary dog, who's gotten lose from his grip.

Film
Parts of a clown are shown in close-up as kids guess what it is.
Music: Joe Raposo
(First: Episode 0428)

Cartoon
Edgar Turtle plays the banjo as some kids sing the "Bird Song."
(First: Episode 2415)

Muppets / Celebrity
Elmo and Julia Roberts demonstrate fear.
(First: Episode 2790)

Cartoon
Three computer animated fish.
(First: Episode 2792)

SCENE 2
Telly looks for his lost, imaginary dog over by Oscar's trash can. Oscar, who can't believe the situation, agrees to help Telly if he leaves him alone afterwards. He gives Telly a pretend dog whistle, which eventually brings his lost pooch back. Telly imagines the dog chasing a cat into Oscar's can.

Cartoon
Millie and Molly argue over whether to get a pet cat or a dog, so their mom gets them a turtle instead.
(First: Episode 1314)

Muppets
Bip Bipadotta sings about "Air."
(First: Episode 2568)

Cartoon
Jughead Jones's J story
(First: Episode 0231)

Film
Fay Ray dresses up as different animals. ("It's Kermit the Dog!")
(First: Episode 2639)
Cartoon
B for Beard (poem by Edward Lear)
Artist: Jeff Hale
(First: Episode 1147)

Celebrity
14 Karat Soul sings about school.
(First: Episode 1665)

Film
Two Navajo kids go to school in Arizona. This year, Dante enters pre-school.
(First: Episode 2680)

Film
Colored sand forms the letter B and a boat.
(EKA: Episode 2474)

Muppets
The Martians examine a grandfather clock.
(First: Episode 0407)

Film
Scenes of flowers set to harmonica music
(First: Episode 2497)

Cartoon
3 doctors cure a sick 3.
(First: Episode 1627)

Muppets
"It's Zydeco"
(First: Episode 2666)

Cartoon
A disobedient jacket illustrating words that begin with the letter J annoys an off-screen narrator, which reveals two kids named Jenny and Jeff inside of it.
(First: Episode 0527)

Muppets
Kelly tries to rollerskate, and is mocked by Frankie. Fellow skater Big Bird tells him not to be so judgmental, and sings a song about how he had to practice before becoming a good skater.
(First: Episode 2479)

Film
A boy draws a picture of his friend, Kerry.
(First: Episode 2776)

Cartoon
Stop-frame animation of a girl on a beach, reading a book containing pictures of various sea creatures that come to life as she comes to their pages.
(First: Episode 1434)

Muppets
After sounding out the word "cheese," the Two-Headed Monster poses for many pictures.
(First: Episode 2742)

Film
Lions walk down a trail.
Music: Joe Raposo
(First: Episode 0367)

Cartoon
The Great Inventors Series: John Montague, Earl of Sandwich, invents a new type of food that can be eaten while playing cards.
Artist: Bruce Cayard
(First: Episode 2574)




Cast
Gordon reads "The Legend of Big Mouth." The title character, portrayed by Elmo, annoys the townspeople with his constant talking, because he doesn't have anything important to say. The mayor teaches him the meaning of "important," and he becomes a hero when he warns the townspeople about a giant foot coming out of the sky.

Cartoon
A chair displays the word SIT, and a beast sits on him.
(First: Episode 0399)

Film
Alphaquest: B
(First: Episode 2706)

Muppets
Ernie & Bert — Bert and Ernie go fishing. Ernie catches fish by yelling "Heeeeere fishy, fishy, fishy!", and they come flying into the boat. Bert tries it, but only catches a shark.
(First: Episode 1641)




Film
Number Three Ball Film: A red ball follows a rollercoaster-like track through checkpoints (each, a set of three) that are counted in voiceover. At the end, the ball is ground up into a powder.
(First: Episode 0254)

Cartoon
Are you the monster that ate the television?
(First: Episode 1970)

SCENE 3
Luis is visited at the Fix-It Shop by Baby Bear and Goldilocks, of the famous story. Baby Bear is very upset over his wee little broken chair, which Luis fixes in a jiffy. Goldilocks offers to buy Baby Bear some porridge to make up for it, only to ask for some money after.

Song
"At the Coastline" (Beach Boys style)
(First: Episode 2792)

Muppets
Sesame Street News Flash
Kermit the Frog reports from an alphabet mine where they dig Js. The miners tell him various words that begin with J and Richard presents him with his own J.
(EKA: Episode 2302)

Film
How paper is recycled
(First: Episode 2710)

Muppets
Betty Lou learns some Spanish words from her friend Carlos, including "Amigo."
(First: Episode 2042)

Animation
Planet J/j
(First: Episode 2833)

SCENE 4
Gina serves Baby Bear some homemade porridge at Hooper's Store, which he begins to chow down on. As the closing theme begins, Goldilocks interjects Gina and announces the sponsors. Baby Bear flips out, as he wanted to announce them, but couldn't (his mouth was full).
Community content is available under
CC-BY-SA
unless otherwise noted.