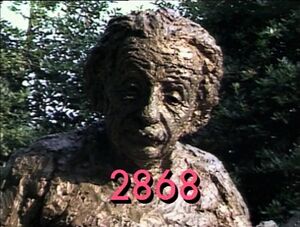 Picture
Segment
Description




SCENE 1
Oscar is disgusted by the bouquet of flowers Mike has gotten for Gina. He claims if he ever gave those to Grundgetta, she'd never speak to him again. Gina is happy to receive them and invites herself on Mike's jog. They leave the flowers with Oscar while they run. Grundgetta comes over at that very moment and, upon seeing the flowers, bids a grouchy goodbye to Oscar.

Cartoon
The Four Squares sing "It's Hip to Be a Square."
Artists: Vincent Cafarelli & Candy Kugel
(First: Episode 2615)

Cast
Maria and Linda sew quilts with a Q on them.
(First: Episode 1508)

Film
A girl narrates a film of herself taking care of her horse, Strawberry.
(First: Episode 2641)

Cartoon
Q for Quarter
Artist: Bud Luckey
(First: Episode 1176)

Muppets
Ernie tries to keep his cookies safe from Cookie Monster by tricking him into eating a carrot instead.
(First: Episode 1232)

Animation
Number creatures #14
(First: Episode 2712)

SCENE 2
Oscar has told Mike and Gina about what happened and they promise to find Grundgetta and explain the circumstances. Once they leave, an announcer proclaims the arrival of Forgetful Jones, who rides over to the trash can (despite the fact he's forgotten his horse). He intends to help Oscar and the Grouch points out how he's done so - he was sad before, but Forgetful's presence has made him mad instead.

Cartoon
A boy narrates a poem about how he met Eleanor, the monster under his bed.
Artist: ArtistMike
(First: Episode 2773)

Film
Ducks swim and fly.
Music: Chopin's Valse Op. 64, no. 2)
(First: Episode 2510)

Muppets
Kermit and some Anything Muppets sing "I Wonder 'Bout the World Above."
(First: Episode 2679)

Cartoon
Gloria Globe pulls a tiger out of her hat, which belongs in India.
(First: Episode 2789)

Muppets / Celebrity
Linda Ronstadt sings "La Charreada" with Elmo and Parker Monster.
(First: Episode 2540)

Cartoon
Maria (in voice-over) counts five oranges, which are then eaten by a snake.
(First: Episode 2380)

SCENE 3
Forgetful returns to further help Oscar. He reports that he ran into Grundgetta, who is sad and misses Oscar. He repeated a memory chant ("rhymes with ouch") to help him remember who to find. A large couch enters - it's Grundgetta the Couch, who is actually looking for Oscar the Couch.

Cartoon
"Sing a Song of Fourteen"
(First: Episode 2670)

Film
Examples of people and animals going down.
Music: Joe Raposo
(First: Episode 0406)

Muppets
Bert sings "The Paperclip."
(First: Episode 2578)

Cartoon
A lost man in the desert asks a stranger for directions to the city. He builds a pretend city out of sand to show what it looks like. As it turns out, the stranger is an alien.
(First: Episode 0763)

Film
Alphaquest: F
A faucet finishes a fire, and flood of freaky fish.
(First: Episode 2759)




SCENE 4
The Two-Headed Monster pretends to be Sherlock Holmes to help Oscar find Grundgetta. Oscar gives them a description of Grundgetta, but they instead return with a large, potted plant. Grundgetta then happens by and sees the beautiful plant, then storms off once more. Mike and Gina see her racing through the arbor and chase after her, with Oscar following behind.

Cartoon
A detective decides to exercise on a slow day, as a crook attempts to get rid of him.
(First: Episode 2607)

Film
"Visiting Iesha": Olivia sleeps over at Iesha's house, and spend the morning together. Olivia is white and Iesha and her family is black. Next time, Iesha wants to visit Olivia's family.
(First: Episode 2756)

Cartoon
A flame burns through a capital letter F, ultimately revealing a lowercase letter f.
(First: Episode 2288)

Muppets
"African Alphabet Song"
(First: Episode 2360)

Cartoon
The Carrot (censored version)
Artist: Bruce Cayard
(First: Episode 1132)

SCENE 5
They all corner Grundgetta and explain to her what really happened involving the flowers. Grundgetta sees she was mistaken, but she still feels angry; she can't get the image of those beautiful flowers out of her head.

Cartoon
The Bellhop is asked to carry a guest's two small (but heavy) bags to Room 14.
(First: Episode 2571)




Muppets
On Vacation with Guy Smiley
Guy Smiley and his tour guide have difficulty taking pictures of animals in the jungle because of Guy's uncontrollably loud voice. A tiger recognizes him, and offers to take a picture of him and some other animals. "Say TREES!"
(First: Episode 1949)

Cartoon
Different uses of a triangle (Spanish version)
(First: Episode 1753)

Film
A beekeeper extracts honey from honeycomb.
(First: Episode 1117)

Cartoon
David reminds a boy to wash his face and brush his teeth before going to bed.
(First: Episode 1968)

Celebrity
Big Bird attempts to dance ballet with Raven-Symoné. When that doesn't work, she puts on some dance music.
(First: Episode 2780)

Cartoon
A spring bounces under and over animals.
(First: Episode 1236)

Muppets
"Body Rhythms" by Little Jerry and the Monotones.
(First: Episode 1399)

Film
Kids watch a silent movie with a man resting on the train tracks with an oncoming trolley - DANGER!
(First: Episode 0480)

Cartoon
Everything you need to know about cats.
Artist: Bruce Cayard
(First: Episode 1179)

SCENE 6
Oscar now presents Grundgetta with a bouquet of smelly fish, which she appreciates. The two Grouches decide to go for a jog and stick the teens with the fish.
Community content is available under
CC-BY-SA
unless otherwise noted.