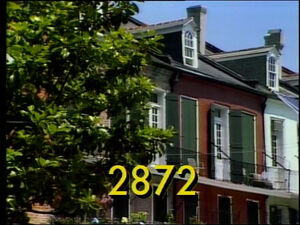 Picture
Segment
Description




SCENE 1
Telly and the kids demonstrate things one can do with their fingers. The kids end the lecture by using their fingers to tickle Telly.

Song
Lillian sings "Face Facts."
(First: Episode 2760)

Cartoon
Two stick figures use the salida.
(First: Episode 2079)

Muppets
An Anything Muppet man sings about the word "Salida"...and refuses to stop.
(First: Episode 1300)

Song
Joe Raposo sings "Water Baby" over footage of seals and kids swimming.
(First: Episode 2016)

Cartoon
Can you see the car, frog and bird in the picture?
(First: Episode 1479)

Film
A boy makes fruit salad.
(First: Episode 1195)




SCENE 2
Slimey and the Worm Scouts join Telly and the kids in a lecture on the letter T. The worms type and tap dance, then everyone tickles Telly.

Cartoon
T for typewriter and toe
Artist: John Korty
(First: Episode 0506)

Muppets
Sesame Street News Flash
Kermit, doing a "slow-breaking human interest story," asks monsters at a day care center what they want to be when they grow up, and every time they tell him, he rewards them with a cookie. Cookie Monster, posing as a baby ("Cry cry cry, sniffle sniffle sniffle"), claims he wants to be an orthodontist. However, Kermit gets wise to his scheme, and instead rewards him with a wind-up toy bridge of false teeth.
(First: Episode 1322)

Cartoon
The Magnificent Splasho goes from the top of the ladder to the bottom of the water tank.
(First: Episode 0655)

Cast
A voiceover instructs Maria as Chaplin where to put the shirts and the towels.
(First: Episode 0541)

Cartoon
Two kids want to use their empty box as a pretend submarine or airplane. They agree to imagine it's a rocketship.
Artist: Cordell Barker
(First: Episode 2369)

Video
Ann Marie DeAngelo and Skeeter Rabbit do their dance routine. The frame freezes whenever the word STOP comes on.
(First: Episode 2600)




SCENE 3
Now, Telly lectures about the wonders of reading. The kids read books about gardens and computers, while Herry Monster reads a book about...tickling!

Cartoon
A caterpillar sings "Exercise, Exercise."
Artist: ArtistMike
(First: Episode 2839)

Film
A metal crane and a real crane look alike.
(First: Episode 1544)

Cartoon
"We Are Kids From Far and Wide": Sierra Leone
(First: Episode 2770)

Muppets / Celebrity
Robin Williams asks Elmo and the kids whether they would allow a nonsense talking, horned two-headed stranger to play baseball with them. The Two-Headed Monster shows up to play.
(First: Episode 2795)

Cartoon
Vitamins give vim, vigor and vitality to a droopy V
Artist: John Hubley
(First: Episode 0311)

Animation
A white shell is uncovered in the sand.
(First: Episode 2061)

Animation
A girl unfolds a map and uses it to describe her trip to Mexico, stopping in Texas along the way.
(First: Episode 2689)




SCENE 4
Ruby joins the group of a lecture on rhyming. They present a pickle and nickel, and Telly immediately gathers what rhyme is coming next...

Song
14 Karat Soul sings about what's "Down Below the Street."
(First: Episode 2556)

Cartoon
A boy counts down to 0 as he eats his soup.
(First: Episode 2283)

Muppets
Ernie is in a counting mood, and decides to count all of the cookies in a box of them. Cookie Monster overhears this and asks if he can have all of the cookies after they are counted, and Ernie agrees. But after opening the box, Ernie finds that there are 0 cookies in it. Ernie has another box, but it also has 0 in it. Ernie then remembers that he put all of the cookies into a cookie jar, and starts to count, but Cookie Monster impatiently eats all of the cookies before Ernie can finish counting.
(First: Episode 2586)

Cartoon
A baby climbs up the stairs all by himself.
(First: Episode 1717)

Muppets / Cast
Gordon, Susan, Gladys the Cow, and Elmo sing about going to the library.
(First: Episode 2740)

Film
Fay Ray gets on and off a rug.
(First: Episode 2635)

Muppets
The Two-Headed Monster takes turns reading itself a story.
(First: Episode 2590)

Cartoon
"Mad Goat Song"
Artist: Derek Lamb
(First: Episode 0771)

Song
A girl invites the listener to "Swing Up High."
Music: Joe Raposo
(First: Episode 0408)

Cartoon
This is a big letter V poem
(First: Episode 0507)

Song
Three kids dance to a rock version of "Three of These Things" while one of them sits and reads.
(First: Episode 0551)

Muppets
Ernie and Snuffy have the "Best Friend Blues."
(First: Episode 2693)

Cartoon
A man talks about how much he loves his bones.
Artist: Bruce Cayard
(First: Episode 2628)

Song
"Around and Around"
(First: Episode 2753)

Animation
Sand T/t
(First: Episode 0636)

Muppets
Waiter Grover: Simon Soundman wants a chicken sandwich, which he orders as a "cluck-cluck" sandwich. Grover has trouble figuring out what his customer wants. Simon Soundman says that his brother always eats at that restaurant, implying that Mr. Johnson might be his brother.
(First: Episode 0449)

Cartoon
Christopher Clumsy jumps over a hole, and falls into another hole.
Artist: Cliff Roberts
(First: Episode 0439)

Film
Kids narrate a film of how a river is formed.
(First: Episode 2710)

Cartoon
What's missing? (cow)
(First: Episode 2028)




SCENE 5
Alex finds Telly in a suit of armor, believing no one can tickle him now. He and the kids announce the sponsors, when Slimey appears inside Telly's suit and tickles him from within.
Community content is available under
CC-BY-SA
unless otherwise noted.