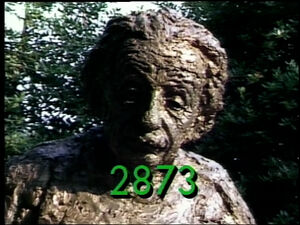 Picture
Segment
Description




SCENE 1
Bob and Linda watch as Barkley plays with his favorite ball. Bob accidentally tosses it over the doors to Big Bird's nest, where another dog grabs it and leaves before Barkley gets there. He begins moping to his owner, as they go to try finding the ball.

Song
"One of These Things" (with Fay Ray)
(First: Episode 2604)

Cartoon
Lazy Wanda's knees converse with each other.
Artist: Bruce Cayard
(First: Episode 1075)

Muppets
Waiter Grover: Mr. Johnson eats at an airport restaurant and is on his way to South America. When Grover learns about Mr. Johnson's trip, he gives a big lecture on South America, causing Mr. Johnson to miss his flight.
(First: Episode 2616)

Cartoon
A map of Brazil morphs into the shape of animals that are found there.
(First: Episode 2806)




Film
A girl named Maria and her family are having a Cuban barbecue. She invited her friend, Stewart, to enjoy in the fun and learn about Cuban culture.
(First: Episode 2760)

Animation
Sand K/k
(First: Episode 0645)

SCENE 2
Bob and Linda look all over the nest area to no avail. They consider just giving up, but Barkley's frantic barking and running around convinces them to keep trying.

Animation
Cecille sings "I'm Gonna Get to You."

Muppets
Pageant: Where Milk Comes From
(First: Episode 2837)

Cartoon
Olga y la letra O
(First: Episode 0364)

Celebrity
The Four Tops sing "Standing at the Bus Stop Sign," while waiting for the bus to arrive. Big Bird pulls up in an imaginary bus.
(First: Episode 2290)

Animation
Draw a circle around the bus. Cross out the telephone.
(First: Episode 2093)




SCENE 3
Sherlock Hemlock and Watson have been called on the case to find Barkley's missing ball (as Watson identifies with Barkley's sadness). They mistake Mike's orange and Gwen's basketball for Barkley's ball, however. Watson ends up finding the ball that he lost a week ago and proceeds to play fetch with it.

Cartoon
40 lemmings (doo-wop)

Film
Footage of kids playing professions, alternating with footage of analogous real-life jobs.
(First: Episode 2811)

Cartoon
K is for kitten.
(First: Episode 0040)

Muppets
In the woods, a nature-loving baritone (Jim Henson) sings "Ah, For the Joys of the Countryside" about how much he loves the country, without noticing that his surroundings are being converted into a city.
(First: Episode 1008)

Animation
Can you find the animals hiding in the T-shirt?
Artist: Deanna Morse

SCENE 4
Polly Darton and her Git Along Little Doggies have heard about Barkley's woes and sing "Bark with Me" to him. The song perks Barkley right up, until Bob mentions his ball.

Cartoon
A mother bird brings her babies a huge number 12.
(First: Episode 0493)

Film
Shapes vibrate as girls beat on their drums.

Muppets
Cookie Monster sings "What is Friend?"
(First: Episode 2840)
Cartoon
A lion named Kent gets a Kick out of being King of the forest.
(First: Episode 0463)

Animation
Teeny Little Super Guy finds his friend Jane giving up on learning to ride the egg beater. He tells her that it takes time and practice to learn things, and gives Jane some training beaters to help her keep her balance.
Artist: Paul Fierlinger
(First: Episode 1972)

SCENE 5
Bob has gotten Barkley a new ball identical to his missing one. Barkley is dismissive of it at first, but soon starts to play with it.

Cartoon
The O falls off a man's grocery store sign; he tries replacing it with a donut, then a pizza, neither of which work. Finally, the sign man paints it on.
(First: Episode 1242)

Muppets
Farmer Ernie sings "Grow High Grow Low" about how some plants grow high while some grow low.
(First: Episode 2448)

Cartoon
A boy has fun with his wood plank.
(First: Episode 1503)




Muppets
Sesame Street Movie Classics presents: "High 12"
In a parody of High Noon, Clementine doesn't want Forgetful Jones to meet Sinister Sam, the meanest man in the west, at the traintracks at noon, especially since it's their wedding day. But both Forgetful Jones and Buster (in song, referencing "Do Not Forsake Me" from High Noon) convince her that "a man's got to do what a man's got to do". Sinister Sam shows up and, in a threatening manner, informs Forgetful Jones that he's got something to say to him ... "I think it was mighty nice of you to remember to meet my train!" They all hit the saloon for lemonade, leaving Clementine dejected.
(First: Episode 2614)

Cartoon
"Ladybugs' Picnic"
(First: Episode 0416)

Animation
A girl's narration describing the city is illustrated with cutout animation.
(First: Episode 2838)

Muppets
"Pond Full of Fish"
(First: Episode 2840)

Cartoon
With the help of his assistant, Dr. Geo shows the viewer what a globe is.
(First: Episode 2836)

Film
A little girl needs HELP getting on a horse.
(First: Episode 0484)




SCENE 6
Bob plays fetch with Barkley, accidentally throwing the ball over the doors again. The other dog returns to the nest area and drops the old ball, taking the new one with him. Barkley picks up his old ball and returns it to Bob, who wonders how the lost ball got back. As they continue to play, Linda signs the sponsors.