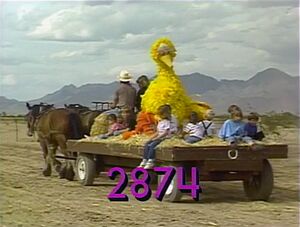 Picture
Segment
Description

SCENE 1
"Can you tell me how to get, how to get to --"
Telly interrupts the opening sequence: "Birdland! Can you tell me how to get to Birdland?!" Susan, Gordon, Miles, and some kids happen to be going there, and they say he can come with them.

Animation
Number creatures #19
(EKA: Episode 2776)

Muppets
Ernie sings "The Honker-Duckie-Dinger Jamboree."
(EKA: Episode 2253)




Film
A montage of the evolution of mechanical technology, from wind-up toys, to robots that can spell "SESAME STREET" with blocks, to satellite transmitters.
Music: "Portrait d'un robot", composed by Janko Nilovic
(EKA: Episode 2226)

Cartoon
Hypnotic "Q" rainbow
(EKA: Episode 0871)

SCENE 2
Hoots welcomes everyone to Birdland, and introduces Duck Ellington and the Sesame Street All-Animal Jazz Ensemble, with special guest Wynton Marsalis. They perform a new version of "No Matter What Your Language."

Animation
Two seemingly identical machines - one black, one white - cooperate to make the sound of a choo-choo train.

Film
Fay Ray subtracts three balls.
(EKA: Episode 2608)

Muppets
Mysterious Theater
Sherlock Hemlock is commissioned to find the shape of a circle in an antique castle before time runs out at 5:00. Watson does his best to point out that the face of a clock is the shape of a circle.

Cartoon
Gloria sings the alphabet (uppercase version)
(EKA: Episode 0263)

Muppets
"Daddy Helps with the Dishes" - three families sing about how they help each other doing chores, cooking, and homework.
(EKA: Episode 2223)

Cartoon
"L" for "Large" and "l" for "little"
(EKA: Episode 1455)

SCENE 3
Wynton says he's ready to do not one number, but twenty, maybe even more. He has help from Count von Count, who counts every little rapid note he plays on the trumpet.

Cartoon
A male chorus sings about zoo animals, to the tune of "The Twelve Days of Christmas."

Film
Bus trip around town (guitar soundtrack)
(EKA: Episode 0926)

Muppets
The Two-Headed Monster observes the letter Q, then the word QUIET.
(EKA: Episode 2538)

Cartoon
A woman serves milk to her cat. Several other cats join him, including a lion.
Artist: Bruce Cayard
(EKA: Episode 1102)




SCENE 4
Hoots introduces Biff and Sully and the Hard Hats (including Stella), who perform "This Song Is for the Birds."

Film
Two birds
Music: Joe Raposo
(EKA: Episode 0309)

Cartoon
L for Laugh
Artists: Vincent Cafarelli & Candy Kugel
(First: Episode 2767)

Muppets
Prairie Dawn talks about three important parts of the face which are the eyes, the nose, and the ears, with assistance from Cookie Monster. Prairie agrees that cookies can be seen and smelled, but not heard - unless eaten by Cookie Monster.
(EKA: Episode 2838)

Cartoon
A pattern of daisies and tulips - can you tell what comes next?
(EKA: Episode 2256)

Film
A man makes a shadow puppet of a dog.
(EKA: Episode 1200)

Cartoon
Sign Man: WALK TALL
(EKA: Episode 1161)

SCENE 5
Hoots introduces Bobby McFerrin, who does a call-and-response scat song with the audience.

Cartoon
Q -- that funny looking thing.
(First: Episode 0131)

Muppets
Marshal Grover and Fred the Wonder Horse look for water in the desert. Grover sees mirages of a waterfall and a fountain, and Fred reminds him that he brought a canteen.

Cartoon
A hand draws a bridge, which a train crosses.
(EKA: Episode 0812)

Film
Counting the circus clowns
(EKA: Episode 1541)

Cartoon
A boy gets lost in a mall, and a security guard shows him how to use a map.
Artist: ArtistMike




SCENE 6
Hoots tells everyone to imagine that it's turning from nighttime to morning, and the birds are waking up in the forest, while Bobby sings "Tweet in the Mornin'."

Cartoon
Millie and Molly take a walk, and have different perspectives of their surroundings.
(EKA: Episode 1454)

Muppets
The Martians are a "Yip-Yip Family."

Cartoon
Nineteen kernels of popcorn pop.
(EKA: Episode 2855)

Insert
Big Bird watches the shape dancers form a rectangle.
(EKA: Episode 1646)

Song
"Above and Below" (Chris Cerf)

Film
Sounds around the house: chimes, snoring, a boy pretending to be an airplane, a man playing a trumpet, and a motorcycle outside.
(EKA: Episode 2122)

Animation
Today's Secret Drawing will be a nurse.
(EKA: Episode 0264)

Song
"Elbows and Knees"
(EKA: Episode 2641)




SCENE 7
At closing, Hoots, Wynton, and the animals play the Sesame Street Theme. Hoots mentions the sponsors.
Community content is available under
CC-BY-SA
unless otherwise noted.