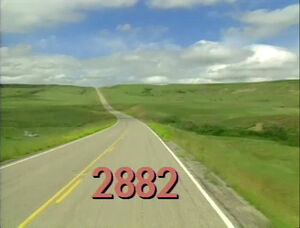 Picture
Segment
Description

COLD OPEN
Snuffy is showing the viewer where many of his friends have gone, Montana, but can't find it on his map. Gordon points it out to him. Snuffy remarks, "How could I lose a state that big?"

SCENE 1
As Maria, Luis, Gabi, Big Bird and The Count ride to the Crow ranch, they sing a new version of the "Sesame Street Theme" ("We're a long, long, long, long, long, long way from Sesame Street!")
This theme is be used for every show for the rest of the week.




SCENE 1 cont'd
The truck pulls up at the ranch. The Count is already astounded at the many things he'll get to count. They then meet the family, including tribal elder Philip, the tribe head who will bestow Francis his Crow name. Pretty soon, a whole slew of new friends appear to meet them and the Count begins to count them.

Animation
Kids talk about families, often mentioning having rhinoceroces as pets.
(First: Episode 2759)

Muppets
Bip Bipadotta sings about "Air."
(First: Episode 2568)

Cartoon
A fan reveals the letter C.
(First: Episode 2746)

Song
"Playground Map Song"
(First: Episode 2680)

SCENE 2
Luis walks with Francis' father Lonn, when they hear Oscar moaning from his trash can on the truck. The rest of the gang's luggage was lost by the airline, except for Oscar and his can (which he is none too pleased about). He is even more repulsed by the beautiful scenery and vows to stay in his trash can until the trip is over. They decide to carry his can into the barn, but once he's in the air, he threatens them to lower him; they let go and his can hits the ground with a crash. "Things are looking up," he rejoices.

Cartoon
Animal Department Store: 1-10
(First: Episode 2530)

Celebrity
Blair Underwood swings Elmo sixteen times.
(First: Episode 2794)

Cartoon
Lillian discusses the adjustments she had to make when her parents had a new baby. She ultimately appreciates her sister.
Artist: Craig Bartlett
(First: Episode 2746)

Muppets
Ernie sings "Imagine That" about things that he sometimes imagines to be: first a knight in shining armor who battles a dragon, then a sailor, and finally, himself.
(First: Episode 2142)

Cartoon
A mouse demonstrates between by squeezing between two elephants.
(First: Episode 2750)

SCENE 3
The Count is counting fence posts and meets Billie Rose. She points out some cows in the distance he can count, but they're too far away for him to see properly (plus, he's wearing his good shoes). Billie Rose offers him a horse ride over.

Cartoon
Abstract count to 16.
(First: Episode 2822)




Muppets
On Vacation with Guy Smiley
Guy Smiley and his tour guide have difficulty taking pictures of animals in the jungle because of Guy's uncontrollably loud voice. A tiger recognizes him, and offers to take a picture of him and some other animals. "Say TREES!"
(First: Episode 1949)

Film
Footage of kids playing professions, alternating with footage of analogous real-life jobs.
(First: Episode 2811)

Animation
Sand S/s
(First: Episode 0622)

Song
Joe Raposo sings "Somebody Come and Play."
Snow leopards version
(First: Episode 2519)

Cartoon
St. Bernard dog leads Zork down the snowy hill.
Artist: ArtistMike
(First: Episode 2738)




SCENE 4
Back on Sesame Street, Telly prevents Bob from using the Hooper's Store telephone, as he is expecting his friends to call from Montana soon. Telly gets so wrapped up in his task, he doesn't notice the phone ringing until Bob gives him the receiver. Gordon, Susan and Mr. Handford gather to hear that the Count has ridden a horse, their luggage was found and Big Bird learned to say "Hello" the Crow-way ("Ka-hey!").

Cartoon
"Island of Emotion"
Artist: Sally Cruikshank
(First: Episode 2822)

Muppets
Sesame Street News Flash
Instead of a pea, this princess sleeps on things beginning with C.
(First: Episode 2527)

Film
Anne Meara narrates a silent film of a woman in a burning building, who needs HELP.
(First: Episode 0506)

Animation
Cecille sings "I Wanna Be Me."
(First: Episode 2791)

Muppets
The Two-Headed Monster sounds out the word "Spin" and watch it spin around, getting dizzy in the process.
(First: Episode 2595)

Animation
Sixteen TV sets are counted.
(First: Episode 2850)

SCENE 5
Oscar's can is hanging from the barn, where the kids use it as a basketball hoop, until he comes loose.

SCENE 5 cont'd
Elsewhere in the mountains, Philip meets up with Big Bird, who reads him his poem about what he enjoys about the Crow Country.

Cartoon
Jim Thurman sings "Calcutta Joe."
Animation by Buzzco Associates, Inc.
(First: Episode 2492)

Cartoon
A kid voice-over says, "Ocean," as a fish is seen swimming in the ocean.
(First: Episode 2670)

Muppets
Anything Muppets perform an opera about front and back (to the tune of "The Blue Danube").
(First: Episode 1391)

Cartoon
S for Snail
Artist: Jeff Hale
(First: Episode 1158)

SCENE 6
The Count explains that the Crow Indians have their own language while Rod teaches Francis to lasso. Rod notices the Count and begins speaking in English, but the Count prefers the Crow language, because it means a whole new way to count things. The Count counts to 10, while Francis provides translation.

Film
"Box City Recycling Rap"
Kids sing a rap song about recycling. They build a city out of boxes and cartons.
(First: Episode 2851)

Muppets
Grover is the newest employee of a fast food franchise which serves such delicacies as O'Fish, O'Salad, O'Rye Bread, and O'Milk. However, this is a different kind of "fast food" restaurant: the food zips by the customer on trays across the counter, and falls to the floor if it's not caught in time. Mr. Johnson is not ready for this, so he asks if there's any "slow food." There is, but it's served by a turtle who takes longer than Mr. Johnson wants to wait.
(First: Episode 2582)

Cartoon
Black cat, white cat, orange cat, marmalade cat, mouse cat, bird cat, chasing balls of string cat.
Artist: Jeff Hale
(First: Episode 1141)

Song
Jerry Nelson sings "The Inside Story" over film footage which shows the insides of ordinary household items.
(First: Episode 2724)

Cartoon
The moon listens to everyone say "Good night" in different languages.
(First: Episode 2243)




SCENE 7
At night, Big Bird and the Count sleep out in the barn. The Count counts the pieces of straw in Crow. Big Bird wishes to learn numbers in Crow too and gets excited for all the fun and new things he's going to do. Philip advises him that first, he should get some sleep.

SCENE 7 cont'd
As Philip makes his way inside, Snuffy announces the sponsors.
Guest cast
Francis Bear Claw as Francis
Lonn Fritzler as Lonn (Francis' father)
Karen White Man Runs Him as Karen (Francis' mother)
Philip Beaumont as Philip
Rod Rondeaux as Rod
Cyril Plain Bull as Francis' grandfather
Arvella Plain Bull as Francis' grandmother
Billie Rose He Does It as Billie Rose
Extras
Kids: Skeeter Rose He Does It, Larae Bear Claw, Steve Beaumont, Michael Beaumont
Kid Basketball Players: Athena Beaumont, Velvet Rock Above, Ladonna Bear Claw, Joshia Hugs, Iva Lena Reid
Adult Extras: Mona Bear Claw, Angela Bear Claw, Jennifer White Man Runs Him, the Plain Bull family (Terry, Marry, Torry, Fred, Stephanie, Gary, and Jerry), Martha Beaumont (Philip's wife), Betty Caufield, Ashleu Caufield, Rhonda Caufield, Roy Caufield, Archie Flat Lip, the Hugs family (Jerome, Shirleen, Dora, Dallas, Joshua, Brice, Lisa), Adrian Goes Ahead, Duke Goes Ahead
Notes
The theme song used during this week of shows is a rewritten version of the one used during their trip to New Mexico.