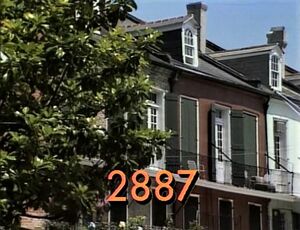 Picture
Segment
Description




SCENE 1
To help with today's letter (the letter D), Telly has asked everyone to bring a D word item. However, everyone has dogs for examples, who gang up and start licking Telly all over.

Cartoon
Dogs cheer D-O-G and fight with cats.
(First: Episode 1148)

Film
Children of all kinds sing "We All Sing with the Same Voice."
(First: Episode 1708)

Cartoon
R for Rhinoceros (poem)
Artist: Jeff Hale
(First: Episode 1151)




Muppets / Cast
Ernie & Bert — Ernie and Bert go see a silent movie, "The Picnic" (starring Maria as Chaplin and Linda as the girl).
(First: Episode 2071)

Cartoon
Which legs belong on the man?
(First: Episode 1691)

SCENE 2
Telly is upset all the D things people have are dogs. Gina sings a song ("Dee Dee Dee Dee Dog"), explaining the different D words that describe her dog, Pearl. Oscar joins in, using disgusting words describing his dog Preposterous.

Cartoon
A dinosaur demonstrates up and down with a pull-down window shade.

Muppets
The Two-Headed Monster tries to cure itself of hiccups.
(First: Episode 1318)

Film / Animation
Lake (time-lapse)
(First: Episode 2700)

Cartoon
A story of a man who hates frogs (voiced by Daws Butler), until his swamp becomes infested with flies.
(First: Episode 0387)

SCENE 3
Telly and Yoko now plan to show the number 9, when the dogs mob Telly again. Yoko thinks they're here to help him, but there's only 7 of them. Adding herself and Telly, they have a total of 9 noses.

Cartoon
The Ringmaster presents 9 elephants. (new sound effects added)
Artist: Jeff Hale
(First: Episode 1366)

Muppets
Sesame Street News Flash: Kermit witnesses as Old King Cole calls for his pipe and bowl (both of which he rejects), followed by his fiddlers three (along with a drummer, a saxophone player, and a bass player).
(First: Episode 0922)

Cartoon
Igor listens as Dr. Frankenstein names body parts in creating another Igor.
Animators: Irra Verbitsky and Don Duga
(First: Episode 1637)

Cast / Celebrity
It's just a normal day on Sesame Street, until Gloria Estefan leads everyone in a conga line as she performs her hit single "Conga." When she leaves, everything returns to normal.
This segment marks the debut of Rosita, who'd get a full introduction in the following episode.

Cartoon
Letters stranded on a desert island spell PLEH, LEPH, and finally HELP.
(First: Episode 1176)

Song
Bob sings Joe Raposo's "Look a Little Closer." (apple tree)
(First: Episode 2654)

Muppets
Muppet & Kid Moment — Grover and Katie think of rhymes.
(First: Episode 1644)

Cartoon
"Dinner for Nine"
Artist: Paul Fierlinger
(First: Episode 1658)

SCENE 4
Tired of dealing with the dogs, Telly now plans to talk about crossing the street. He watches the stoplight and waits for Gina...who happens to be taking all the dogs for a walk.

Cartoon
A little girl sings "There Is Only One Me."
(First: Episode 1942)

Film
Students prepare for a spelling bee.
(First: Episode 2208)

Muppets
The Bicuspids sing "Kids Just Love to Brush."
(First: Episode 2060)

Cartoon
R for rose
(First: Episode 2363)




SCENE 5
Telly needs Maria's help in showing feelings, but she has to pick up Gabi. She instead turns his attention to the dogs, who have their own ways of demonstrating feelings.

Cartoon
A cowboy sings about "Feelings That Are Real."
(First: Episode 0954)




Cast
Gordon hosts "The Crossing Zone," in which a boy named Jonathan has to find a way to cross the street. Susan helps him across.
(First: Episode 2729)

Cartoon
Jim Thurman sings "Calcutta Joe."
Animation by Buzzco Associates, Inc.
(First: Episode 2492)

Muppets
Game Show: To Tell A Face
The object of the game is to identify the face of a relative. The contestant in this skit is Baby Bobby, who must identify his grandmother.
(First: Episode 2125)

Film
Kids count 20 penguins going down a slide.
(First: Episode 0232)

SCENE 6
With all of the dogs finally gone, Telly now plans to shift gears and talk about the letter E and some quiet E words. Suddenly, a pair of goofy eggplants appear and start rattling off come corny jokes. Maria (and her dog) announce the sponsors.
Notes