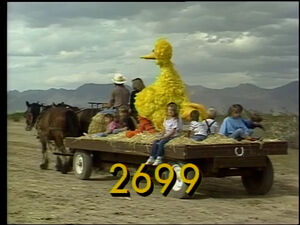 Picture
Segment
Description

SCENE 1
Telly and Elmo pretend to be detectives, though Telly wants to quit, as there aren't any mysteries on Sesame Street to solve. Elmo tries to make mysteries out of some nearby sounds, but Telly is quick to point out the sources. They don't hear anything after that and wonder why...that means a mystery!

Cartoon
A detective follows a path on the street which consists of a straight line, followed by dots. He finds out that the truck that paints the dividing road lines happens to sputter every few feet, which is where the dots come from.
(First: Episode 2248)

Film
A girl draws a picture of her friend, Dai Xi.
(First: Episode 2791)

Muppets
"Rebel L"
(First: Episode 2217)

Cartoon
L for life, love, lizard, leap and lump
Artist: Cliff Roberts
(First: Episode 1833)

Film
In time-lapse footage, a construction crew builds a house and paints it green, and a family moves into it.
(First: Episode 1171)

Cartoon
Train #2
(First: Episode 0353)

SCENE 2
Elmo starts their mystery search in the arbor, though Telly isn't convinced there is a mystery around. Elmo has him run around and look for clues fast and slowly. Telly doesn't understand how this finds a mystery; Elmo responds that it doesn't - it's just fun!

Song
"Take Care of That Smile"
(First: Episode 2745)

Cartoon
A snake displays shapes, which are identified in Spanish.
(First: Episode 1584)

Cast
Maria and Luis perform "You Say Hola and I Say Hola."
(First: Episode 2062)

Cartoon
A little girl leaves everything on in the house, until the TV set recites a poem about sharing electricity.
(First: Episode 2845)

Muppets
Ernie & Bert — Bert regrets not being able to go to the park today like Ernie did, but Ernie helps him imagine a quiet day at the park -- which has more noises than Bert expected, even at night.
(First: Episode 1953)

Cartoon
V for Van (live-action/animation hybrid)
Artist: Paul Fierlinger
(First: Episode 1181)

SCENE 3
At Hooper's Store, Elmo decides to split up to cover more ground. Telly admits to Gina that he doesn't want to play detective anymore, but is unsure about telling Elmo. She convinces him to confess how he feels when Elmo returns. Elmo understands how Telly feels and agrees to play whatever he wants now. Telly doesn't have any ideas and runs off to find one. Elmo wonders what it could be - a mystery at last!

Cartoon
A pig sings "There Are Chickens in the Trees" until a rooster tells him that chickens don't live in trees.
Artist: Jeff Hale
(First: Episode 1394)

Muppets
The Two-Headed Monster sounds out the word "Spin" and watch it spin around, getting dizzy in the process.
(EKA: Episode 2595)

Film
A male frog hops around and bulges his throat.
(First: Episode 0469)

Cartoon
L for locomotive, letter, lamp, light, lion, lettuce, lips
(First: Episode 1716)




Muppets
Prairie Dawn and The Count are contestants on "Squeal of Fortune."
(EKA: Episode 2331)

Cartoon
A man points to the number 2 on a door, and counts 2 of his fingers (and 2 dinosaurs).
Artist: Chris Hinton
(First: Episode 2602)

SCENE 4
Telly returns to Hooper's with a board with four quadrants - three have trios of boats and one has a single boat, leading to a round of "One of These Things." Elmo gets the right answer and believes the game was very similar to a mystery. Telly says it was a different kind of mystery - with a song.

Animation
Cecille sings "Brushin' Down the Doggies."
(EKA: Episode 2862)

Muppets
Grover's Health Minute: Kermit the Frog and Grover talk about teeth. Grover notices that Kermit does not have any teeth at all, so he puts a pair of teeth in Kermit's mouth. Grover says to see a "tooth checker," to eat crunchy things like bananas and to clean teeth with a "tooth comb."
(First: Episode 1949)

Cartoon
V for violin
(First: Episode 2386)

Song
"Drink of Water"
(First: Episode 2545)

Cartoon
A girl tries to lure her cat out from under the chair so she can pick him up.
Artists: The Hubleys
(First: Episode 0187)

Muppets
Ernie & Bert — Ernie is confused when he sees Bert playing checkers with his pigeon, Bernice. Ernie thinks it's amazing that a pigeon can play checkers, but Bert thinks it is no big deal, because Bernice has only beaten Bert in two out of ten games.
(First: Episode 1227)

Animation
Can you find the flamingos?
(First: Episode 2791)

SCENE 5
Since Telly doesn't want to be a detective anymore, Elmo has a new partner - Detective Jonathan. Together, the look at a picture and find the animals embedded into the artwork. Afterwards, Elmo has him find something else - Elmo (for hide and seek).

Cartoon
Super 2 solves problems by doubling things.
(First: Episode 1643)

Film
Children dance to different rhythms from around the world.
(First: Episode 2499)

Cartoon
A boy puts together a fishbowl, and watches his fish swim around in it.
(First: Episode 2030)

Muppets
Charlie is lost and finds a policeman. It's his Uncle Louie, but he doesn't recognize him in uniform. Without the uniform on, Charlie asks Uncle Louie to find him a policeman.
(First: Episode 0135)

Cartoon
A blue man demonstrates in and out with the help of a barrel.
(First: Episode 2084)

Song
14 Karat Soul sings "Hand Talk."
(First: Episode 2622)

Animation
A piece of paper floats down onto a table, then folds itself into a paper crane, which flies away.

Song
"(Sittin' On) A Boat on a Lake"
(First: Episode 2807)

SCENE 6
Gina joins Detectives Elmo and Jonathan as they sit and wait for a very important sound. The sound turns out to be the closing theme, which means they can wave goodbye. Telly announces the sponsors.
Community content is available under
CC-BY-SA
unless otherwise noted.