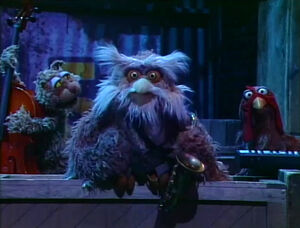 Picture
Segment
Description

SCENE 1
Hoots the Owl greets the viewer as night falls on Sesame Street and tells them they'll be staying up late to see what nighttime is like on the block. He says goodnight to Big Bird and Bob, who will be a guest later on his talk show. Hoots takes a break to take Athena to the night care center.

Cartoon
K - Kangaroo
Artist: Jeff Hale
(First: Episode 1160)

Muppets
"It's Zydeco"
(First: Episode 2666)

Cartoon
A caveman sits on what he thinks is a rock, not realizing that it's a dinosaur, which is alive.
(First: Episode 1737)

Song
Everyone has the same feelings, "No Matter What." Kids of all types play with a huge beach ball.
(First: Episode 2782)

Cartoon
A parade of toys illustrates first and last.
(First: Episode 2857)

Muppets / Celebrity
On a rainy night, the Count brings Susan Sarandon to a locked castle. He knocks on the door just for the sake of counting the knocks, until it's revealed that the castle is his own. He then proceeds to unlock the numerous locks, counting them in the process.
(First: Episode 2528)

Cartoon
Rap #11
(First: Episode 2531)

SCENE 2
Hoots and his band, the Owl-Stars, sing "Sleepytime on Sesame Street."

Cartoon
A man tries to get to sleep, but is woken up by a fly, a chicken and a drum-playing rabbit, all of whom call him on the phone after he throws them out.
Artists: The Hubleys
(First: Episode 0257)

Song
"Old Button Hole"
(First: Episode 1727)

Cartoon
Dogs cheer D-O-G and fight with cats.
(First: Episode 1148)
Muppets
Ernie doesn't want to play with Bert, who sings "I Wish I Had a Friend to Play With Me."
(First: Episode 1819)

Cartoon
A white boy hangs out with his Latino friend.
(First: Episode 1471)

Cast
Linda signs the word wind, and Gordon is blown away.
(First: Episode 2734)

Cartoon
Household appliances count 1-10 and 10-0.
(First: Episode 2840)

SCENE 3
Hoots watches as Forgetful Jones tries to get some breakfast from Hooper's Store. He doesn't realize that it's not the morning.

Cartoon
A map of India morphs into the shape of animals that are found there.
(First: Episode 2668)

Muppets
A Muppet girl (Ivy Austin) approaches a sad Herry and asks him what's wrong. He laments about being left out of the baseball game, and she offers to cheer him up by taking him to the zoo.
(First: Episode 2105)

Cartoon
A boy narrates a poem about how he met Eleanor, the monster under his bed.
Artist: ArtistMike
(First: Episode 2773)

Film
Two Navajo kids go to school in Arizona. This year, Dante enters pre-school.
(First: Episode 2680)

Cast
Linda signs the word snow, and Gordon gets snowed on.
(First: Episode 2712)

Cartoon
Various sounds are demonstrated, including an alarm clock, a baby crying, a telephone, a faucet dripping, and a boy sneezing.
Artist: Irra Verbitsky
(First: Episode 1483)




SCENE 4
On TV-OWL, Hoots hosts his late-night talk show, Live at 4 (AM, that is). He sings a special nighttime edition of "The People in Your Neighborhood," introducing the viewers some of the folks who work at night. Despite the angry yells from his sleepy neighbors, Hoots teases a break.

Cartoon
The detective sees a hippo bouncing on a trampoline, and wonders how the hippo can bounce, since hippos are heavy, but the hippo thinks that he is light.
(First: Episode 2537)

Film
A saxophone is made in a factory, while a solo saxophone underscores the process.
(First: Episode 1446)

Cartoon
"It's a Lovely Eleven Morning"
Artist: Bud Luckey
(First: Episode 0362)

Cast
Linda signs the word "pie," and gets hit with one, to Gordon's surprise.
(First: Episode 2712)

Muppets
Bip Bippadotta and The Androoze Sisters sing "Everybody's Song."
(First: Episode 2064)

Cartoon
A cat desperately tries to open a can of cat food by himself while his mistress is on the phone.
Animation by Dan Haskett
(First: Episode 2151)

SCENE 5
Live at 4 resumes with special guest Bob, who fields questions from owls over the phone about what Sesame Street looks like at the daytime compared to the night. When Hoots asks what Bob does at night, he sees he's fallen back to sleep.

Cartoon
An owl and a bluebird work out a compromise.
(First: Episode 1493)

Film
Shots of the Louisiana bayou are shown, as harmonica music is played.
(First: Episode 2507)

Cartoon
Pencil box K / k
(First: Episode 2876)

Muppets
Annette Monster and Frankie Monster sing "Love the Ocean" to urge others to "show respect for the sea" and refrain from throwing trash in the water.
(First: Episode 2680)

Cartoon
A caveman finds a rock on the ground, and visualizes the invention of the wheel and the car, ultimately deciding to toss the rock away: "Who needs it?"
(First: Episode 0558)

Muppets
Muppet & Kid Moment — Grover instructs Caroline to read the word you, and acts crazy when she keeps telling him to read it.
(First: Episode 2730)

Cartoon
A man learns that it's better not to pick the flowers.
(First: Episode 0416)




SCENE 6
As the sun starts to rise, Athena shows Hoots the drawing she made at night care. She wants to stay up and see the sunrise, but Hoots instructs her to go to sleep. He has to stay up to read an important message, but falls asleep before he can. Athena, still awake, reads the message - today's sponsors. She falls asleep right after, just as Big Bird wakes up. He reads the remaining part of the message (the CTW mention).
Community content is available under
CC-BY-SA
unless otherwise noted.