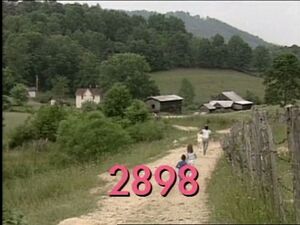 Picture
Segment
Description

SCENE 1
Preston Rabbit brings a present to the Sesame Street Library - an "Illustration Activation Machine," which brings to life images in books. Gina and Elmo put in a copy of "Little Red Riding Hood" and Little Red and the Big Bad Wolf are transported into the library.

Cartoon
"Beginning, Middle, End"
Artist: Sally Cruikshank
(First: Episode 2556)

Muppets
The Two-Headed Monster reads the sign atop a miniature school building, and observes a small group of children that run out of it. Once they've left, the monster picks up the now empty building, and declares, "School's out!"
(First: Episode 1907)

Film
A boy talks about living in Alaska and about racing sled dogs.
(First: Episode 2388)

Cartoon
The Ringmaster displays 11 purple pooches.
Artist: Jeff Hale
(First: Episode 1347)

Muppets
"The UN Family Song"
(First: Episode 0155)

Cartoon
What's missing? (parrot)
(First: Episode 2103)

SCENE 2
Little Red and the Big Bad Wolf learn from Gina about their new surroundings. Elmo puts another book into the machine and out pops Mary and her little lamb. Elmo goes to get more books as the Big Bad Wolf chases after Mary's lamb.

Cartoon
Two crows sing "Stones Don't Grow."
(First: Episode 1715)

Film
Two girls walk on an island together, and a map of the island is shown.
(First: Episode 2650)




Muppets
Game Show: Happiness Begins at 40
Guy Smiley gets the Sad Family out of their rut by having them count to 40.
(First: Episode 2467)

Cartoon
I've got some (hair), I've got more, but I've got the most.
(First: Episode 0524)

Film
Sesame Street Animal Films: Skeleton fish.
(First: Episode 0287)

Muppets
Monsterpiece Theater: "The Monsters of Venice"
(First: Episode 2836)

Cartoon
N is for nose.
(First: Episode 1206)

SCENE 3
While Gina explains what's happening to Linda, Elmo puts another book into the machine - The Three Little Pigs. Soon, the Big Bad Wolf is chasing after the lamb and pigs and Preston's not around to put them back in their books. Linda gets an idea to write a book about Preston.

Cartoon
A snake has a knot in his middle, and he can't find his end. The detective helps the snake find his end ... playing drums in a band.
(First: Episode 2600)

Film
A construction machine and a horse look similar.
(First: Episode 1566)




Muppets / Celebrity
Hoots tells everyone to imagine that it's turning from nighttime to morning, and the birds are waking up in the forest, while Bobby McFerrin sings "Tweet in the Mornin'."
(First: Episode 2874)

Cartoon
Frances Fairy displays several F words.
(First: Episode 0335)

Film
Some kids learn how to use Logo, a computer programming language, to draw shapes on computers.
(First: Episode 1968)

Cartoon
"Five Baby Oysters"
(First: Episode 2257)




SCENE 4
The gang finishes writing "The Story of Preston Rabbit" and throw it into the machine. Preston appears and when the Wolf gets hungry for rabbit, he runs off to find the crank to turn it off.

Cartoon
Nancy the nanny goat nibbles her nails and notices noodles.
Artist: Tee Collins
(First: Episode 0240)

Muppets
Ernie asks Bert "Do You Like Me?"
(First: Episode 1234)

Cartoon
What if we celebrate Valentine's Day with chickens instead of hearts?
(First: Episode 0488)

Film
In stop-motion, assorted furniture places themselves in a classroom.
(First: Episode 0647)

Cartoon
With the help of his assistant, Dr. Geo shows the viewer what a mountain is.
Artist: Fred Garbers
(First: Episode 2772)

SCENE 5
The crank is put into the machine and the characters are subtracted as the crank is turned. Preston decides to thank them by getting another present.

Cartoon
Henson: Eleven Cheer
(First: Episode 0273)

Film
A man makes a shadow puppet of a camel.
(First: Episode 0593)

Muppets
Sesame Street News Flash
Old MacDonald opens a health resort for his animals.
(First: Episode 2688)

Cartoon
Two men try to go over a very steep hill.
(First: Episode 1522)

Film
A man (voice of Jim Thurman) finds a magic remote control that makes things go up and down. He tests it on various objects. When he presses "down" for a bridge, it crumbles and falls into the river below, prompting him to abandon the remote and slink away. A girl then finds it and makes the bridge go back up.
(First: Episode 2614)

Animation
A girl plays in, on, and under a sculpture.

SCENE 6
Preston's gift is two movers (Tyrone and Gus), who are taking the machine away. Tyrone and Gina read the sponsors (the fine print on their delivery form) and the movers end up busting the machine on their way out.